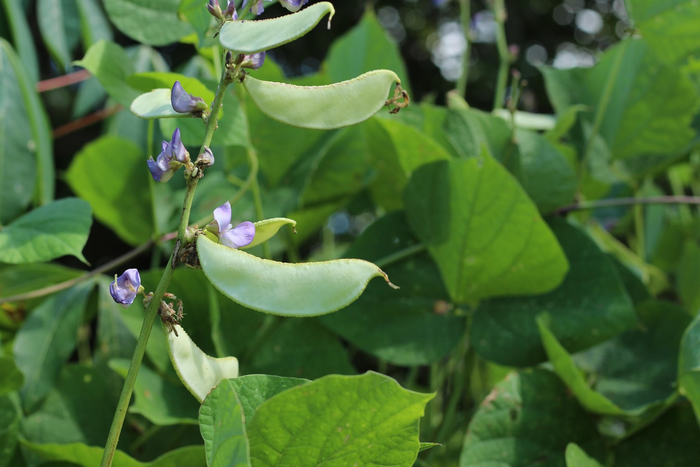 NAIROBI, Kenya, 20 April 2023_An international team of researchers, led by Africans, has fully sequenced the genome of a climate resilient bean that could bolster food security in drought-prone regions.
The sequencing of the hyacinth bean or 'lablab bean' [Lablab purpureus] paves the way for wider cultivation of the crop, bringing nutritional and economic benefits, as well as much needed diversity to the global food system.
The plant is native to Africa and is cultivated throughout the tropics producing highly nutritious beans, which are used for food and livestock feed. It's extremely drought-resilient and thrives in a range of environments and conditions, contributing to food and economic security, and improving soil fertility by fixing nitrogen. Lablab is also used medicinally in some areas and contains bioactive compounds with
Diversifying the global food system
The lablab bean is one of a long list of 'orphan crops': indigenous species that play an important role in local nutrition and livelihoods, but that receive little attention from breeders and researchers.
The three major crops that currently provide over 40 percent of global calorie intake – wheat, rice, and corn – receive the bulk of breeding and crop improvement efforts. With so little diversity in crop cultivation, the global food system is vulnerable to environmental and social instabilities. Underutilised crops like lablab hold the key to diversified and climate-resilient food systems and genome-assisted breeding is one promising strategy to improve their productivity and adoption.
Oluwaseyi Shorinola, another of the study's lead authors from the International Livestock Research Institute, and a visiting scientist at the John Innes Centre in the United Kingdom, said, "The first green revolution was achieved with major crops like wheat and rice. Orphan crops like lablab could pave the way for the next green revolution."
African-led research
The research process itself was ground-breaking not only for its inclusivity but also for its leadership by African scientists. "Although many African indigenous crops have been sequenced in the past few years, in most of that work African scientists have been underrepresented, and when we've been involved we have been in the back seat," said Meki Shehabu, another co-author of the study and a scientist at ILRI in Ethiopia. "What makes this project special is that it is led by African scientists, in collaboration with scientists from international institutes."
--
Notes for Editors
For further information and interviews with Chris Jones or Meki Shehabu at the International Livestock Research Institute, please contact: David Aronson, Media Relations, d.aronson@cgiar.org +254 717 868916.
The International Livestock Research Institute (ILRI) works with partners worldwide to enhance the roles that livestock play in food security and poverty alleviation, principally in Africa and Asia. ILRI's mission is to improve food and nutritional security and to reduce poverty in developing countries through research for efficient, safe and sustainable use of livestock—ensuring better lives through livestock. www.ilri.org
The University of Southampton drives original thinking, turns knowledge into action and impact, and creates solutions to the world's challenges. We are among the top 100 institutions globally (QS World University Rankings 2023). Our academics are leaders in their fields, forging links with high-profile international businesses and organisations, and inspiring a 22,000-strong community of exceptional students, from over 135 countries worldwide. Through our high-quality education, the University helps students on a journey of discovery to realise their potential and join our global network of over 200,000 alumni. www.southampton.ac.uk
The John Innes Centre is an independent, international centre of excellence in plant science and microbiology. Our mission is to generate knowledge of plants and microbes through innovative research, to train scientists for the future, to apply our knowledge of nature's diversity to benefit agriculture, the environment, human health, and wellbeing.
---
Journal
Nature Communications
Method of Research
Experimental study
Subject of Research
Lab-produced tissue samples
Article Title
Chromosome-level genome assembly and population genomic resource to accelerate orphan crop lablab breeding
Article Publication Date
17-Apr-2023
COI Statement
The authors certify that they have NO affiliations with or involvement in any organization or entity with any financial interest (such as honoraria; educational grants; participation in speakers' bureaus; membership, employment, consultancies, stock ownership, or other equity interest; and expert testimony or patent-licensing arrangements), or non-financial interest (such as personal or professional relationships, affiliations, knowledge or beliefs) in the subject matter or materials discussed in this manuscript.