Feature Story | 1-May-2023
Nurse-scientist seeks to improve heart failure care through research
Quin Denfeld, Ph.D., shifted career from intensive care to scientific discovery
Oregon Health & Science University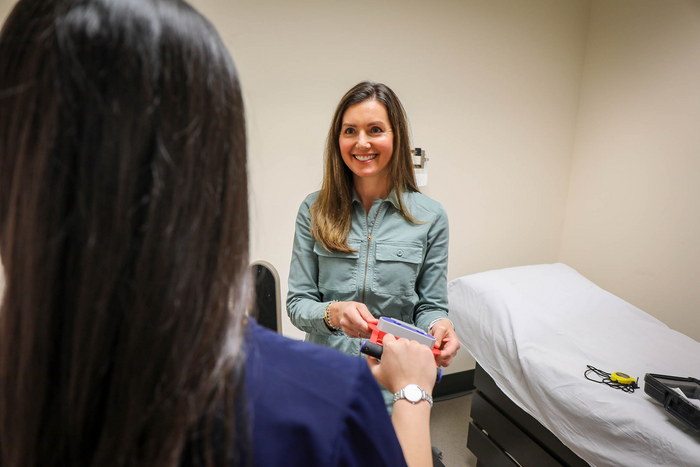 PORTLAND, Oregon -- Research led by Oregon Health & Science University nurse-scientist Quin Denfeld, Ph.D., RN, FAHA, FAAN, FHFSA, involves some of science's lesser-known tools.
She uses an instrument called a dynamometer to measure grip strength, and searches for biomarkers in vials of blood samples. Denfeld also employs something more mundane — chairs — to observe how well patients can sit up and down.
An associate professor in the OHSU Schools of Nursing and Medicine, Denfeld studies heart failure, or when heart muscle isn't able to pump enough blood. While there is no cure for heart failure today, Denfeld hopes her research will help improve health outcomes and quality of life for the more than 6 million adults in the United States who have it.
Denfeld's research examines the condition's symptoms and how it can affect women and men differently. She also focuses on diminished strength and energy, also known as frailty, and its impacts on people experiencing heart failure.
Frailty was initially studied in older patients as they aged, but Denfeld and others soon realized it was also a factor for heart failure. Denfeld and colleagues published a detailed review of published research in 2017 that revealed frailty is common among patients with heart failure — nearly half have it.
Today's clinicians are increasingly aware of frailty. For example, OHSU's Heart Failure and Transplant Program evaluates all of its advanced heart failure therapy candidates for frailty. But how it's addressed or measured varies. Denfeld and colleagues are currently drafting a consensus statement on frailty that aims to create a standard approach to incorporating frailty assessments in clinical practice.
"We don't entirely know what to do with frailty," she explains. "We know that it's common and that it can predict outcomes such as hospitalization, poor quality of life and death. But there are still a lot of unanswered questions."
Patient-inspired research
Born and raised in Hillsboro, Denfeld earned a bachelor's degree in nursing from Linfield College in 2005. Soon after, she began caring for patients in OHSU Hospital's cardiovascular and surgical intensive care unit.
Blood sugar can dramatically affect treatment for patients undergoing cardiothoracic surgery, so having reliable glucose readings is essential. To make sure that was being done for her patients, she led a small study in the cardiovascular and surgical ICU to evaluate the accuracy of various ways to measure sugar levels. Her findings helped OHSU fine-tune its own processes, and pulled Denfeld closer toward research.
"There were times when some patients would feel awful even through numbers from the tests we ran suggested they should be fine," she said. "I wanted to understand why that was, and decided to go back to school to figure it out."
She enrolled in the OHSU School of Nursing's Ph.D. program in 2011, but still kept one foot in the hospital, where she continued to care for patients part-time. During graduate school, she trained in the former OHSU lab of nurse-scientist, Christopher Sean Lee, Ph.D., RN, who now studies heart health at Boston College.
After earning a doctorate in nursing science in 2016, Denfeld completed a post-doctoral fellowship in cardiovascular medicine in the OHSU School of Medicine. The fellowship included doing research with another OHSU scientist, Beth A. Habecker, Ph.D., who explores the potential role of neurons in heart disease. Denfeld joined the OHSU faculty in 2017.
Supported by an award from the Oregon Building Interdisciplinary Research Careers in Women's Health Program, or Oregon BIRCWH, at OHSU, Denfeld began studying sex and gender differences in heart failure shortly after her fellowship. Her 2021 research review paper that found women with heart failure are 26% more likely to be frail than men. Denfeld co-wrote the paper with her then-doctoral student, Mary Roberts Davis, Ph.D., RN, who is now an assistant professor in the OHSU School of Nursing.
Denfeld leads a lab of five people. The team partners with the Habecker lab to run blood assays and other biological tests, and also uses a shared behavioral research space to meet with study participants.
One of her larger research efforts today is a National Institutes of Health-supported study that will follow 240 adults after they're hospitalized for heart failure to better understand how symptoms develop and change over time. If Denfeld is able to identify a biomarker or a certain level of frailty that predicts poor health outcomes, she hopes that knowledge could help clinicians and patients better manage heart failure symptoms. Eligible patients are enrolled in this study after being hospitalized at OHSU or Hillsboro Medical Center.
Along the way, she also became a fellow of the American Heart Association, the American Academy of Nursing, and the Heart Failure Society of America, and currently serves as an associate editor of the European Journal of Cardiovascular Nursing.
On the farm
Denfeld says she chose nursing because the field helps others and understands the world through science — and also leaves some room to pursue passions outside of work.
She and her family live on a hazelnut and walnut farm that was established in the 1870s, making her children the seventh generation on the rural Washington County property. In her spare time, Denfeld is involved in the farm, including two related family companies: Denfeld Nut — which purchases, processes and markets hazelnuts from more than 140 other Oregon family farmers — and Laurel Foods, which focuses on making value-added hazelnut products such as flours, butters, oils, roasted kernels and seasoned snack hazelnuts.
In addition to raising three boys, 10-year-old twins and a 2-year-old, Denfeld and her husband, Sean, also care for five chickens, two cats and a dog. A marathon runner before motherhood, Denfeld is now training for the Hood to Coast relay run in August.
Related OHSU News story:
Other links:
Disclaimer: AAAS and EurekAlert! are not responsible for the accuracy of news releases posted to EurekAlert! by contributing institutions or for the use of any information through the EurekAlert system.