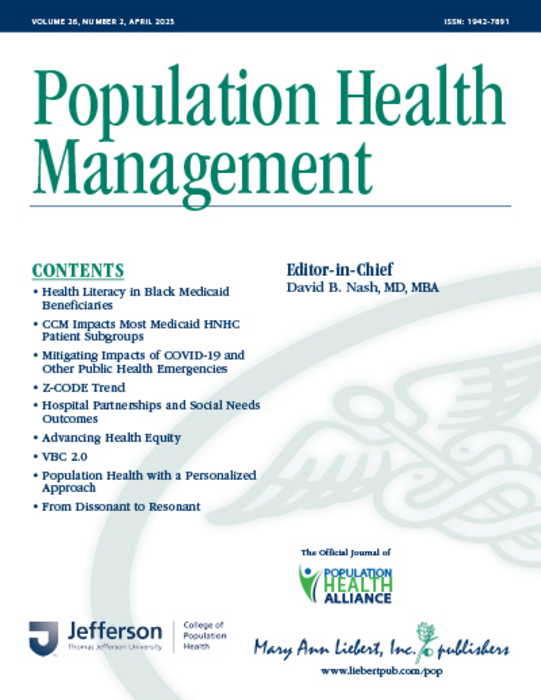 A new study showed that lower health literacy was significantly associated with lower adherence to medication among Black Medicaid beneficiaries with hypertension in Delaware. The study, with additional findings, is published in the peer-reviewed journal Population Health Management. Click here to read the article now.
Hypertension, or high blood pressure, can be attributed to nonadherence to antihypertensive medication. In the current study by Michael Butzner, DrPH, MPH, from the Pennsylvania State College of Medicine, and coauthors, a major finding was that less than half of participants received an appropriate prescription for treatment and most patients were non-adherent.
An estimated 40% of American adults have limited health literacy, and racial and ethnic minorities are disproportionately affected by limited and low health literacy.
The investigators reported that men, younger adults, increased time enrolled in Medicaid over the study period, and basic health literacy were significantly associated with low adherence to medication.
"The current study highlights the necessity of providing literacy assistance and health education to promote healthy behaviors and lifestyle change such as medication adherence," stated the investigators.
"Sadly, researchers have demonstrated that less than 25% of all patients actually take the drugs doctors prescribe for them—a number that has been stable for three decades!! Dr. Butzner has helped to further clarify this dilemma, and he has reinforced our challenge to focus on health literacy as a key factor in non-adherence to medication," says David Nash, MD, MBA, Editor-in-Chief of Population Health Management, and Founding Dean Emeritus and Dr. Raymond C. and Doris N. Grandon Professor, Jefferson College of Population Health, Philadelphia, PA.
About the Journal
Population Health Management is an authoritative peer-reviewed journal published bimonthly in print and online that reflects the expanding scope of health care management and quality. The Journal delivers a comprehensive, integrated approach to the field of population health and provides information designed to improve the systems and policies that affect health care quality, access, and outcomes. Comprised of peer-reviewed original research papers, clinical research, and case studies, the content encompasses a broad range of chronic diseases (such as cardiovascular disease, cancer, chronic pain, diabetes, depression, and obesity) in addition to focusing on various aspects of prevention and wellness. Tables of Contents and a sample issue may be viewed on the Population Health Management website. Population Health Management is the official journal of the Population Health Alliance.
About the Publisher
Mary Ann Liebert, Inc. is a global media company dedicated to creating, curating, and delivering impactful peer-reviewed research and authoritative content services to advance the fields of biotechnology and the life sciences, specialized clinical medicine, and public health and policy. For complete information, please visit the Mary Ann Liebert, Inc. website.
---
Journal
Population Health Management
Method of Research
Case study
Subject of Research
People
Article Title
Impact of Health Literacy on Medication Adherence Among Black Medicaid Beneficiaries with Hypertension in Delaware: A Cross-Sectional Study