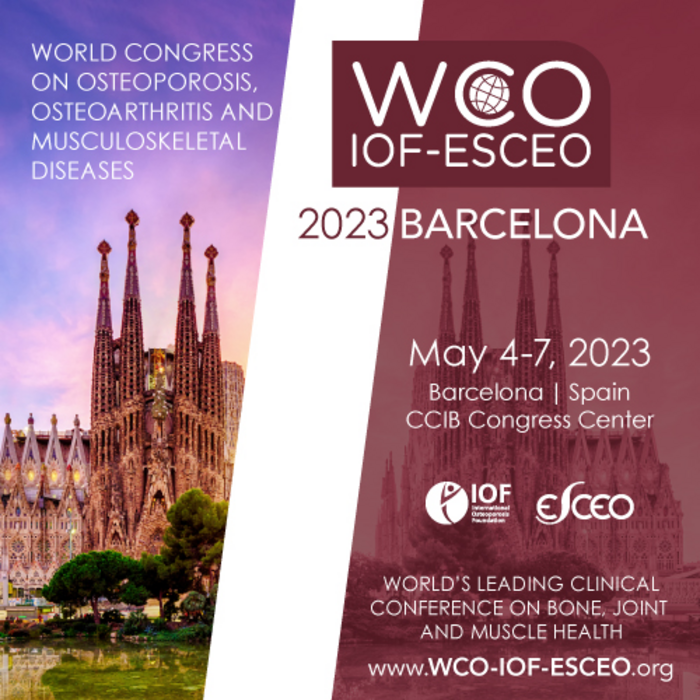 Researchers and clinicians from all regions of the world will be gathering in Barcelona, Spain today for the opening of the World Congress on Osteoporosis, Osteoarthritis, and Musculoskeletal Diseases (WCO-IOF-ESCEO Barcelona 2023), which continues until May 7th, 2023 at the CCIB Congress Center. This leading annual Congress, the largest international scientific event devoted to musculoskeletal disorders, is hosted by the International Osteoporosis Foundation (IOF) and the European Society for Clinical and Economic Aspects of Osteoporosis, Osteoarthritis and Musculoskeletal Diseases (ESCEO).
The more than 6000 registrants include researchers, clinicians, and key opinion leaders across a range of specializations, including, among others, endocrinology, rheumatology, orthopaedics, and gerontology. National osteoporosis patient societies representatives from all regions of the world will also be in attendance, presenting their work in the exhibition area and attending a dedicated IOF session for patient society representatives on May 6th, 2023.
Professor Jean-Yves Reginster, Congress Co-chair and ESCEO President commented: "Although our virtual congresses these past three years were very well attended, it is such a great pleasure to finally meet again face-to-face with colleagues from around the world at this wonderful venue in Barcelona. We relish this opportunity for global networking and vibrant live discussion of new science and clinical advances that will help clinicians better prevent, diagnose and treat musculoskeletal disorders in our ageing populations."
The Congress has attracted 1377 abstract submissions, and selected abstracts will be presented in oral presentations with hundreds also presented in poster format at the event. The wide-ranging programme includes 10 Plenary Sessions, 10 Special Symposia, 12 Meet-the-Experts Sessions, 30 Non-Sponsored Symposia, and 38 Oral Communications that address new clinical advances in osteoporosis, osteoarthritis, sarcopenia, frailty, and skeletal rare diseases. The scientific programme has been accredited by the European Accreditation Council for Continuing Medical Education (EACCME®) with 21 European CME credits (ECMEC®s), which may be converted to an equivalent number of AMA PRA Category 1 CreditsTM.
A pre-Congress session on May 4th, 2023, organized by ESCEO and the WHO Collaborating Center for Epidemiology of Musculoskeletal Health and Ageing (Liège, Belgium) will commence with the presentation of the Islene Araujo de Carvalho-ESCEO 2023 Prize. It will then continue with lectures, including by Doctor Jothees Amuthavalli Thiyagarajan (WHO, Geneva), focused on various aspects of the landmark five-year project to be carried out by the World Health Organization and ESCEO to improve the management of osteoporosis around the globe.
During the following Congress Opening session, educational and keynote lectures will be delivered by Professor René Rizzoli, Associate Professor Grégoire Courtine, Professor Jocelyne Bloch, and Professor Eugene McCloskey. The audience will also look forward to a welcome message from European Space Agency Astronaut Samantha Cristoforetti, and the presentation of several awards including the 2023 IOF President's Awards, the 2023 ESCEO Medal of Excellence, and the 2023 IOF CSA Medal of Achievement.
Professor John Kanis, Congress Co-chair and IOF Honorary President stated:
"We would like to thank the respective Scientific Programme Committee Chairs, Professors Cyrus Cooper and René Rizzoli, for setting up an exciting and comprehensive programme that brings together the world's best in the field of musculoskeletal health and disease and takes advantage of the synergies and combined expertise of IOF and ESCEO. It is gratifying to see that the Congress continues to build on its reputation as a key platform for the communication of new developments in clinical care, and is a forum of choice for the presentation of new research."
###
World Congress on Osteoporosis, Osteoarthritis & Musculoskeletal Diseases (WCO-IOF-ESCEO Barcelona 2023)
Held jointly by IOF and ESCEO, the Congress takes place in Barcelona, Spain from May 4-7, 2023. WCO-IOF-ESCEO is the world's largest annual forum for the presentation of clinical research and new advances in the prevention and management of bone, muscle and joint disorders, including sarcopenia and frailty. For complete information visit www.wco-iof-esceo.org #OsteoCongress
About IOF
The International Osteoporosis Foundation (IOF) is the world's largest nongovernmental organization dedicated to the prevention, diagnosis, and treatment of osteoporosis and related musculoskeletal diseases. IOF members, including committees of scientific researchers as well as more than 315 patient, medical, and research organizations, work together to make fracture prevention and healthy mobility a worldwide heath care priority. www.osteoporosis.foundation @iofbonehealth
About ESCEO
The European Society for Clinical and Economic Aspects of Osteoporosis, Osteoarthritis and Musculoskeletal Diseases (ESCEO) is a non-profit organization, dedicated to a close interaction between clinical scientists dealing with rheumatic disorders, pharmaceutical industry developing new compounds in this field, regulators responsible for the registration of such drugs and health policymakers, to integrate the management of osteoporosis and osteoarthritis within the comprehensive perspective of health resources utilization. The objective of ESCEO is to provide practitioners with the latest clinical and economic information, allowing them to organize their daily practice, in an evidence-based medicine perspective, with a cost-conscious perception. www.esceo.org @esceo
---