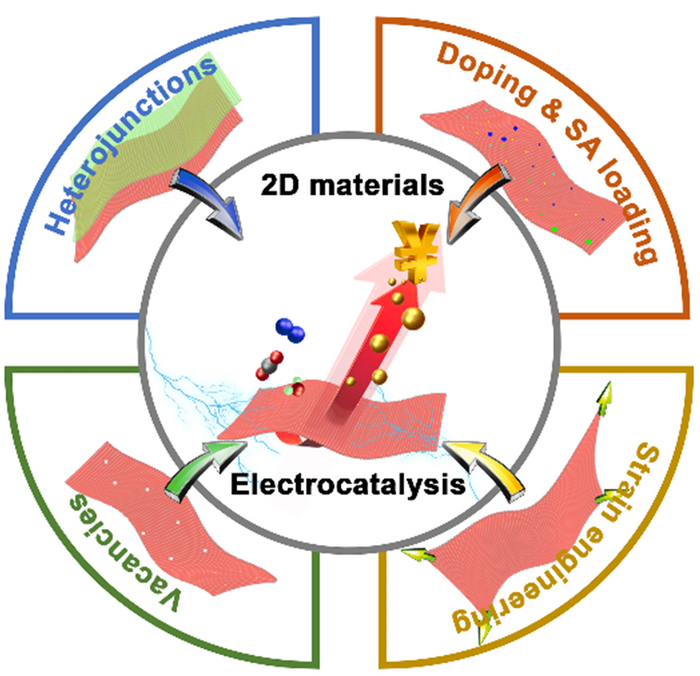 The electrocatalytic process shows higher energy efficiency and thus has been widely studied in the field of energy conversion and matter production. Benefitting from the controllable electron-transfer steps and corresponding intermedia, the electrocatalytic process also exhibits a higher selectivity than that of the traditional routes.
Two-dimensional (2D) materials are a kind of nanomaterials with lateral sizes from hundreds of nanometers to several microns, while the thickness is a few layers of atoms. 2D materials featured an extremely large specific surface area and a high proportion of surface atoms. On account of the advantages, the great potential of 2D materials for electrocatalytic applications has been discovered. However, the thermodynamically stable basal plane of the 2D layer still presents inferior activity. Efforts are thus required on regulating the local electronic structure of the surface atoms, especially on the basal plane, to make full utilization of the atoms as active sites while maintaining other physicochemical properties.
Recently, the research team led by Prof. Qingyu (Alex) Yan from Nanyang Technological University, Singapore, and Assoc. Prof. Cheng-Feng Du from Northwestern Polytechnical University, China, has summarized the recent advances of the design and performance of 2D electrocatalysts based on the local electronic regulation strategies. At atomic scale, the strategies of heteroatom doping, single-atom loading, and vacancy introduction were introduced to change the bonding environment around the catalytic active site. The mechanism of the influence of these strategies on the local electronic structure around the catalytic active site was discussed as well. On the micro-nano scale, the effects of the heterojunctions of 2D materials on the electronic structure was discussed. On the macro scale, the external stress induced lattice deformation is presented, and the structure-activity relationship between the electronic structure of materials and the catalytic activity of surface atoms caused by stress is discussed. Finally, the design, preparation, and application of two-dimensional electrocatalysts are prospected in this Account paper, which hoping to provide ideas and references for the performance improvement and engineering application of 2D electrocatalysts. The Account paper was published in Chinese Journal of Catalysis (https://doi.org/10.1016/S1872-2067(23)64423-7).
###
About the Journal
Chinese Journal of Catalysis is co-sponsored by Dalian Institute of Chemical Physics, Chinese Academy of Sciences and Chinese Chemical Society, and it is currently published by Elsevier group. This monthly journal publishes in English timely contributions of original and rigorously reviewed manuscripts covering all areas of catalysis. The journal publishes Reviews, Accounts, Communications, Articles, Highlights, Perspectives, and Viewpoints of highly scientific values that help understanding and defining of new concepts in both fundamental issues and practical applications of catalysis. Chinese Journal of Catalysis ranks among the top two journals in Applied Chemistry with a current SCI impact factor of 12.92. The Editors-in-Chief are Profs. Can Li and Tao Zhang.
At Elsevier http://www.journals.elsevier.com/chinese-journal-of-catalysis
Manuscript submission https://mc03.manuscriptcentral.com/cjcatal
---