Feature Story | 9-May-2023
On tap: Cooler Keg readies to ship first orders
UC Venture Lab-backed startup lets users take draft beverages anywhere
University of Cincinnati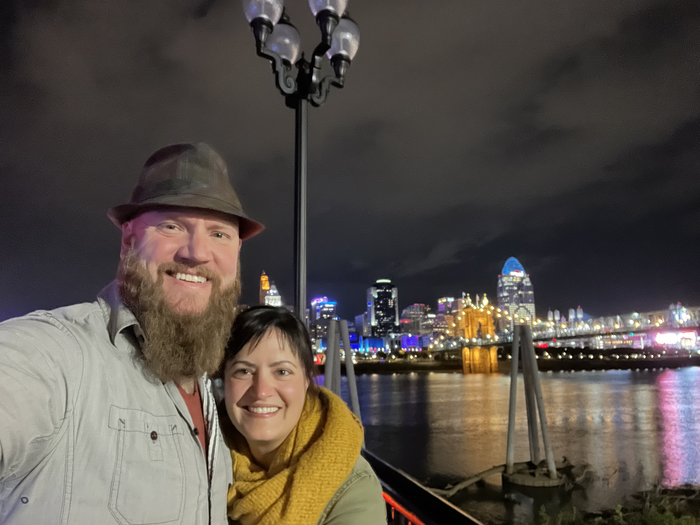 Anthony Bernas thought he was building a device just for him and his friends to pour draft beer while floating in a lake.
But the reaction he got from his friends, and millions of people on TikTok, has him and Racine Gruberman preparing to fulfill hundreds of pre-orders for the Cooler Keg through their University of Cincinnati Venture Lab-backed startup.
The Cooler Keg is a portable draft system that allows people to take draft beer, and numerous other drink options, anywhere. It's the size of a cooler and is powered by carbon dioxide, no electricity required.
"There's just something about pouring a beer from a tap that all beer drinkers identify with," said Bernas, Cooler Keg's co-founder and CEO. "When you see that glass being poured at a bar, you're like, 'That's nice.'"
UC's Venture Lab provides a launch pad for entrepreneurs to turn their ideas into reality. The lab is located in the 1819 Innovation Hub in the Cincinnati Innovation District, providing a connection point to talent, support and funding.
The UC Venture Lab's eight-week pre-accelerator program provides tools and expert guidance to help new entrepreneurs determine their business idea's commercial potential and identify resources and next steps. It's open to anyone in the Cincinnati community.
The Venture Lab "really helps to be surrounded by other entrepreneurs who are going through similar things," said Gruberman, Cooler Keg's co-founder. "It helped us refine how we're going to focus our next steps in terms of where we are for the most success."
The inspiration for the Cooler Keg came during an annual trip to a Michigan lake. Each year, Gruberman, Bernas and their friends try to make the vacation better — such as finding the perfect floats for the water, creating an anchoring system so they don't float away and building a raft for a cooler.
"A couple years ago, one of our buddies said, 'Next year, I want to be able to go up to a swim-up bar and get a beer,'" said Bernas, a 2006 UC alumnus. "And I was like, 'I can build a raft. I can make it look like an Irish pub if you want.' Then he said, 'No, I want to pour a draft beer in the middle of the lake.'"
Bernas, a home brewer who loves solving problems, took on the challenge. The following year, he had the first version of the Cooler Keg to enjoy at the lake.
The couple's friends loved the invention and encouraged them to start a business. With Bernas' handiwork and Gruberman's design experience, they spent the next couple years improving their prototype.
In late 2021, they contracted with a product designer whose expertise in computer-aided design and 3D modeling helped refine the Cooler Keg design.
"He was instrumental in helping us get it to the place it is today, to something that is really a great user experience and also manufacturable," Gruberman said.
The Cooler Keg features two refillable kegs that each hold more than 6 liters, which is enough room for 36 12-ounce beers or 72 6-ounce cocktails.
Users can mix and match any types of drinks including beer, champagne, craft cocktails, soda, sparkling water, hard seltzers and mocktails, dialing in the carbonation at the perfect level for each drink.
"Any beer drinker knows, sometimes you crack open a beer, and it's practically flat," Bernas said. "Other times you crack it open, and it's foaming over the can. Prepackaged doesn't always dial in the perfect carbonation whereas with this you are able to correct it so you know exactly where you're at."
The Cooler Keg comes with ice packs to keep the drinks cold or it can be filled with ice. It also can keep drinks warm.
At 24 inches wide, 16.5 inches tall and 16 inches deep with a 12-inch draft tower, the Cooler Keg weighs approximately 45 pounds empty and 72 pounds when filled. It can be transported easily for tailgating, camping, picnics and anywhere else you'd bring a cooler, but instead of opening a can or bottle, users can pour their favorite drink.
"It's the experience itself," Gruberman said. "And we actually had a few people comment as we were out tailgating, 'Oh, my gosh. This is so much fun that I get to fill it myself.'"
While they had a prototype, TikTok videos that received millions of views and almost $220,000 in crowdfunding, Bernas and Gruberman wanted more help to make the Cooler Keg a successful startup. They turned to the Venture Lab at UC where they were able to connect with business experts.
"As an entrepreneur, as a startup, it doesn't matter how far along you think you are; you don't know what you don't know," Bernas, a Cincinnati native, said. "We learn fast, but you have to find people that tell you what you need to learn."
With the expertise offered through the Venture Lab, Bernas and Gruberman refined their pitch and learned how to tell a more focused story about their product. They also discovered new ways to focus marketing toward businesses such as breweries, distilleries, food trucks, coffee shops and restaurants.
"Neither one of us has an MBA, so being able to surround ourselves with other people who have more expertise and can give us guidance was really important," Gruberman said.
The couple relocated to Cincinnati from Chicago in August 2022. The region's lower costs and startup community have been beneficial in launching the Cooler Keg.
"I have been blown away," Gruberman said. "I did not expect the entrepreneurial community and the support of the community to be amazing as it has been."
Gruberman and Bernas have received approximately 375 pre-orders for the Cooler Keg, from both individuals and businesses.
Manufacturing partners are finalizing the design, but it's uncertain when the first shipment of Cooler Kegs will occur.
"We've just been navigating the seas of the global supply chain, which is choppy," Bernas said.
For more information about the Cooler Keg, visit thecoolerkeg.com.
Disclaimer: AAAS and EurekAlert! are not responsible for the accuracy of news releases posted to EurekAlert! by contributing institutions or for the use of any information through the EurekAlert system.