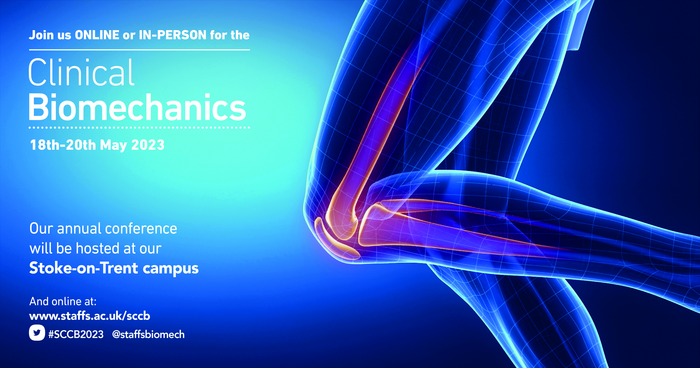 We are pleased to invite you to the 21st consecutive Staffordshire Conference on Clinical Biomechanics at the University Campus, Stoke on Trent (18th-20th May 2023). As in previous years, this conference provides a forum for information dissemination on lower limb clinical biomechanics and will facilitate discussion on research and case studies in this field via plenary sessions.
The overall conference content will focus on musculoskeletal biomechanics and assistive technology, with a series of sessions on the following topics:
Movement analysis in clinical practice
Movement analysis in sport and exercise
Diabetic foot
Rehabilitation and assistive technology for mobility
Biomechanics of tissues
Our speakers include:
Dr Adam Shortland (Evelina Children's Hospital, London)
Professor Mark King (Loughborough University)
Dr Uazman Alan (University of Liverpool)
Professor Richard Jones (University of Salford)
Dr Samra Pjanic (Institute for Physical and Rehabilitation Medicine, Bosnia and Hercegovina)
Dr Ilias Theodorakos (Aalborg University)
Dr Elisavet Andrikopoulou (University of Portsmouth)
For more information, please go to our conference website, you can register for the conference here, the registration fee is £35 for online registration and from £80 for in-person registration.
If you are unable to attend the live online conference, then you can watch recordings of all the talks for 1 year after the conference has concluded.
If you have questions, please do not hesitate to contact meeting organisers:
Dr Aoife Healy or Professor Nachiappan Chockalingam by emailing sccb@staffs.ac.uk
---