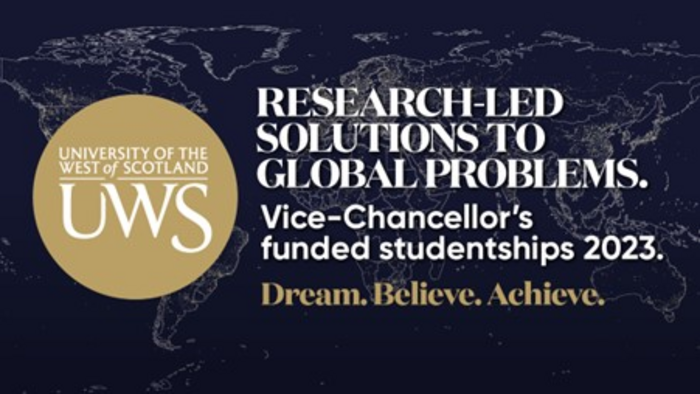 Research-led solutions to major global problems is the focus of 21 funded University of the West of Scotland (UWS) Vice-Chancellor's studentships.
Vice-Chancellor Studentships are prestigious scholarships that are awarded to exceptional students who are pursuing postgraduate research degrees. These studentships are designed to provide talented individuals with the financial support they need to undertake research projects that have the potential to make a significant impact in their field.
These highly selective studentships span the University's four academic schools: Business and Creative Industries (BCI), Computing, Engineering and Physical Sciences (CEPS), Education and Social Sciences (ESS) and Health and Life Sciences (HLS); and are aligned with the United Nations' Sustainable Development Goals.
Professor James Miller, Principal and Vice-Chancellor of UWS, said: "I am extremely proud to offer these cross-disciplinary funded studentships that will provide opportunities for twenty-one talented individuals.
"Their work is fully aligned to the University's vision to create better futures together and will be key to driving our international reputation in addressing global challenges."
The scholarships include studies looking at the following subjects:
Charitable food aid and growing inequalities in the UK
Understanding host-pathogen interaction during T. gondii infection using stem cell derived tissue organoids to inform drug therapy development
The role of the oral microbiome in health outcomes in individuals with dementia
Digital Self-Recording as De-Centred Sustainable Practice in 21st Century Global Shakespeare(s)
Experiences and reporting of LGBTQI+ hate crime in Scotland
Public Perceptions of Online Hate and Extremist Speech
Enhancing Adolescent Mental Health within a School Context: Developing Therapeutic Places
Attention, wayfinding, and young onset dementia: Promoting independent living
Blue Space: Environmental Risks and Health Benefits of Coastal Recreation in a Changing Climate
Fly Tipping in Scotland – from lie in dirt to safer end of engineered life – an assessment of existing policies to enable sustainability
New Scots or Scots Exceptionalism? Using Narrative Analysis to Explore the Lived Experience of Everyday Bordering in Scotland
'Dreams of a Safe Haven' Life Stories of Unaccompanied Asylum-Seeking Children (UASC) in Scotland: an Interdisciplinary Exploration of the Lived Experiences of Forced Migration
Key benefits of Vice-Chancellor Studentships are that they provide students with the opportunity to work on cutting-edge research projects. By working alongside experienced researchers and utilising state-of-the-art facilities, students are able to gain valuable experience and develop skills that will be invaluable throughout their careers. They also provide students with financial support that can help to alleviate some of the financial burden associated with pursuing a postgraduate research degree.
Professor Milan Radosavljevic, Pro Vice-Chancellor for Research, Innovation and Engagement at UWS, said: "Vice Chancellor Studentships are a vital investment in the future of research to further strengthen our positive research culture. By supporting talented students and providing them with the resources they need to pursue their passions, we can unlock new discoveries, push the boundaries of knowledge, and create a brighter future for all.
"At University of the West of Scotland, we are incredibly proud of our innovative and diverse research portfolio, which not only addresses major societal challenges, but transforms lives through imaginative thinking and significant academic expertise."
The UWS Vice-Chancellor's studentships were established in 2021, following the launch of the University's ambitious Strategy 2025. To find out more about the new PhD studentships, visit: www.uws.ac.uk/study/research-degrees
---