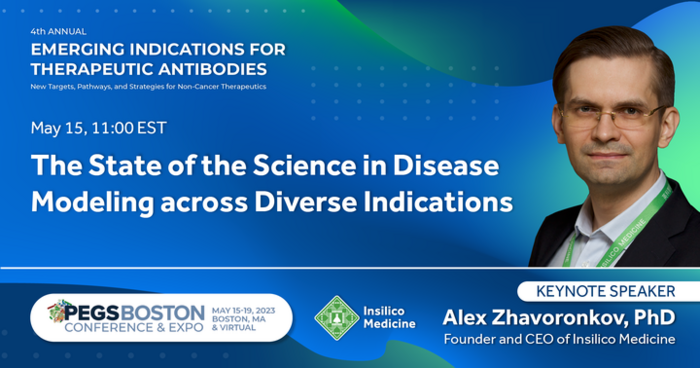 Insilico Medicine, a generative artificial intelligence (AI)-driven drug discovery company, announced that Alex Zhavoronkov, PhD, founder and CEO of the Company, will attend the PEGS Boston Summit from May 15-19. He will deliver a keynote presentation on "The State of the Science in Disease Modeling Across Diverse Indications" on May 15 at 11AM at the Hynes Convention Center and join in an interactive discussion on May 15 at 12:45PM.
In his presentation, Dr. Zhavoronkov will make the first announcement of peptide-based drug design strategies and Generative Biologics, a new engine that belongs to the company's end-to-end AI-driven drug discovery platform Pharma.AI that leverages hundreds of millions of biological data points, machine learning algorithms, and generative biology models to build and design polypeptides from scratch.
"We are at an exciting moment in the history of generative AI in drug discovery," says Zhavoronkov. "Thanks to years of accumulated data and technological advances in generative AI, we can find targets and design new small molecules for hard-to-treat diseases with incredible speed and efficiency working in close partnership with pharmaceutical companies. We look forward to using generative AI to explore diverse drug development strategies."
Insilico Medicine was one of the first companies to use generative adversarial autoencoders for de-novo drug discovery. In 2016, the Company introduced the earliest iternation of its generative biology tool for identifying novel targets with a publication in Nature Communications. Another publication followed in Oncotarget, demonstrating how Insilico could employ generative algorithms with reinforcement learning to design novel small molecules with predefined and optimized properties. By 2018, Insilico integrated generative biology and chemistry approaches into the commercially available Pharma.AI platform that accelerates the process of lead discovery from years to days, and is currently being utilized by 11 of 20 top pharmaceutical companies.
The Company has also utilized the platform to develop its own robust pipeline of assets, including two drugs – for idiopathic pulmonary fibrosis and COVID-19 – currently in clinical trials and many potentially best-in-class and first-in-class assets in preclinical stages of development available for licensing. In total, Insilico has 31 programs across 29 targets, including in fibrosis, oncology, immunology, and central nervous system disorders.
Zhavoronkov says PEGS, the world's largest gathering of protein engineering and biotherapeutics experts, is the perfect setting for announcing the latest developments to Insilico's platform. "We were instrumental in the early development of generative biology and generative chemistry, and now we're advancing AI-designed drugs into clinical trials. It is truly a pivotal moment."
About Insilico Medicine
Insilico Medicine, a clinical-stage end-to-end artificial intelligence (AI)-driven drug discovery company, connects biology, chemistry, and clinical trials analysis using next-generation AI systems. The company has developed AI platforms that utilize deep generative models, reinforcement learning, transformers, and other modern machine learning techniques to discover novel targets and to design novel molecular structures with desired properties. Insilico Medicine delivers breakthrough solutions to discover and develop innovative drugs for cancer, fibrosis, immunity, central nervous system (CNS), and aging-related diseases.
For more information, visit www.insilico.com
---