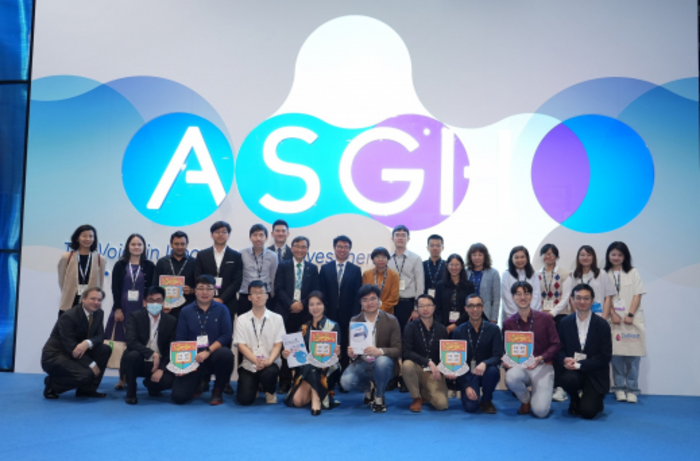 The University of Hong Kong (HKU) showcased ten healthcare and medical research and development projects from its startup teams at the "Asia Summit on Global Health" held from May 17 to 18 at the Hong Kong Convention and Exhibition Centre. The event brought together government officials, healthcare organisations, international medical experts, startup companies, investors, and business representatives to explore the prospects and opportunities of the healthcare industry.
During the summit, the InnoHealth Showcase exhibition area was set up, providing an opportunity for healthcare and medical startups to connect with investors and other partners from around the world to explore potential business opportunities and new cooperation proposals.
The ten HKU projects showcased include the "3D Cell Niche Engineering platform" developed by Professor Barbara Chan of the Department of Mechanical Engineering, which received a Gold Medal with Congratulations of Jury at the 48th International Exhibition of Inventions of Geneva. Based on pioneering technology developed by HKU's Tissue Engineering Laboratory, the 3D cell niche engineering platform enables innovations for effective drug screening, accurate disease modeling, scaffold development, culture substrate design, and other regenerative medicine applications. The multiphoton-based microfabrication and micropatterning method has free-form 3D writing capabilities for each individual factor, creating custom physiologically relevant niches that maintain cell function and phenotype, even outside the body, empowering scientists to rapidly achieve highly predictable results for clinical applications.
Three HKU startups, Metasurgical Technology Limited led by Clinical Associate Professor Dr Pui Yin Jason Cheung, Assistant Professor Dr Teng Grace Zhang from the Department of Orthopaedics and Traumatology at HKUMed, ZeBlast Technology Limited led by Professor Anskar Leung, from the School of Clinical Medicine at HKUMed and Agilis Robotics Limited led by Associate Professor Kwok Ka-wai from the Department of Mechanical Engineering, participated in the project promotion section to exchange with industry experts and investors on fundraising, business development, and market expansion.
Metasurgical Technology, founded by surgeons, scientists, and engineers at HKU in 2022, is dedicated to developing cutting-edge artificial intelligence technologies and devices for the surgical treatment of scoliosis.
ZeBlast Technology is the first manufacturer of readily available and pathology-validated zebrafish research models. The company's founder, Professor Anskar Leung, and his research team utilized over 20 years of clinical and research experience in blood cancers to successfully develop zebrafish models carrying specific mutation combinations and histopathologic features of human blood cancers. The technology is currently applying for a patent, and through this effective animal research model, it will substantially shorten the lag-time for drug discovery research or "custom-designed" models to facilitate research of customers.
Agilis Robotics has designed and developed fully flexible robotic instruments for endoluminal surgery with cutting-edge mechanical architecture. The robotic system can seamlessly integrate into current clinical workflows and drastically reduce the learning curve associated with endoscopic surgery. Through the flexible operation and fully flexible robotic arm, the entire tumor tissue can be effectively removed, especially for early-stage cancers of the gastrointestinal tract and urinary tract. The company's ultimate goal is to provide clinicians with the next generation of minimally invasive instruments for more effective and affordable early-stage care for patients.

For Media enquiries, please contact:
Communications and Public Affairs Office
Ms Melanie Wan (Tel: 2859 2600 / Email: melwkwan@hku.hk)
Ms Jaymee Ng (Tel: 3910 3612 / Email: ngjaymee@hku.hk)
Mr Kenneth Choi (Tel: 2859 2607 / Email: khkchoi@hku.hk)
---