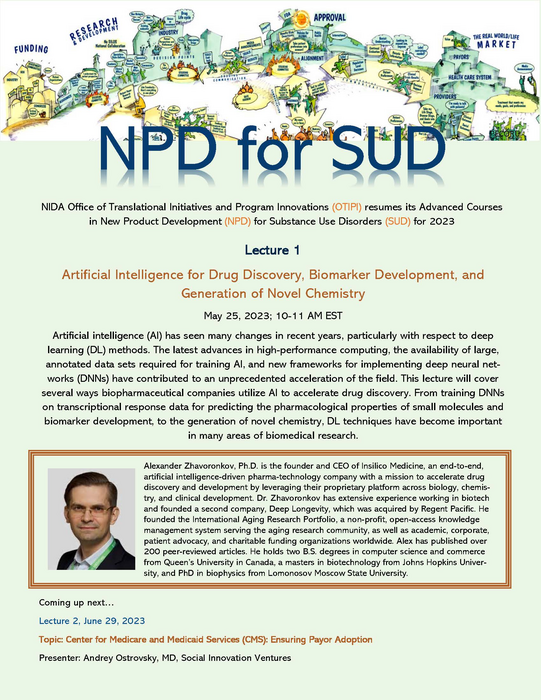 Alex Zhavoronkov, PhD, founder and CEO of Insilico Medicine ("Insilico"), a generative artificial intelligence (AI)-driven drug discovery company, will present a virtual talk on Artificial Intelligence for Drug Discovery, Biomarker Development and Generation of Novel Chemistry on May 25, 10-11am ET as part of the National Institutes of Health (NIH) National Institute on Drug Abuse (NIDA) Advanced Courses in New Product Development.
Zhavoronkov is an expert in generative biology and chemistry as well as in aging and longevity research, and is one of the cofounders of the Aging Research and Drug Discovery conference, now in its 10th year.
The Company's end-to-end Pharma.AI platform includes target identification (PandaOmics), drug design (Chemistry42), and clinical trial outcome prediction (InClinico) and has produced two drugs that have reached clinical trials. Insilico's lead drug for the devastating chronic lung disease idiopathic pulmonary fibrosis (IPF), the first AI-discovered and AI-designed drug to advance to clinical trials, will soon be entering Phase 2 trials with patients. And Insilico's generative AI-designed drug for COVID-19 and related variants has been approved for clinical trials and has a number of design advantages over existing COVID-19 drugs.
There are 31 drugs in Insilico's pipeline available for partnering and licensing for indications including cancer, fibrosis, and central nervous system diseases, and the Company has nominated 12 preclinical candidates in the past two years, most recently a potentially best-in-class preclinical candidate targeting ENPP1 for cancer immunotherapy and the potential treatment of Hypophosphatasia (HPP).
Insilico has partnered with leading pharma companies, including Fosun Pharma and Sanofi, to accelerate their programs.

About Insilico Medicine
Insilico Medicine, a clinical-stage end-to-end artificial intelligence (AI)-driven drug discovery company, connects biology, chemistry, and clinical trials analysis using next-generation AI systems. The company has developed AI platforms that utilize deep generative models, reinforcement learning, transformers, and other modern machine learning techniques to discover novel targets and design novel molecular structures with desired properties. Insilico Medicine is delivering breakthrough solutions to discover and develop innovative drugs for cancer, fibrosis, immunity, central nervous system (CNS) diseases, and aging-related diseases.
For more information, visit www.insilico.com
---