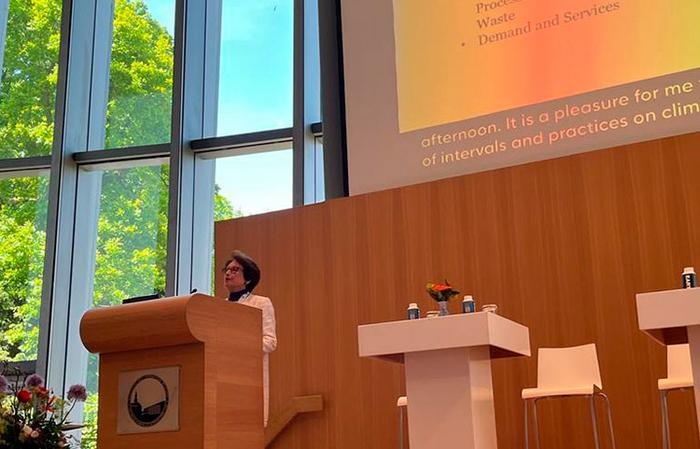 Climate change is already affecting all regions of the world, impacting natural systems, biodiversity and human life. The global nature of this challenge demands that public funding agencies in all countries be involved in research on the topic, building synergies and collaborations with other initiatives. For this effort to be effective, however, mechanisms must be created to assist funding agencies in countries with transitioning economies in order to reduce regional disparities in addressing this threat.
The assessment was made by experts at a panel discussion on climate change research funding that took place on Wednesday (May 31), during the annual meeting of the Global Research Council, which runs until Friday (June 2) in The Hague, in the Netherlands.
During the event, co-organized by FAPESP, representatives of funding agencies from 63 countries ratified a declaration of principles and practices on funding research on the topic.
"International collaboration will allow us to identify possible mitigation and adaptation options to meet regional needs covering the full range of sectors, including energy, transport, buildings, industry, agriculture, land use and forestry waste," said Thelma Krug, vice president of the United Nations Intergovernmental Panel on Global Climate Change (IPCC) and a FAPESP board member.
During her lecture, Krug highlighted that science already points to the need for rapid, deep, and sustained reductions in greenhouse gas (GHG) emissions so that the long-term temperature targets stipulated in the Paris Agreement are met. This will imply profound social changes and transformations in all areas of society, she pointed out.
"These transformations require that scientific and traditional knowledge come together to help identify and implement best practices and strategies at the national level, connecting science with all levels of government, the private sector, civil society, local communities and indigenous peoples. No one can be left out of this equation," she stressed.
In order to achieve this goal, however, it is necessary to promote equal opportunities for the countries of the Global South – which includes developing nations in Latin America, the Caribbean, Africa, Asia, and Oceania –, Krug pondered.
"It's a reality that there are many more opportunities for scientific development in the Global North and this can lead to biases. Therefore, ideally there should be equal opportunities for southern countries so that it's possible to identify local context-specific challenges to address climate change impacts and risks and exploit the technical and economic potential of mitigation in all areas," she assessed.
According to Krug, the GRC members recognize that these issues alone create a demand for research and offer numerous opportunities to fund projects that can make a difference in developing public policy, strengthening public and private partnerships, driving innovation, and pursuing fair transition.
Relationship with the SDGs
Action against climate change is one of the Sustainable Development Goals (SDGs) established by the United Nations (UN) and connects with several of the other 16 goals, pointed out Cherry Murray, professor at the University of Arizona, in the USA, and co-president of a group of ten experts appointed by the UN Secretary-General, António Guterres, to support the implementation of the SDGs. The group also includes Carlos Henrique de Brito Cruz, FAPESP's scientific director from 2005 to April 2020.
"Many of the Sustainable Development Goals will need local solutions to be achieved because we're talking about jobs and quality of life for local populations. But to start taking carbon out of the atmosphere we need it to happen on a global level," he pondered.
According to data from a study by researchers at the International Institute for Applied Systems Analysis presented by Murray, achieving the SDGs will require six different social transformations. Most of them are being driven by climate change, said the researcher.
"By 2030, 80% of the world's population will live in cities that haven't yet been built, and many of them will be located in the Global South. These cities will need to be much smarter," Murray said.
"We need global research collaboration, but solutions need to be tailored to local needs and involve both mitigation and adaptation," she pointed out.
In this sense, one of the contributions of the GRC could be to articulate local solutions in tackling climate change with a global scenario, evaluated Ricardo Galvão, president of the National Council for Scientific and Technological Development (CNPq).
"We need much better articulation between different countries," Galvão said.
One successful partnership initiative of Brazil in climate change research with other countries was the development of Earth observation satellites in cooperation with China that made it possible to monitor deforestation in the Amazon, exemplified the researcher.
"This was very important for us to have more details about the deforestation of the forest," he said.
This same type of partnership could be useful, now, to improve climate models to analyze climate change in South America, Galvão said.
"None of them work well for South America. The Andes mountain range, for example, isn't well considered in these models. And why isn't there an international approach to look more carefully at where our models fail? We lack an international agreement between the different agencies for that," he said.
GRC statements are available at: https://globalresearchcouncil.org/grc-publications/.
---