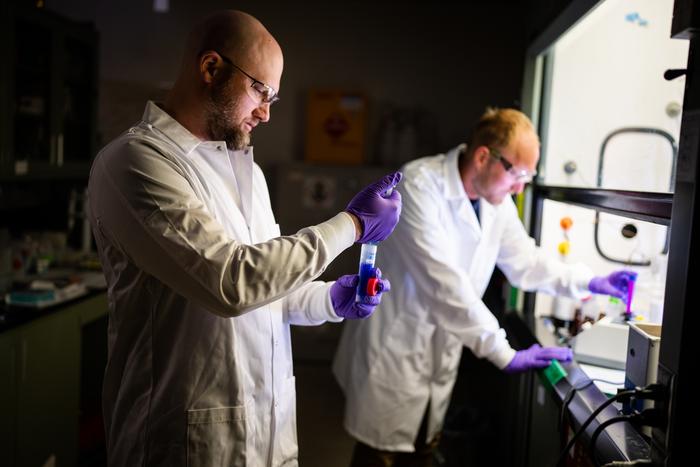 ALBUQUERQUE, N.M. — A team at Sandia National Laboratories is developing materials to tackle what has become one of the biggest problems in the world: human exposure to a group of chemicals known as PFAS through contaminated water and other products. Sandia is now investing more money to take their research to the next level.
"It's in the news constantly. It seems every day we hear of another product that is contaminated. We saw sparkling water with PFAS, toilet paper with PFAS, so it's not just a groundwater problem; it's popping up everywhere," said Andrew Knight, a chemist at Sandia who has a passion for solving PFAS contamination. "It has become clear to the world it is a growing problem. It is a national security issue of a large scale."
What are PFAS?
PFAS, an abbreviation for perfluoroalkyl and polyfluoroalkyl substances, are a group of chemicals used to make fluoropolymer products that resist heat, oil, stains and water. They are also known as "forever chemicals" because they do not break down in the environment but can move through soil and water and build up in wildlife and humans.
While human health effects from low levels of PFAS have yet to be defined by the Centers for Disease Control and Prevention, scientists have documented 12 types of PFAS in people tested and four types of PFAS in every human tested, revealing widespread exposure in the U.S. population. Tests on laboratory animals using high levels of PFAS exposure have shown an increased risk of cancer, liver damage and compromised immune systems.
PFAS are found in products including Teflon, fast food packaging, pesticides, eye makeup, cleaning products, dental floss and shampoo. However, one of the biggest contaminations identified in recent years is the groundwater under U.S. Air Force bases, which is a result of the use of PFAS-containing firefighting foam.
Creating a unique solution
Knight has been working with Ryan Davis, who specializes in materials science, to create a filter that could not only eliminate PFAS in water on a large scale but also in a household setting. "This could be something that could be deployed for major remediations or could be something that could be kept under your sink. If the initial treatment is already done, what does come through the water treatment facility through your faucet can be filtered by you, prior to end use," Knight said.
To do this, the team must approach things differently. PFAS do not degrade on their own because the carbon-fluorine bond is so strong. They are also not the only pollutants present. This results in a sort of competition, during absorption efforts. "We are working to design materials that are more selective in absorbing PFAS. Traditional methods involve ion exchange of resins or granulated activated carbon. While these are effective at absorbing some PFAS, they lack specificity and versatility," Knight said.
With $100,000 in recently awarded funds from the Sandia Technology Maturation Program, the team hopes to build its data to show how well the materials work. The goal is to commercialize the product to remove 99% of PFAS from water. "Our analytical lab here at Sandia is much better equipped than your average analytical lab, with Andrew's synthetic capability and our analytical capability. It really is a perfect match," Davis said.
A different approach inspired by nature
This project is just one of several on which these Sandia researchers are working to tackle PFAS contamination. Joined by geoscientist Mark Rigali and materials scientist Jessica Kustas, they are partnering with a local business to try a different approach that goes beyond just capturing PFAS. "It's a one-two punch as we are combining two different technologies to develop something more effective than either one individually," Rigali said. The materials they are working with are inspired by nature. Rigali is particularly interested in how PFAS behave in the body. He looked to medical literature for guidance and got the idea of creating a material that targets and absorbs PFAS by mimicking its behavior in humans, an approach that appears promising.
Some of their work is being paid for with $150,000 in funding from the New Mexico Technology Readiness Initiative. Through the program, Sandia and Los Alamos National Laboratories can provide technical assistance to help private companies mature technology. In this case, researchers are working with New Mexico-based Sigma Advanced Technologies, LLC.
The inspiration behind the project
The inspiration for this project also comes from personal experience. Kustas completed her post-doc with the U.S. Army where she tested water at military bases for PFAS. She found that the contamination was widespread, not just in those locations. "It's a little scary. I saw a figure that this 'forever chemical' is in the blood of 97 % of the U.S. population. We consume more plastic than we realize. It used to be just in plastics, but now it's in water and in all the animals we eat because their bodies don't know how to break it down," Kustas said.
For others on the team, it's about accomplishing what no one else has. "Honestly, I like hard problems, and I like problems that can have very impactful solutions. If we can find a better way to treat PFAS, we can positively impact not only the U.S. but also places around the world," Rigali said.
This team believes Sandia is the perfect place to accomplish this. "It's a large-scale problem, and with Sandia's mission of national security, water security and energy security, it's important for Sandia to get involved. It's something Sandia can directly tackle and address," Knight said.
---
Sandia National Laboratories is a multimission laboratory operated by National Technology and Engineering Solutions of Sandia LLC, a wholly owned subsidiary of Honeywell International Inc., for the U.S. Department of Energy's National Nuclear Security Administration. Sandia Labs has major research and development responsibilities in nuclear deterrence, global security, defense, energy technologies and economic competitiveness, with main facilities in Albuquerque, New Mexico, and Livermore, California.
Sandia news media contact: Kim Vallez Quintana, kdquint@sandia.gov, 505-537-3294
---