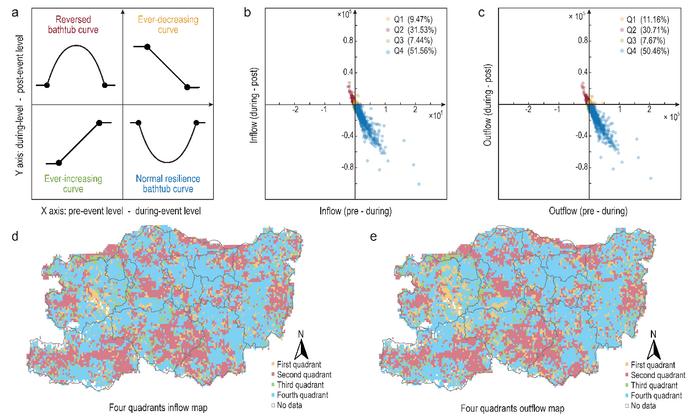 Resilience can be interpreted as the comprehensive ability of a system to prepare for, absorb, and recover from external or internal disturbances and shocks. In the context of human mobility, resilience therefore refers to the ability of people's movements within and between cities to cope with and adapt to disruptive events, such as natural disasters.
On July 20, 2021, a record-breaking heavy rainfall occurred in the Zhengzhou region, Henan province, China, an inland densely-populated region with a total area of 7600 km2, 12.7 million residents, and a 79.1% urbanization rate. The region is located in a semiarid area and is known for its relatively low average annual precipitation. This unexpected heavy rainfall led to an extreme urban flood, causing massive injuries to the public and losses in critical infrastructure systems, with a death toll of 380; nearly two million people were affected. Very quickly, this apocalyptic event in central China drew extensive attention globally. Using 1.32 billion mobile phone signaling records generated by 4.35 million people during "720" Zhengzhou flood event, researchers from Peking University, Henan University, and Key National Geomatics Center of China jointly analyzed how people's mobility responded to this extreme urban flood disaster in 2021 summer.
"Owing to the growing availability of mobile phone big data and advanced data mining techniques, we can now uncover more details regarding how people collectively moved and responded to this unprecedented urban flood disaster." said Professor Pengjun Zhao, the lead author of the study and the Dean of the School of Urban Planning and Design from Peking University.
1. Who is more vulnerable to the impact of this flooding event?
By grouping data based on traveler's gender and age, the study found that there were significant differences in the mobility resilience of different groups, with female, adolescent under 18 years old, and older adults over 60 years old exhibiting relatively lower resilience and therefore being more likely to be affected by flooding. The study highlights the importance of considering demographic data in disaster planning and response efforts, as certain groups may require targeted support and resources in order to effectively mitigate the impact of disasters
"The result quantitatively illustrates the probability of maintaining the usual travel frequency in these population groups is much lower than other groups during the event, which explains their lower resilience level and insufficient recovery." said Prof. Zhao.
2. Counterintuitive resilience patterns in human mobility
Additionally, by analyzing the changes of mobility in various geographical scales, the study further unraveled four distinct patterns of human mobility (Fig. 1). Of these modes, three abnormalities were found, namely "reversed bathtub curve", "ever-decreasing curve", and "ever-increasing curve". Together, these abnormal patterns account about 50% of the total area.
These abnormal resilience patterns indicate unusual collective mobility behaviors in response to this severe disaster. "Taking the inflow as an example, the reversed bathtub pattern confirms that this flood disaster stimulates inflow mobility instead of suppressing it in those places " said Dr. Junqing Tang, the first author of this study, Assistant Professor at the School of Urban Planning and Design. " Meanwhile, in the recovery stage, the high mobility inflow dissipates to a lower level. This could reflect disaster avoidance behaviors in which people temporarily alter their travel route choices to agglomerate at certain new spots during the flood, but after the event, they shift back to their regular routes. " he added.
3. Are these abnormal resilience patterns associated with traveler's characteristics?
The research team further explored the association between the heterogeneous resilience patterns and traveler's gender and age attributes. The results indicate that both normal and abnormal mobility resilience patterns are not essentially associated with either gender or age. This particular finding implies that on a collective scale whether the dynamic human movements in response to urban floods follow a normal or abnormal resilience pattern cannot be explained by their gender or age attributes, indicating that a universal behavioral mechanism of disaster-avoidance responses might exist across populations. Given the common association between travel behaviors and traveler's socio-demographical characteristics, evidence here provide a potential "heads-up" for probing unusual human mobility during flood-induced emergencies.
This study was supported by the National Natural Science Foundation of China (41925003 & 42130402), Start-up Funding for New Faculty at Peking University Shenzhen Graduate School (1270110033), and Guangdong Basic and Applied Basic Research Foundation (2021A1515110537).
See the article:
Resilience patterns of human mobility in response to extreme urban floods https://doi.org/10.1093/nsr/nwad097
---
Journal
National Science Review