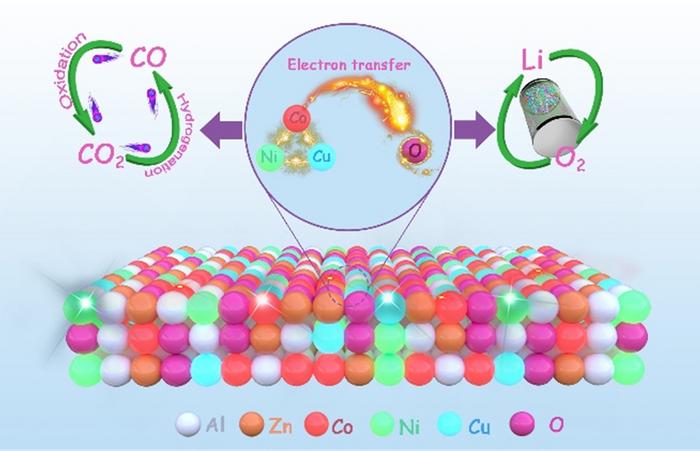 High entropy oxides (HEOs) have been tentatively and prospectively applied for catalysis and energy storage. However, it is hard to further enhance its performance due to the difficult regulation of HEOs' physical-chemical properties. Although some optimized strategies, such as the introduction of noble metal, have been taken to improve the properties and performance of HEOs by a simple and effective way, the current methods could not well guide its commercial preparation and industrial application.
Recently, a research team led by Prof. Zhong-Shuai Wu from State Key Laboratory of Catalysis, Dalian Institute of Chemical Physics, Chinese Academy of Sciences, reported a general in-situ modulation strategy of solid phase combustion using thiourea addition and alkali liquor treatment to activate metal sites and lattice oxygen species of CuCoNiZnAl HEOs. Consequently, the activated HEOs not only displays higher CO2 hydrogenation and CO oxidation activity, but also owns greatly better electrocatalytic activity (discharge/charge capacities of 12049/9901 mAh/g) with excellent cycle stability (2500 h) on Li-O2 battery than that of pristine HEOs. The results were published in Chinese Journal of Catalysis (DOI: 10.1016/S1872-2067(23)64409-2).
The optimized HEOs using thiourea addition (CuCoNiZnAl-T) and alkali liquor treatment (CuCoNiZnAl-T-NaOH) ones exhibit similar crystal structure with that of CuCoNiZnAl, but higher BET surface area. Meanwhile, the reducibility of CuCoNiZnAl-T-NaOH catalyst is much better than CuCoNiZnAl-T and CuCoNiZnAl. In addition, CuCoNiZnAl and CuCoNiZnAl-T present irregular massive morphology, whereas CuCoNiZnAl-T-NaOH shows sheet-like morphology. Detailly, the CuCoNiZnAl-T-NaOH also possessed more cationic vacancies, distorted lattice and more active lattice oxygen species.
As a result, CuCoNiZnAl-T-NaOH not only shows higher CO2 conversion than that of CuCoNiZnAl and CuCoNiZnAl-T in the temperature range from 350 to 600 °C, but also exhibits higher CO conversion than those of CuCoNiZnAl and CuCoNiZnAl-T in the whole temperature range (especially between 160 and 220 °C). More importantly, CuCoNiZnAl-T-NaOH cathode delivers much higher discharge/charge capacities of 12049/9901 mAh/g than those of CuCoNiZnAl-T (11917/8071 mAh/g) and CuCoNiZnAl (7260/5224 mAh/g) with a stable stability (~2500 h). The excellent performance is mainly attributed to the easier electron transfer between Cu/Ni/Co sites and lattice oxygen species in the framework of CuCoNiZnAl-T-NaOH. Therefore, this present work guides us a novel manner of optimizing HEOs with targeted activated metal sites as highly active heterogeneous thermal and electrochemical catalysts for redox reactions and energy storage through an environment-friendly and cost-effective way.
###
This work was supported by the China Postdoctoral Science Foundation (2021M693125), Dalian Innovation Support Plan for High Level Talents (2019RT09), Dalian National Laboratory for Clean Energy (DNL), CAS, DNL Cooperation Fund, CAS (DNL202016, DNL202019), The Joint Fund of the Yulin University, and the Dalian National Laboratory for Clean Energy (YLU-DNL Fund 2021002, YLU‐DNL Fund 2021009). The authors thank Zhongmiao Gong (Suzhou Institute of Nanotechnology and Nano-bionics, Chinese Academy of Sciences) for kindly helping with NAP-XPS characterization.
About the Journal
Chinese Journal of Catalysis is co-sponsored by Dalian Institute of Chemical Physics, Chinese Academy of Sciences and Chinese Chemical Society, and it is currently published by Elsevier group. This monthly journal publishes in English timely contributions of original and rigorously reviewed manuscripts covering all areas of catalysis. The journal publishes Reviews, Accounts, Communications, Articles, Highlights, Perspectives, and Viewpoints of highly scientific values that help understanding and defining of new concepts in both fundamental issues and practical applications of catalysis. Chinese Journal of Catalysis ranks among the top two journals in Applied Chemistry with a current SCI impact factor of 12.92. The Editors-in-Chief are Profs. Can Li and Tao Zhang.
At Elsevier http://www.journals.elsevier.com/chinese-journal-of-catalysis
Manuscript submission https://mc03.manuscriptcentral.com/cjcatal
---
Journal
Chinese Journal of Catalysis
Article Title
Activation of partial metal sites in high-entropy oxides for enhancing thermal and electrochemical catalysis
Article Publication Date
1-May-2023