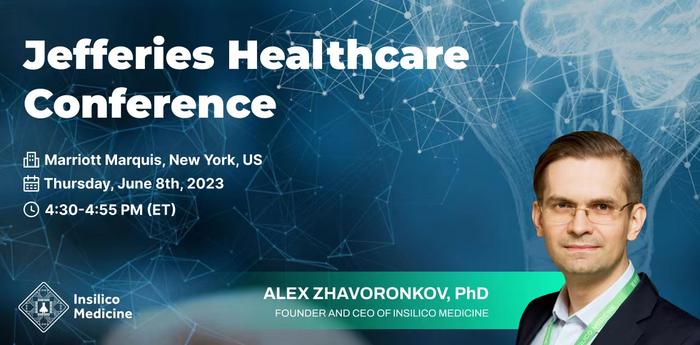 Alex Zhavoronkov, PhD, founder and CEO of Insilico Medicine ("Insilico"), a generative artificial intelligence (AI)-driven drug discovery company, will present on the latest company milestones at the Jefferies Global Healthcare Conference on June 8, 4:30pm ET at the Marriott Marquis in New York City. The conference brings together hundreds of public and private healthcare companies and thousands of executives, as well as institutional investors, private equity investors, and VCs discussing trends and investment opportunities in healthcare in the US.
Zhavoronkov will share updates on Insilico's rapidly progressing pipeline of novel therapeutics available for partnering and licensing, and showcase its new AI-driven fully robotic target discovery and validation platform, and end-to-end drug discovery platform, Pharma.AI, which includes target identification (PandaOmics), drug design (Chemistry42), and clinical trial outcome prediction (InClinico). The platform has produced three drugs that have reached clinical trials. Insilico's lead drug for the devastating chronic lung disease idiopathic pulmonary fibrosis (IPF), the first AI-discovered and AI-designed drug to advance to clinical trials, will soon be entering Phase 2 trials with patients. Insilico's generative AI-designed drug for COVID-19 and related variants has been approved for clinical trials and has a number of design advantages over existing COVID-19 drugs. Most recently, the company announced that its USP1 synthetic lethality inhibitor received FDA IND approval for the treatment of solid tumors.
There are 31 drugs in Insilico's pipeline available for partnering and licensing for indications including cancer, fibrosis, and central nervous system diseases, and the Company has nominated 12 preclinical candidates in the past two years, most recently a potentially best-in-class preclinical candidate targeting ENPP1 for cancer immunotherapy and the potential treatment of Hypophosphatasia (HPP).
Insilico has partnered with leading pharma companies, including Fosun Pharma and Sanofi, to accelerate their programs. The Company has raised over $400m in funding to date from notable biotech and tech investors.
About Insilico Medicine
Insilico Medicine, a clinical-stage end-to-end artificial intelligence (AI)-driven drug discovery company, connects biology, chemistry, and clinical trials analysis using next-generation AI systems. The company has developed AI platforms that utilize deep generative models, reinforcement learning, transformers, and other modern machine learning techniques to discover novel targets and design novel molecular structures with desired properties. Insilico Medicine is delivering breakthrough solutions to discover and develop innovative drugs for cancer, fibrosis, immunity, central nervous system (CNS) diseases, and aging-related diseases.
For more information, visit www.insilico.com
---