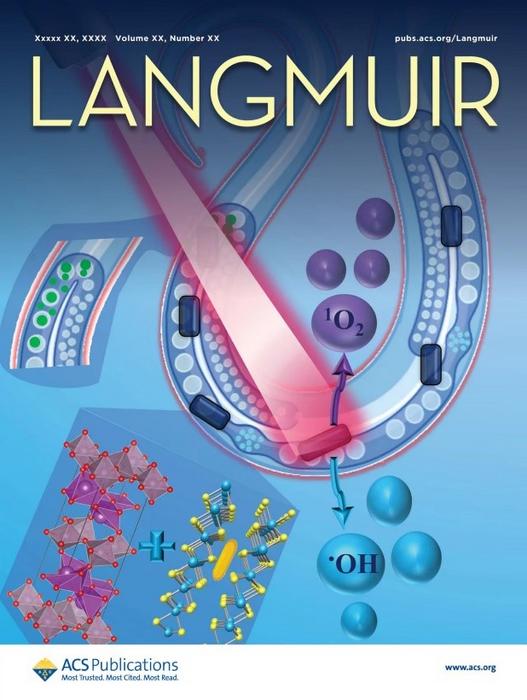 Recently, a research team led by Prof. HUANG Qing at the Institute of Intelligent Machines, Hefei Institutes of Physical Science (HFIPS) provided a new nanocomposite based on Bi2MoO6/MoS2/AuNRs for near-infrared (NIR)-II light-boosted photodynamic/chemodynamic therapy.
The results have been published in Langmuir and recommended as Journal's front cover.
Bi2MoO6 (BMO) nanoparticles (NPs) have been extensively used in photocatalytic applications. Also, utilized as a photosensitizer in photodynamic therapy. However, their UV absorption property hinders their clinical application.
In this research, scientists designed a new nanocomposite named Bi2MoO6/MoS2/AuNRs (BMO-MSA) by modified Bi2MoO6 (BMO) by MoS2/AuNRs (MSA) hybrid. They found that the resulting nanocomposite can absorb light in the NIR-II range. The outcomes of the research revealed that after exposured to light with wavelength 1064 nm, the BMO-MSA produced singlet oxygen (1O2) with quantum yield (QY) = 0.32 which confirmed its photodynamic therapy (PDT) ability. Moreover, it has POD-like activity, which enhances the chemodynamic therapy (CDT) effect.
To investigate the in vivo PDT efficiency of BMO-MSA, the researcher studied the germline apoptosis based on their previously C. elegans-established PDT model. The findings demonstrated that PDT caused germline apoptosis in the worm through the cep-1 pathway due to DNA damage. This finding was further supported by the utilization of a variety of mutants that had a lack of function related to DNA damage genes.
This work has not only provided a novel PDT agent which may be used for PDT in the NIR-II region but also introduced a new approach to therapy taking advantage of both PDT and CDT effects, according to the team.
---