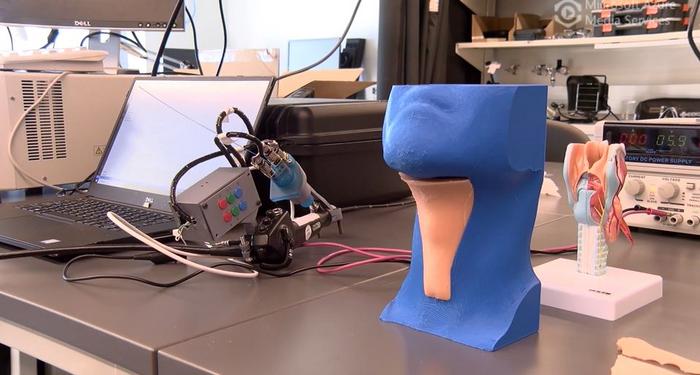 Worcester Polytechnic Institute (WPI) researcher Loris Fichera has been awarded $599,663 by the National Science Foundation for a five-year project that will enable a new class of surgical robots to treat disease through the focused delivery of energy, such as light, without cutting or touching human tissues.
The prestigious CAREER Award will support Fichera, an assistant professor in the Department of Robotics Engineering, as he investigates the integration of lasers, radiofrequency, and ultrasonic probes into surgical robots. The project also will apply Fichera's research to experimental devices under development at WPI for vocal cord and brain surgery.
"Existing surgical tools that use focused energy, such as lasers and radiofrequency or ultrasound probes, work by heating and destroying tissue," Fichera said. "The next generation of energy-based surgical robots needs to evolve to better perceive and monitor the impact of heat on body tissues so that surgeons can conduct minimally invasive operations more accurately and without causing damage to healthy tissue."
The project builds on Fichera's previous work on a robotic device for vocal folds surgery, and it will bring together his interdisciplinary expertise in robotics and the impact that focused energy has on human tissue.
Fichera will develop a technique called "virtual palpation" that will improve a surgical robot's perception by using low-intensity energy pulses to map out a site in the body and determine how much focused energy a surgeon should apply. Fichera will use that enhanced perception to build better control and automation into surgical robots, including a hand-held laser device he is developing to vaporize tumors tucked into the vocal folds of a patient's throat. In addition, he will apply his methods to models developed by Gregory Fischer, WPI professor of robotics, for a minimally invasive robotic system that uses ultrasound to destroy brain tumors.
As part of his project, Fichera will create research opportunities in his laboratory for up to 60 WPI undergraduates over five years and expand a graduate-level course on surgical robots.
"Robotic systems that use focused energy have the potential to transform surgery from procedures that use mechanical forces to cut and stretch tissue into something that no longer involves blood and incisions," Fichera said. "With a new theory of how robots can interact with their surroundings, we will empower the next generation of surgical roboticists to improve human health."
---