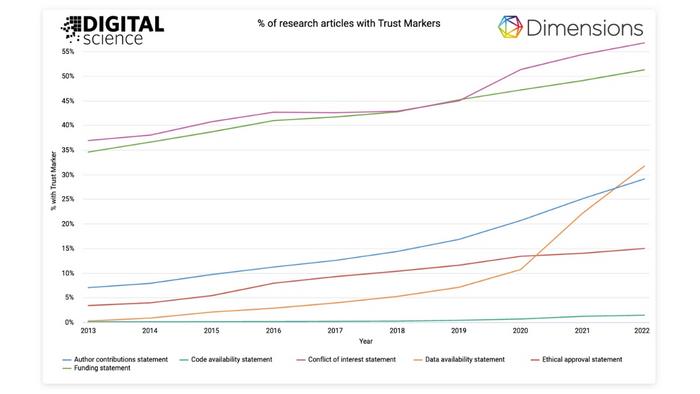 Digital Science company Dimensions has today launched its new Dimensions Research Integrity app, enabling users to ensure the highest standards of research integrity and helping to build global trust in research.
The Dimensions Research Integrity app uses AI to track the presence of several Trust Markers across tens of millions of publications worldwide. Developed for universities, funders and publishers, the app's users can analyze these Trust Markers related to their organization, and for any organization of the same type.
Trust Markers are hallmarks of professional, transparent, well-communicated and reproducible scientific research, and include statements of ethical approval, conflicts of interest, author contributions, and data availability.
"Our new web app will play a critical role in response to the growing and alarming level of research integrity issues. This is a first of its kind app built on the largest research integrity data for academic institutions, governments, funding bodies, and publishers to make informed decisions," says Dr Leslie McIntosh, Vice President of Research Integrity at Digital Science.
"Research integrity is a towering and sustained problem for all stakeholders in the research community, and unfortunately this leads to public mistrust in research and its funding. It's estimated that in the US alone, tens of billions of dollars are spent on results that are neither reproducible nor transparent.
"Our new Dimensions Research Integrity app has been designed as the world's first cross-publisher, cross-institution, cross-funder research integrity app, so we can provide maximum benefit to those most affected," Dr McIntosh says.
Benefits to users
The Dimensions Research Integrity app is tailored to three key stakeholder groups: Universities and other research organizations, Funders, and Publishers.
The app will help organizations to monitor transparency and reproducibility in research, as well as compliance with appropriate policies and regulations, such as funding bodies' open data mandates.
Users will be able to:
Identify areas of research practice that need most attention

Measure transparency and reproducibility of research

Compare research integrity performance against competitors and global trends

Target interventions to improve research practice and culture, and measure their effects.
Ease of use and accessibility
"As with all Dimensions apps, the Dimensions Research Integrity app is a straightforward way for our research stakeholders to access sophisticated data analysis, even if they don't have a data analysis team available to produce their own dashboards and custom charts," Dr McIntosh says.
"The Dimensions Research Integrity app represents a significant leap forward in ensuring the reproducibility and trustworthiness of scientific research. By harnessing the power of data and providing accessible and user-friendly tools, researchers, institutions, funders, and publishers can collectively elevate the standards of research integrity, enabling groundbreaking discoveries that will shape the future."
Watch a video about the Dimensions Research Integrity app: https://youtu.be/NGVVJJyjSz0
Find out more about the Dimensions Research Integrity app.
About Digital Science
Digital Science is a technology company working to make research more efficient. We invest in, nurture, and support innovative businesses and technologies that make all parts of the research process more open and effective. Our portfolio includes admired brands: Altmetric, Dimensions, Figshare, ReadCube, Symplectic, IFI CLAIMS Patent Services, Overleaf, Ripeta, Writefull, and metaphacts. We believe that together, we can help researchers make a difference. Visit www.digital-science.com and follow @digitalsci on Twitter or LinkedIn.
About Dimensions
Part of Digital Science, Dimensions is the largest linked research database and data infrastructure provider, re-imagining research discovery with access to grants, publications, clinical trials, patents, and policy documents all in one place. www.dimensions.ai. Follow @DSDimensions on Twitter and LinkedIn.
Media contacts
Simon Linacre, Head of Content, Brand & Press, Digital Science: Mobile: +44 7484 381477, s.linacre@digital-science.com
David Ellis, Press, PR & Social Manager, Digital Science: Mobile +61 447 783 023, d.ellis@digital-science.com
---