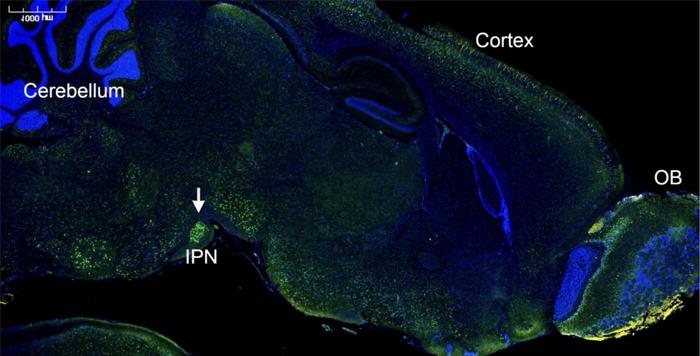 A study in mice reports a CRISPR/Cas9 gene-editing delivery system, capable of bypassing the blood-brain-barrier and modulating neuronal receptor pathways, to treat chronic anxiety. Troy Rohn and colleagues targeted 5HT-2A, a serotonin receptor known to play a role in anxiety and depression. The authors used a vector based on an inactivated adeno-associated virus to deliver the vector through the nose. The vector delivers a guide RNA to neurons. The guide RNA binds to the target receptor gene, HTR2A, which is then cut at a specific location by the enzyme Cas9. Five weeks after intranasal delivery of the vector and package, 75 mice were tested with standard behavioral assays measuring mouse anxiety. For example, anxious mice will choose to spend more time in dark areas and tend to bury unfamiliar objects such as marbles in sawdust rather than letting them be. Treated mice spent 35.7% more time in light areas than controls and showed a 14.8% decrease in the number of marbles buried compared with controls. Mice treated with the CRISPR package showed an 8.47-fold decrease in HTR2A expression in their brains, compared with control mice. According to the authors, noninvasive, intranasal delivery of CRISPR/Cas9 therapeutics may help patients who exhibit treatment-resistant anxiety.

---
Article Title
Genetic modulation of the HTR2A gene reduces anxiety-related behavior in mice
Article Publication Date
20-Jun-2023
COI Statement
J.L.M. and D.R. are co-founders of Cognigenics and members of its scientific advisory board and hold equity in the company. T.T.R. is a part-time consultant serving as Director of Preclinical Research at Cognigenics and in addition to receiving a salary, owns shares of the company's common stock and options for common shares. J.H.F. is a part-time consultant serving as Chief Science Officer at Cognigenics, Inc. and is a member of its scientific advisory board. In addition to receiving a salary, J.H.F. owns shares of the company's common stock. J.H.F.is the inventor of a patent application titled, "Systems and Methods for an Intranasal Drug Delivery System." All other authors declare no competing interests.