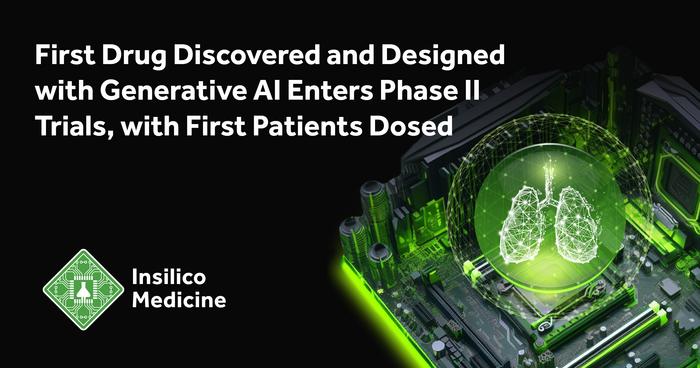 After completing Phase 0 and Phase I human safety studies, INS018_055, Insilico's AI-discovered and AI-generated drug, has entered multi-regional Phase II clinical trials in the U.S and China.
The first human patients were administered the drug.
This is a potentially first-in-class anti-fibrotic drug candidate that has reached clinical Phase II, and it is fully delivered by generative AI, with a novel AI-discovered target and a novel AI-generated molecular structure.
Powered by its integrated commercially available AI platform, Pharma.AI, Insilico has nominated and announced 12 preclinical candidates for internal drug discovery programs since 2021 and three of them have advanced into human clinical trials.
Insilico Medicine ("Insilico"), a generative artificial intelligence (AI)-driven clinical-stage biotechnology company, today announced that it has completed the first dose in patients in the Phase II clinical trial of INS018_055, marking the world's first anti-fibrotic small molecule inhibitor discovered and designed using generative AI, initiating Phase II clinical trials for further evaluation.
The study is a randomized, double-blind, placebo-controlled trial to assess the safety, tolerability, pharmacokinetics and preliminary efficacy of 12-week oral INS018_055 dosage in subjects with IPF divided into four parallel cohorts. To further evaluate the candidate in wider populations, the company plans to recruit 60 subjects with IPF at about 40 sites in both the U.S and China.
INS018_055 received positive topline data in Phase I in early 2023. In Phase I trials carried out in New Zealand and China, INS018_055 was tested in 78 and 48 healthy subjects, divided into cohorts focusing on a single ascending dose (SAD) study and multiple ascending dose (MAD) study. The international multi-sites Phase I studies yielded consistent results, demonstrating favorable safety, tolerability, and pharmacokinetics (PK) profiles of INS018_055, supporting the initiation of the Phase II study.
"With demonstrated potential against both fibrosis and inflammation, INS018_055 could offer another option for patients worldwide," said Feng Ren, PhD, co-CEO and Chief Scientific Officer of Insilico Medicine. "The achievement of the first dose for INS018_055 in the Phase II clinical trial is not only an important step for Insilico, but also a milestone for AI-driven drug discovery and development. Together, we are expecting more achievements powered by AI for global unmet medical needs."
"When we started developing generative AI for drug discovery, I never expected to see the clinical and preclinical results we have today," said Alex Zhavoronkov, PhD, Founder and co-CEO of Insilico Medicine. "Initiating Phase II trials with this novel inhibitor for IPF represents a major milestone for deep generative reinforcement learning in drug discovery. We will explore the efficacy for patients of AI-discovered and designed treatments in clinical trials, which is a true validation of our generative AI platform. We are eager to continue to advance this potentially first-in-class therapy forward to help patients in need and show the value of generative AI in drug discovery and development."
Insilico is one of the pioneers in utilizing generative AI for drug discovery and development. The company first described the concept of using generative AI for the design of novel molecules in a peer-reviewed journal in 2016. Then, Insilico developed and validated multiple approaches and features for its generative adversarial network (GAN)-based AI platform and integrated those algorithms into the commercially available Pharma.AI platform, which includes generative biology, chemistry, and medicine. Moreover, Insilico Medicine launched its target discovery AI platform PandaOmics, generative chemistry AI platform Chemistry42, and clinical trial analysis platform inClinico commercially to enable the biotechnology and the pharmaceutical industry to utilize these advanced generative AI tools to power their internal research and development.
Insilico is delivering breakthroughs for healthcare in multiple disease areas using generative AI. Since 2021, Insilico has nominated and announced 12 preclinical candidates in its comprehensive portfolio of over 30 assets and has advanced 3 of them to the clinical stage. The Company has benefited from a technology collaboration with NVIDIA, including NVIDIA DGX systems.
"When we started, there were hundreds of companies claiming to use AI for drug discovery," says Zhavoronkov. "Insilico was started as a deep learning pureplay at NVIDIA GTC, a global conference on AI and the metaverse. We were one of the first to get the DevBox, test the latest hardware early, and now work on NVIDIA DGX. We made a bet on generative AI early, tapped NVIDIA's best-in-class technology, worked hard, and now we can tangibly demonstrate substantial R&D performance boosts and real clinical-stage drugs imagined by AI."
About INS018_055
INS018_055 is a potentially first-in-class small molecule inhibitor with a novel target discovered by Insilico's target identification engine, PandaOmics, and a novel molecular structure designed by its generative chemistry engine, Chemistry42. In February 2021, Insilico nominated INS018_055 as a preclinical candidate for the treatment of IPF, a chronic lung disease that results in progressive and irreversible decline in lung function, and started a first-in-human study in November 2021. The FDA granted Orphan Drug Designation to INS018_055 for the treatment of Idiopathic Pulmonary Fibrosis in February 2023.
About Idiopathic Pulmonary Fibrosis (IPF)
Idiopathic pulmonary fibrosis (IPF), included in the List of Rare Diseases (the First List) in 2018, is a chronic scarring lung disease characterized by progressive and irreversible decline in lung function, affecting approximately five million people worldwide. Patients diagnosed with IPF are often in advanced stages due to lack of differential symptoms, and the median survival is three years. Given the limited available therapies and poor prognosis, there remains a large unmet clinical need for new IPF therapies.
About Insilico Medicine
Insilico Medicine, a clinical stage biotech company powered by generative AI, is connecting biology, chemistry, and clinical trials analysis using next-generation AI systems. The company has developed AI platforms that utilize deep generative models, reinforcement learning, transformers, and other modern machine learning techniques for novel target discovery and the generation of novel molecular structures with desired properties. Insilico Medicine is developing breakthrough solutions to discover and develop innovative drugs for cancer, fibrosis, immunity, central nervous system diseases, infectious diseases, autoimmune diseases, and aging-related diseases. www.insilico.com
---