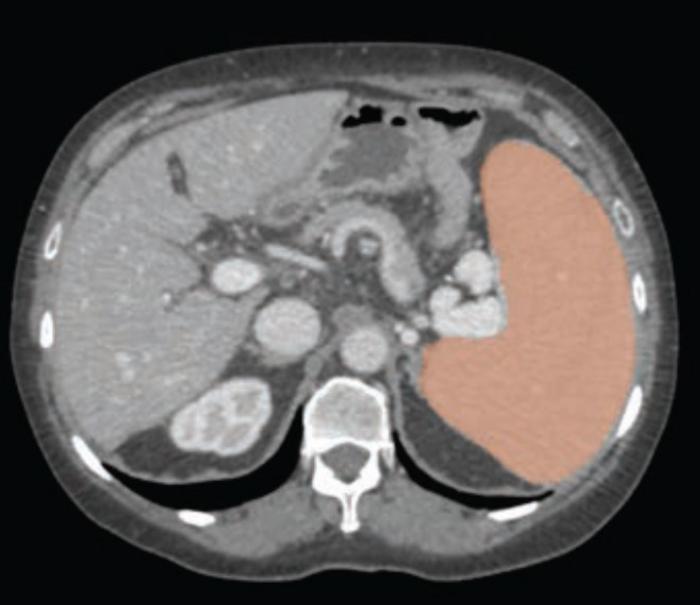 Leesburg, VA, June 30, 2023—According to an accepted manuscript published in ARRS' own American Journal of Roentgenology (AJR), using an automated deep-learning AI tool, as well as weight-based volumetric thresholds, might afford large-scale evaluation for splenomegaly on CT examinations performed for any indication.
Noting that, historically, the standard linear splenic measurements used as a surrogate for splenic volume yielded suboptimal performance in detecting volume-based splenomegaly, "the weight-based volumetric thresholds indicated the presence of splenomegaly in most patients who underwent pre-liver transplant CT," explained corresponding author Perry J. Pickhardt, MD, from the department of radiology at University of Wisconsin School of Medicine & Public Health.
Pickhardt and colleagues' AJR accepted manuscript included a screening sample of 8,901 patients (4,235 men, 4,666 women; mean age, 56 years) who underwent CT colonoscopy (n = 7736) or renal-donor CT (n = 1165) from April 2004 to January 2017. A secondary cohort of 104 patients (62 men, 42 women; mean age, 56 years) with end-stage liver disease underwent pre-liver transplant CT from January 2011 to May 2013. Pickhardt et al.'s deep learning algorithm—previously developed, trained, and tested at the National Institutes of Health Clinical Center—was used for spleen segmentation, to help determine splenic volumes, with two radiologists independently reviewing a subset of said segmentations.
Ultimately, this automated deep-learning AI tool was utilized to calculate splenic volumes from CT examinations in 8,853 patients from the primary outpatient population. Additionally, splenic volume was most strongly associated with weight, among a range of patient factors.
"To our knowledge," the AJR authors concluded, "this study represents the largest reported sample of patients to undergo volumetric segmentation of the spleen."
---
North America's first radiological society, the American Roentgen Ray Society (ARRS) remains dedicated to the advancement of medicine through the profession of medical imaging and its allied sciences. An international forum for progress in radiology since the discovery of the x-ray, ARRS maintains its mission of improving health through a community committed to advancing knowledge and skills with the world's longest continuously published radiology journal—American Journal of Roentgenology—the ARRS Annual Meeting, InPractice magazine, topical symposia, myriad multimedia educational materials, as well as awarding scholarships via The Roentgen Fund®.
MEDIA CONTACT:
Logan K. Young, PIO
44211 Slatestone Court
Leesburg, VA 20176
---
Journal
American Journal of Roentgenology
Method of Research
Imaging analysis
Subject of Research
People
Article Title
Automated Deep Learning Artificial Intelligence Tool for Spleen Segmentation on CT: Defining Volume-Based Thresholds for Splenomegaly
Article Publication Date
29-Jun-2023
COI Statement
R. M. Summers receives royalties from iCAD, Ping An, Philips Healthcare, Translation Holdings, and ScanMed and research support from Ping An. P. J. Pickhardt is an advisor to Bracco, Nanox, and GE Healthcare. The remaining authors declare that there are no other disclosures relevant to the subject matter of this article.