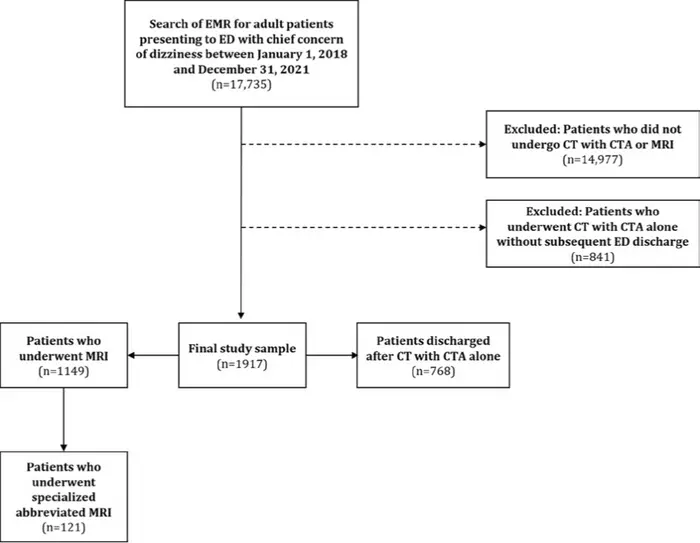 Leesburg, VA, July 7, 2023—According to an accepted manuscript published in the American Journal of Roentgenology (AJR), patients discharged from the emergency department (ED) after CT with CTA alone could have benefitted from an alternative or additional MRI evaluation, including using a specialized abbreviated protocol for the modality.
Compared with those patients discharged after CT with CTA only, "the use of MRI in select patients presenting to the ED with dizziness was associated with greater frequency of critical neuroimaging results, greater use of echocardiography, and greater frequency of a change in secondary stroke prevention medications," concluded first author Long H. Tu, MD, from the department of radiology and biomedical imaging at Yale School of Medicine in New Haven, CT.
This AJR accepted manuscript by Tu et al. included 1,917 patients (776 men and 1,141 women; mean age, 59.5 years) presenting to the ED with dizziness from January 1, 2018 to December 31, 2021. The initial propensity score matching analysis incorporated demographic characteristics, medical history, systems review, physical examination findings, as well as clinical symptoms to construct matched patients discharged from the ED after undergoing head CT with head and neck CTA alone and patients who underwent brain MRI—with or without CT and CTA. Upon comparing those outcomes, a secondary assessment matched patients discharged after CT with CTA alone and patients who underwent specialized abbreviated MRI (i.e., multiplanar high-resolution DWI with ≤3 mm slice thickness) for increased sensitivity for posterior circulation stroke.
Ultimately, patients with dizziness undergoing MRI, versus CT with CTA alone, showed greater frequency of change in secondary stroke prevention medication (9.6% vs. 3.2%) and subsequent echocardiography (6.4% vs. 1.0%). Again, versus CT with CTA alone, Tu and colleagues' specialized abbreviated MRI protocol was also associated with lower frequency of 90-day ED readmissions (12.0% vs. 28.0%).
"When available," the authors of this AJR accepted manuscript acknowledged, "use of MRI may motivate clinically impactful management changes in patients presenting with dizziness."
Click here to watch Dr. Tu's AJR Author Interview
---
North America's first radiological society, the American Roentgen Ray Society (ARRS) remains dedicated to the advancement of medicine through the profession of medical imaging and its allied sciences. An international forum for progress in radiology since the discovery of the x-ray, ARRS maintains its mission of improving health through a community committed to advancing knowledge and skills with the world's longest continuously published radiology journal—American Journal of Roentgenology—the ARRS Annual Meeting, InPractice magazine, topical symposia, myriad multimedia educational materials, as well as awarding scholarships via The Roentgen Fund®.
MEDIA CONTACT:
Logan K. Young, PIO
44211 Slatestone Court
Leesburg, VA 20176
---
Journal
American Journal of Roentgenology
Method of Research
Imaging analysis
Subject of Research
People
Article Title
CT With CTA Versus MRI in Patients Presenting to the Emergency Department With Dizziness: Analysis Using Propensity Score Matching
Article Publication Date
6-Jul-2023
COI Statement
Long H. Tu, MD, reported receiving royalties for 2 textbooks, Search Pattern: A Systematic Approach to Diagnostic Imaging (2020) and A Brief Guide to the Neuroradiology Fellowship (2021), and was a student in the Yale University Investigative Medicine Program, which receives funding from the National Center for Advancing Translational Science, a component of the National Institutes of Health (NIH).