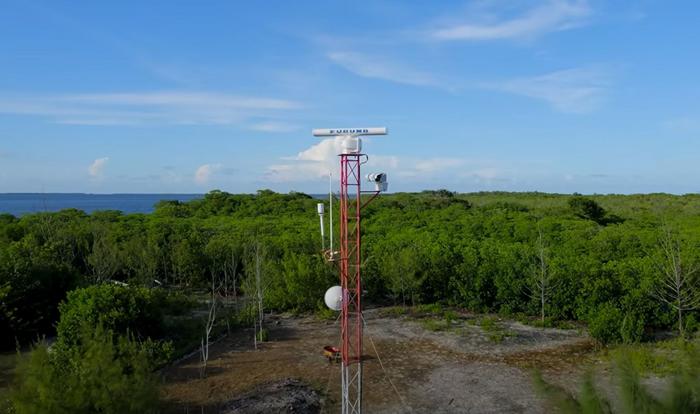 A new study using Marine Monitor—ProtectedSeas' shore-based vessel monitoring system—highlights the need for systems that can track boater activity in small, coastal marine protected areas (MPAs) that are not visible in traditional vessel tracking systems to help ensure marine protection rules are followed.
The findings, recently published in Remote Sensing, used the Marine Monitor (M2) autonomous data collection tool to continuously monitor vessel activity 24 hours a day, 7 days a week at a highly urban MPA near San Diego, California and a more remote MPA at Turneffe Atoll, Belize, 50 kilometers offshore of Belize City.
The M2 systems used marine radar to record the movement of boats on the water. By comparing this information with data provided by the shore-based vessel tracking system known as Automatic Identification System (AIS), researchers found that 13 times more (93 percent) of boater activity was captured solely by radar at the MPA in California, and 44 times more (98 percent) of activity at the MPA in Belize.
"It was striking to see how much activity the radar system identified that was unknown when AIS was used alone," said ProtectedSeas researcher Samantha Cope, the lead author of the study. "There would only be limited data on human activities, and ultimately most of the human impact on these sensitive marine areas could be obscured if researchers only utilized traditional systems."
Monitoring human activity can help managers evaluate both the ecological and community benefits of the MPA, detect patterns in boat activity and other human uses, and ensure MPA regulations are followed.
The researchers also found that boats identified by radar did not behave in similar ways to boats that shared their location via AIS.
"The areas where boaters were most active, according to AIS, were not in the MPA," said study co-author Lisa Gilfillan, Ocean Conservation Manager at WILDCOAST, a site partner with M2 in California. "The M2 radar system helps us identify activities that we're interested in inside the MPA boundaries." Study results showed that boater activity detected by radar was concentrated in the center of the South La Jolla State Marine Reserve and at the southern boundary line. Activity detected by AIS was concentrated farther south.
A 2022 study by the M2 team published in PLOS ONE found that boaters often cluster along the edges of MPAs off the coast of California. These findings suggest that fishers are aware of the MPA boundaries and cluster just outside them to potentially benefit from better fishing opportunities by "fishing the line." In that study, only 10 percent of boating movement was potentially illegal fishing.
The M2 system in Belize monitors an area that is much more remote but also popular for tourism. "The M2 radar assists our Conservation Officers in monitoring vessel activity in the southern region of the Turneffe Atoll, specifically within the Caye Bokel Conservation Zone and Spawning Aggregate Site," said Andres Aldana, study co-author and site partner with Turneffe Atoll Sustainability Association. "With the ability to visually see vessels via the camera and vessel location through the M2 Local Viewer, our team can effectively strategize and deploy a patrol based on this information."
The study was published as part of a Special Issue, "Remote Sensing for Maritime Monitoring and Vessel Identification", intended to showcase different approaches for monitoring marine areas.
"We specifically designed M2 to give MPA managers a useful and affordable tool for monitoring important marine places," said M2 Product Manager and study co-author Brendan Tougher. "AIS and new technologies, like satellite-based systems, just don't tell the whole story."
---
Method of Research
Observational study
Subject of Research
Not applicable
Article Title
Marine Monitor Helps Identify Missing Information on Human Activities in Marine Protected Areas
Article Publication Date
21-Jun-2023