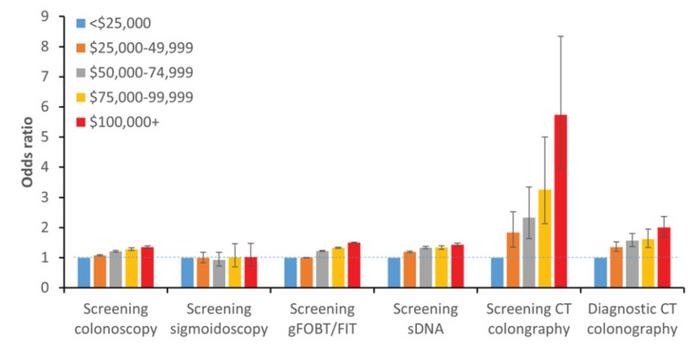 Leesburg, VA, July 19, 2023—According to an accepted manuscript published in the American Journal of Roentgenology (AJR), lacking Medicare coverage could contribute to greater income-based differences in use of screening CT colonography (CTC) than of other recommended screening strategies or of diagnostic CTC.
Noting that Medicare's non-coverage for screening CTC may account for lower adherence with screening guidelines among lower-income beneficiaries, "Medicare coverage of CTC could reduce income-based disparities for individuals avoiding optical colonoscopy due to invasiveness, need for anesthesia, or complication risk," concluded first author Eric W. Christensen, PhD, from the Harvey L. Neiman Health Policy Institute in Reston, VA.
Christensen et al.'s AJR accepted manuscript used CMS Research Identifiable Files—which contain claim information for 5% of Medicare fee-for-service beneficiaries—from January 1, 2011 to December 31, 2020. Extracting individuals 45–85 years old, excluding those with high CRC risk, models were then constructed to determine likelihood of undergoing CRC screening (as well as the CMS-covered test with similar access: diagnostic CTC) as a function of income, race and ethnicity, and urbanicity. Data were controlled for sex, age, Charlson comorbidity index, U.S. census region, screening year, and related conditions and procedures.
Ultimately, compared with Medicare beneficiaries in communities where per capita income was under $25,000 when controlling for race and ethnicity, those in communities with income greater than or equal to $100,000 were 5.7 times more likely to undergo screening CTC. Notably, this was a larger difference than observed for other CRC screening strategies (odds ratio, 1.03-1.50) or for diagnostic CTC (odds ratio, 2.00).
---
North America's first radiological society, the American Roentgen Ray Society (ARRS) remains dedicated to the advancement of medicine through the profession of medical imaging and its allied sciences. An international forum for progress in radiology since the discovery of the x-ray, ARRS maintains its mission of improving health through a community committed to advancing knowledge and skills with the world's longest continuously published radiology journal—American Journal of Roentgenology—the ARRS Annual Meeting, InPractice magazine, topical symposia, myriad multimedia educational materials, as well as awarding scholarships via The Roentgen Fund®.
---
Journal
American Journal of Roentgenology
Method of Research
Imaging analysis
Subject of Research
People
Article Title
Sociodemographic Factors and Screening CT Colonography Use Among Medicare Beneficiaries
Article Publication Date
19-Jul-2023