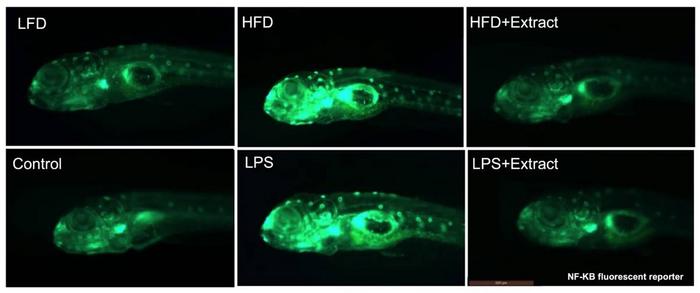 In a clinical trial, University of Otago, Dunedin, New Zealand researchers have discovered a dahlia extract that improves blood sugar regulation without reported side effects in humans. This is a ground-breaking discovery as it for the first time suggests that dysfunctional glucoregulation by the brain can be targeted therapeutically using potent plant molecules to treat type 2 diabetes.
Almost 170 years ago, Claude Bernard, the founder of modern medicine, discovered that the brain plays an important role in the regulation of blood sugar. However, due to the discovery of insulin in 1922, his ground-breaking discovery got almost forgotten until recently. It has been subsequently established that the brain contains a region called the hypothalamus that plays an essential role in the regulation of blood sugar. This region can be damaged through inflammatory processes that are brought about by excess consumption of a Western Style diet enriched in long-chain saturated fatty acids, for example, contained in lard, and this is regarded as a hallmark in the pathogenesis of metabolic diseases like type 2 diabetes. In 2015, Associate Professor Tups and colleagues discovered that butein, a specific plant molecule, could block these inflammatory processes that damage the hypothalamus, and butein potently improved blood sugar regulation in mice.
In the current study, published in Life Metabolism, the New Zealand researchers reported that flowers of the non-toxic dahlia plant are a cultivable source of butein. Intriguingly, in a mouse model of diet-induced metabolic disease, an extract from this plant improved blood sugar regulation. Furthermore, the researchers demonstrate that the effect of butein was enhanced by the presence of two additional plant molecules that were obtained from the flower in a specific extraction process. When the researchers used molecular tools that stopped insulin from working in the brain, the ability of the dahlia extract to improve blood sugar regulation was lost, suggesting that the extract improves the brain's function required for blood sugar regulation. This was substantiated by the observation that the extract enhanced the function of insulin in the brain and the discovery that the extract acts as a neuro-anti-inflammatory (Figure 1).
Confirming this, a randomized controlled crossover clinical trial on participants with prediabetes or type 2 diabetes revealed that the dahlia extract improved blood sugar regulation without reported side effects in humans.
###
Reference: Dominik Pretz et al. (2023) A dahlia flower extract has anti-diabetic properties by improving insulin function in the brain. Life Metabolism. https://doi.org/10.1093/lifemeta/load026.
About Higher Education Press
Founded in May 1954, Higher Education Press Limited Company (HEP), affiliated with the Ministry of Education, is one of the earliest institutions committed to educational publishing after the establishment of P. R. China in 1949. After striving for six decades, HEP has developed into a major comprehensive publisher, with products in various forms and at different levels. Both for import and export, HEP has been striving to fill in the gap of domestic and foreign markets and meet the demand of global customers by collaborating with more than 200 partners throughout the world and selling products and services in 32 languages globally. Now, HEP ranks among China's top publishers in terms of copyright export volume and the world's top 50 largest publishing enterprises in terms of comprehensive strength.
About Life Metabolism
Life Metabolism is a fully open access, peer-reviewed journal that publishes one volume per year online, providing a platform for the publication of works of high significance and broad interest in all areas of metabolism. Life Metabolism welcomes several different article types, including original article, review article, research highlight, letter, editorial, perspective, and so on. Once a paper is accepted, Life Metabolism can publish a precopyedited, preproofed version of the paper online within 48 hours of receiving a signed licence, and this will be replaced by a copyedited, proofed version of the paper as soon as it is ready. The Editors-in-Chief are professors Peng Li at Tsinghua University and John R Speakman at University of Aberdeen, UK. In the first three years, there will be no publication costs for publishing in Life Metabolism, and Open Access fees will be waived.
---
Method of Research
Experimental study
Subject of Research
Animals
Article Title
A dahlia flower extract has anti-diabetic properties by improving insulin function in the brain
Article Publication Date
18-Jun-2023