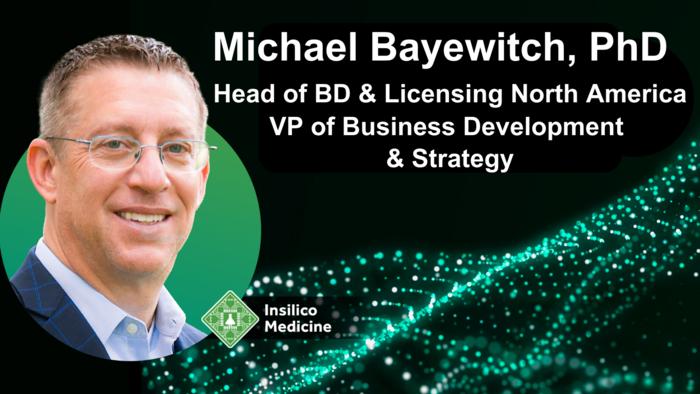 Insilico Medicine, a clinical-stage generative artificial intelligence (AI)-driven drug discovery company, has appointed Michael Bayewitch, PhD, as Head of Business Development and Licensing North America, leading Insilico's BD team on the East and West Coasts as well as supporting the Company's BD activities in Israel and Europe. In May 2023, Dr. Bayewitch joined Insilico as VP of Business Development and Strategy, a title he will retain. The expansion of Dr. Bayewitch's role is part of Insilico's evolving BD strategy, focusing on asset partnering and out-licensing. Insilico has 31 programs across 29 targets in its pipeline, including therapeutic areas of fibrosis, oncology, autoimmune inflammatory, and central nervous system disorders, and has nominated and announced 12 preclinical candidates that are moving forward in development since 2021 – 3 of which have successfully advanced into human clinical trials.
Dr. Bayewitch is an accomplished industry veteran with more than 22 years of experience in the pharmaceutical industry. He has spent his career focused on in/out-licensing transactions, mainly concentrating on therapeutic areas of oncology and autoimmune diseases. Prior to Insilico Medicine, he worked for international mid- and large-size pharmaceutical companies including Teva Pharmaceuticals Inc., Cephalon, and EOC Pharma. Most recently, he served as Executive Director of International Business Development for Simcere Pharmaceutical Group, where he performed opportunity identification, analysis, and forecasting resulting in multiple licensing deals.
"Insiico has developed a robust pipeline of assets, a number of which are entering clinical stages, and we look forward to Michael Bayewitch's continued expertise in leveraging these assets into new partnerships and licensing deals," says Alex Zhavoronkov, PhD, founder and CEO of Insilico Medicine.
Having graduated from University of California at Santa Barbara with a B.A. in Microbiology, Dr. Bayewitch obtained a PhD at The Weizmann Institute of Science in Rehovot, Israel. He worked as a post-doctoral research associate at The Salk Institute.
About Insilico Medicine
Insilico Medicine, a clinical-stage end-to-end generative artificial intelligence (AI)-driven drug discovery company, connects biology, chemistry, and clinical trials analysis using next-generation AI systems. The company has developed AI platforms that utilize deep generative models, reinforcement learning, transformers, and other modern machine learning techniques to discover novel targets and to design novel molecular structures with desired properties. Insilico Medicine delivers breakthrough solutions to discover and develop innovative drugs for cancer, fibrosis, immunity, central nervous system (CNS), and aging-related diseases. www.insilico.com
---