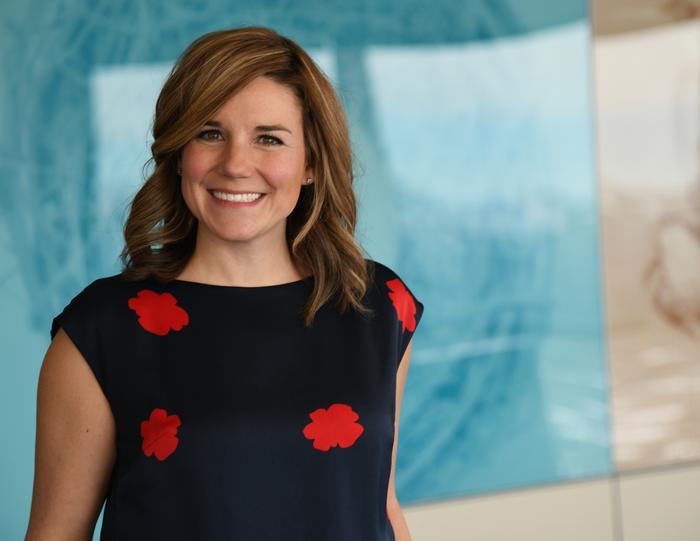 Aurora, Colo. (July 28, 2023) – The Journal of Pediatrics has published a manuscript by Stacey Martiniano, MD, pulmonary specialist at Children's Hospital Colorado and associate professor of pediatrics at the University of Colorado. Dr. Martiniano was primary author on the study titled, Late Diagnosis in the Era of Universal Newborn Screening Negatively Effects Short- and Long-Term Growth and Health Outcomes in Infants with Cystic Fibrosis. The manuscript's senior author was Susanna McColley, MD, professor of pediatrics in pulmonary and sleep medicine at Northwestern University Feinberg School of Medicine and Ann & Robert H. Lurie Children's Hospital of Chicago. The research was funded by the Cystic Fibrosis Foundation.
Newborn screening for cystic fibrosis (CF) was fully implemented in all 50 states in the U.S. by 2010, but delays in timeliness of evaluation for infants with positive newborn screen tests persist. Through evaluation of national patient registry data, Dr. Martiniano and her team determined that later initiation of CF care is associated with poorer long-term nutritional outcomes. Specifically, a delay in initial care at a CF center from just 10 days of life to 47 days of life was associated with reduced weight-for-age through 1 year of age and reduced height-for-age through 5 years of age. These are clinically important findings because early life weight-for-age and height-for-age are associated with later pulmonary function and survival.
"It is imperative that not only do we not miss diagnosing babies with CF, but that we also emphasize urgent referral for newborn screen follow-up for babies with an out-of-range screen, including sweat testing and referral for care at an accredited CF care center," said Dr. Martiniano
Infants in the later cohort most commonly had a sweat test as their first CF evaluation and were more likely to have only one CF gene variant detected on commercially available panels used by most newborn screening programs. This may have caused a diminished sense of urgency to get the infants evaluated possible leading to delays in treatment based on a false assumption that two variants would be detected if the infant had CF.
"This will allow all babies with CF to be equitably started on treatments, with a goal before 1 month of age, to have improved long-term health outcomes," Dr. Martiniano said. This is especially important today due to emergence of ground-breaking, disease-modifying treatment available for infants and young children with CF."
CF is an inherited disorder that affects the lungs, digestive system and other organs in the body. The disorder disrupts the normal function of epithelial cells, which line passageways in the respiratory tract, digestive system, sweat glands and reproductive system. Because cystic fibrosis impacts so many organs, it can disrupt many of the body's essential functions.
###
ABOUT CHILDREN'S HOSPITAL COLORADO
Children's Hospital Colorado is one of the nation's leading and most expansive nonprofit pediatric healthcare systems with a mission to improve the health of children through patient care, education, research and advocacy. Founded in 1908 and ranked among the best children's hospitals in the nation as recognized by U.S. News & World Report, Children's Colorado has established itself as a pioneer in the discovery of innovative and groundbreaking treatments that are shaping the future of pediatric healthcare worldwide. Children's Colorado offers a full spectrum of family-centered care at its urgent, emergency and specialty care locations throughout Colorado, including an academic medical center on the Anschutz Medical Campus in Aurora, hospitals in Colorado Springs, Highlands Ranch and Broomfield, and outreach clinics across the region. For more information, visit www.childrenscolorado.org or connect with us on Facebook, Twitter, Instagram and YouTube.
Children's Hospital Colorado complies with applicable Federal civil rights laws and does not discriminate on the basis of race, color, national origin, age, disability, or sex.
ATENCIÓN: si habla español, tiene a su disposición servicios gratuitos de asistencia lingüística. Llame al 1-720-777-9800.
CHÚ Ý: Nếu bạn nói Tiếng Việt, có các dịch vụ hỗ trợ ngôn ngữ miễn phí dành cho bạn. Gọi số 1-720-777-9800.
---
Journal
The Journal of Pediatrics
Method of Research
Data/statistical analysis
Subject of Research
People
Article Title
Late Diagnosis in the Era of Universal Newborn Screening Negatively Effects Short- and Long-Term Growth and Health Outcomes in Infants with Cystic Fibrosis
Article Publication Date
3-Jul-2023