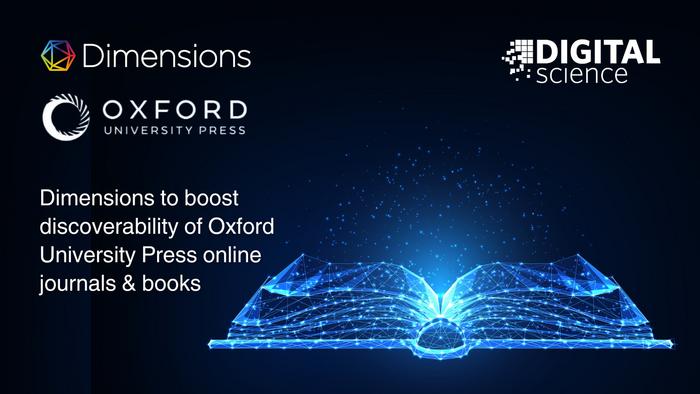 The world's largest linked research database, Dimensions, will grow its knowledge base even further, thanks to a new partnership with the world's largest university press, Oxford University Press (OUP).
Under the agreement, more than 27,000 books and 500 journal titles from OUP's Oxford Academic digital publishing platform will be fully indexed and discoverable in Dimensions, adding another rich resource of academic material to the world's largest research database, in fields such as the arts, humanities, economics, science, technology, history, and politics.
The move will enable users of Dimensions – a flagship Digital Science product – to obtain further insights from the vast data contained in these volumes, due to full text indexation and improved metadata, such as affiliation data, funding data, references, corresponding authors, and much more.
Dimensions covers millions of research publications connected by more than 1.8 billion citations, supporting grants, datasets, clinical trials, patents and policy documents. This includes ​​136 million publications from 107,000 journals, 59 preprint servers, and more than 1.6 million books.
Andrew Sandland, Senior Business Development Manager for Oxford University Press, said: "Oxford University Press welcomes this new partnership with Digital Science and Dimensions. We have a commitment to making the research that we publish as accessible as possible for researchers and academics, to help increase access to the wealth of information and knowledge within the content. Our Oxford Academic titles currently number more than 40,000 books and more than 500 journals, and we are pleased to be part of the expansion of the Dimensions research database."
Christian Herzog, Chief Product Officer for Digital Science and co-Founder of Dimensions, said: "With OUP being the world's largest university press, and because they're such an important publisher of books in the humanities and social sciences, we see this as adding further value to our world-leading Dimensions database. Thanks to this partnership with OUP, we're pleased that Dimensions will be able to further expand its access to data, and continue to provide the best possible solutions to the global research community."

About Digital Science
Digital Science is a technology company working to make research more efficient. We invest in, nurture and support innovative businesses and technologies that make all parts of the research process more open and effective. Our portfolio includes admired brands including Altmetric, Dimensions, Figshare, ReadCube, Symplectic, IFI CLAIMS, Overleaf, Ripeta and Writefull. We believe that together, we can help researchers make a difference. Visit www.digital-science.com and follow @digitalsci on Twitter or on LinkedIn.
About Dimensions
Part of Digital Science, Dimensions is among the world's largest linked research database and data infrastructure provider, re-imagining research discovery with access to grants, publications, clinical trials, patents and policy documents all in one place. www.dimensions.ai. Follow @DSDimensions on Twitter and LinkedIn.
About Oxford University Press
Oxford University Press (OUP) is a department of the University of Oxford. It furthers the University's objective of excellence in research, scholarship, and education by publishing worldwide. OUP is the world's largest university press with the widest global presence.
It currently publishes thousands of new publications a year, has offices in around 50 countries, and employs approximately 6,000 people worldwide.
It has become familiar to millions through a diverse publishing program that includes scholarly works in all academic disciplines, bibles, music, school and college textbooks, children's books, materials for teaching English as a foreign language, business books, dictionaries and reference books, and academic journals.

Media contacts
Abigail Bradfield-Taylor, Communications Lead, Oxford University Press: abigail.bradfield-taylor@oup.com
David Ellis, Press, PR & Social Manager, Digital Science: Mobile +61 447 783 023, d.ellis@digital-science.com
---