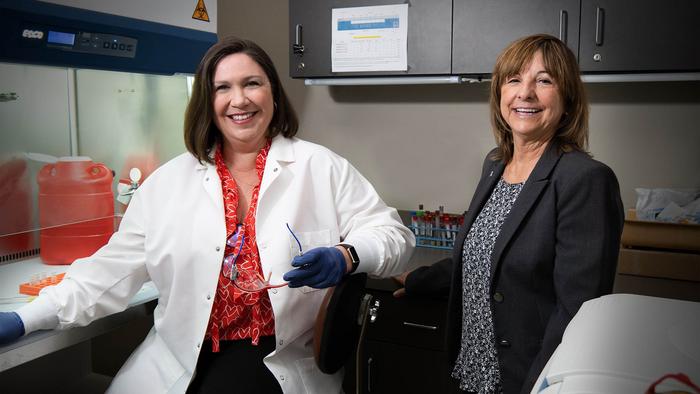 University of Arizona Cancer Center researchers were awarded a $1.5 million grant from the National Cancer Institute to deliver an intensive, multidisciplinary cancer prevention and control research training program for undergraduate and graduate students.
According to multiple principal investigators Jennifer Bea, PhD, and Cynthia Thomson, PhD, RD, the goal of the 10-week, full-time summer program is to motivate students to pursue a career in cancer prevention science.
"I am very concerned about the number of skilled scientists and clinicians retiring," said Dr. Bea, co-leader of the UArizona Cancer Center's Cancer Prevention and Control Research Program and associate professor in the Mel and Enid Zuckerman College of Public Health. "It is absolutely critical to build the next generation of scientists and clinicians to address cancer prevention and control."
The training program, "Student Transformative Experiences to Progress Undergraduate and Graduate Professionals," or "STEP-UP," will immerse 75 upper-division undergraduate students and 25 master's degree-seeking students in mentored research laboratory experiences. It will allow them to develop knowledge and skills in cancer prevention science across the entire continuum of basic, applied and population research.
The training program is centralized in southern Arizona and offers hands-on research training within the UArizona Cancer Center catchment area, which is rich in diversity. In the area, 31.7% of the population are Hispanic, 5.3% are Native American and 18% of the population are more than 65 years old.
Robin Harris PhD, MPH, professor in the Zuckerman College of Public Health, is project co-investigator for the STEP-UP grant, which evolved from an earlier program, "Student Transformative Experiences to Progress Under-represented Professionals," that ran from 2018 to 2023. In that program, the team enrolled 88 diverse students and retained more than 94% of the students, even though it took place during the COVID-19 pandemic.
"Students participating in STEP-UP have the advantage of establishing not only a foundational knowledge in cancer prevention and control research, but also a network of peers and faculty colleagues who will support their continued professional growth," said Dr. Thomson, interim associate director for population science at the UArizona Cancer Center and professor in the Zuckerman College of Public Health. "This is clear from our earlier data, where the majority of students in the first STEP-UP program selected to advance their academic pursuits after attending STEP-UP. The pipeline to fill gaps in the diversity of our cancer prevention scientists has been established through STEP-UP."
In the first STEP-UP program, 32% of students went on to complete or enroll in an additional advanced degree, in addition to students who completed undergraduate and master's degrees that were underway when they enrolled.
"Our students in each cohort form tight bonds with each other, with us, and with their mentors," Dr. Bea said. "It is so exciting to see their science identity grow and to witness their many successes as they move on from STEP-UP. We get inspiring updates from trainees regularly that range from graduations, new jobs and academic programs to grants and programs they can bring to communities."
Mentors include more than 35 faculty members from diverse disciplines who are funded in cancer prevention and control research, as well as high-performing STEP-UP trainees from past years.
"Our students would not have the ability to get in-depth training in their specific interest areas without our mentors," Dr. Bea said. "They learn gold-standard techniques at the bench, theoretical models, community engagement strategies and more from leaders in their field."
One of the goals of the Cancer Center is to build and sustain the cancer prevention and control workforce of the future. Rather than shadowing mentors, students engage in hands-on research and create supervised experiments, focus groups, surveys and other standard practices based on their mentor's specialization.
This research is funded by the National Cancer Institute, a division of the National Institutes of Health, under award no. R25CA275753.
---