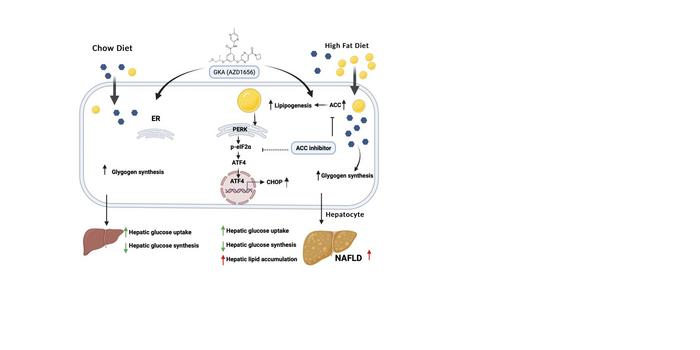 Obesity is a major risk factor for metabolic disorders including non-alcoholic fatty liver disease and type 2 diabetes. It has been reported that non-alcoholic fatty liver disease doubles the likelihood of developing type 2 diabetes, independent of obesity and other metabolic risk factors. Furthermore, approximately one-fifth of the global population suffers from non-alcoholic fatty liver disease, and 56% of these individuals have been diagnosed with type 2 diabetes. The number of patients diagnosed with both conditions is expected to rise continuously.
Recently, glucokinase activators (GKAs) have emerged as a breakthrough in treating type 2 diabetes. Marketed drugs such as dorzagliatin have proven effective in lowering blood glucose levels. However, GKAs may disrupt lipid metabolism, leading to fat accumulation in the liver. Consequently, more research is required to establish the safety of GKAs in type 2 diabetes patients who also have non-alcoholic fatty liver disease. Additionally, the link between hepatic glucokinase activation and the endoplasmic reticulum stress response remains ambiguous. Further studies are needed to clarify this relationship.
In a study published in the KeAi journal Liver Research, a research team in China found that GKAs improved glucose tolerance and insulin sensitivity. However, GKAs also induced hepatic lipid accumulation by increasing lipogenic gene expression, which subsequently activated the hepatic PERK-UPR signaling pathway.
"We established a mouse model with high-fat diet-induced obesity to study the impact of GKA treatment on glucose and lipid metabolism in obese mice. We then evaluated the effect of GKA treatment on glucose metabolism in diet-induced obese mice using glucose and insulin tolerance tests," explained Nan Cai, lead author of the author.
The team's findings indicated that GKA enhanced glucose tolerance by improving both islet β cell function and insulin signaling. Additionally, GKA exacerbated hepatic lipid accumulation in diet-induced obese mice, as demonstrated by hematoxylin and eosin staining, Oil Red O staining, and transmission electron microscopy. This accumulation induced hepatic pathological changes.
Overall, the study illustrated that while glucokinase activation improves glucose tolerance in mice with diet-induced obesity, it also induces hepatic lipid accumulation that activates the PERK-UPR pathway. The findings provide a theoretical basis and reference for the application of GKAs in personalized treatment of chronic diseases such as type 2 diabetes and non-alcoholic fatty liver disease.
###
Contact the author: Guojun Shi, Department of Endocrinology and Metabolism, The Third Affiliated Hospital of Sun Yat-sen University, Guangzhou, Guangdong, China, shigj6@mail.sysu.edu.cn
The publisher KeAi was established by Elsevier and China Science Publishing & Media Ltd to unfold quality research globally. In 2013, our focus shifted to open access publishing. We now proudly publish more than 100 world-class, open access, English language journals, spanning all scientific disciplines. Many of these are titles we publish in partnership with prestigious societies and academic institutions, such as the National Natural Science Foundation of China (NSFC).
---
Method of Research
Experimental study
Subject of Research
Animals
Article Title
Glucokinase activator improves glucose tolerance and induces hepatic lipid accumulation in mice with diet-induced obesity
COI Statement
The authors declare that they have no conflict of interest.