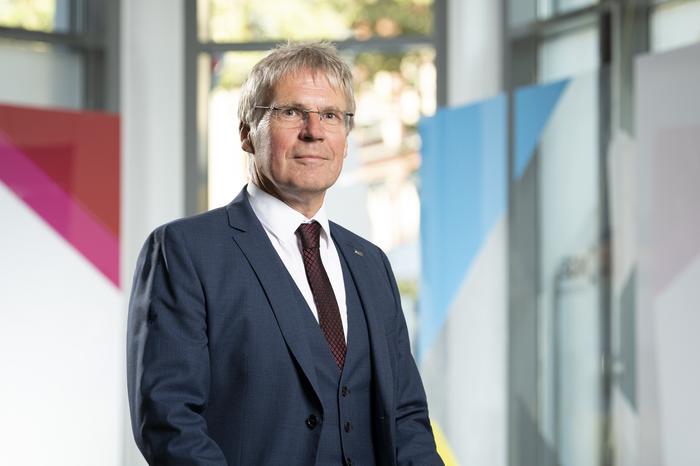 "This farewell is far from being easy for me. After ten years of intense joint work, I feel very closely connected to KIT, its employees, and students. Together, we have achieved a lot, for which I am very thankful," says the leaving President of KIT, Professor Holger Hanselka and adds that KIT is a unique institution and well-positioned for the future. "Still, I look forward to entirely new tasks and exciting challenges," Hanselka points out.
KIT's Supervisory Board has already established a committee to find the future President. "Election of the Executive Board is one of the most important tasks of the Supervisory Board and we will devote all our attention to this task in the weeks and months to come," says the Chairman of the Supervisory Board of KIT, Professor Michael Kaschke. "KIT is well-prepared for its current and future tasks. During the transition period, KIT will be headed by Oliver Kraft. Hence, KIT management will be in experienced hands. We very much thank Holger Hanselka for his extraordinary commitment in the past ten years and wish him much success for his new work."
Clear Strategic Orientation – Exhausting Synergies in Research, Teaching, and Innovation
Since October 1, 2013, Holger Hanselka has been President of KIT and Vice President of the Helmholtz Association's Research Field Energy. In the past ten years, he particularly worked on a clear strategic orientation of KIT and on increasingly forming it into a single entity. His ten-point plan presented when starting his work was aimed at better utilizing synergy potentials. As early as in 2014, the Joint Statutes of KIT were adopted. The KIT 2025 Strategy developed by Hanselka and his colleagues in the Executive Board was the basis of great successes in cutting-edge research: In 2019, KIT regained the title of "University of Excellence." And with its fascinating future-relevant topics, KIT also is well-positioned in the program-oriented funding scheme of the Helmholtz Association.
It was one of the big objectives of Hanselka to increasingly form KIT into a single entity for it to exploit the strengths and synergies in research, teaching, and innovation even better when competing at the national and international level. A major milestone was the 2nd KIT Further Development Act that became effective on January 1, 2023. It strengthens research-oriented teaching, the top-level research potential, and transfer activities by removing a number of administrative hurdles. Moreover, Hanselka pushed the acquisition of funding for top-level professorships and the 100-Professorships Program. Not least was he committed to advancing equal opportunities and diversity.
Holger Hanselka – About the Person
Professor Holger Hanselka was born in 1961. He studied mechanical engineering at Clausthal University of Technology. In 1988, he joined the German Aerospace Center (DLR) as a research assistant, specializing in lightweight construction and fiber composites. After a professorship at Otto-von-Guericke University Magedburg, he was appointed Director of the Fraunhofer Institute for Structural Durability and System Reliability and Head of the Institute for System Reliability and Machine Acoustics at TU Darmstadt in 2001. From 2006 to 2012, Hanselka was Member of the Presidential Council of Fraunhofer-Gesellschaft and held the office of Vice-President of TU Darmstadt from 2010 until he moved to Karlsruhe.
Being "The Research University in the Helmholtz Association", KIT creates and imparts knowledge for the society and the environment. It is the objective to make significant contributions to the global challenges in the fields of energy, mobility, and information. For this, about 9,800 employees cooperate in a broad range of disciplines in natural sciences, engineering sciences, economics, and the humanities and social sciences. KIT prepares its 22,300 students for responsible tasks in society, industry, and science by offering research-based study programs. Innovation efforts at KIT build a bridge between important scientific findings and their application for the benefit of society, economic prosperity, and the preservation of our natural basis of life. KIT is one of the German universities of excellence.
---