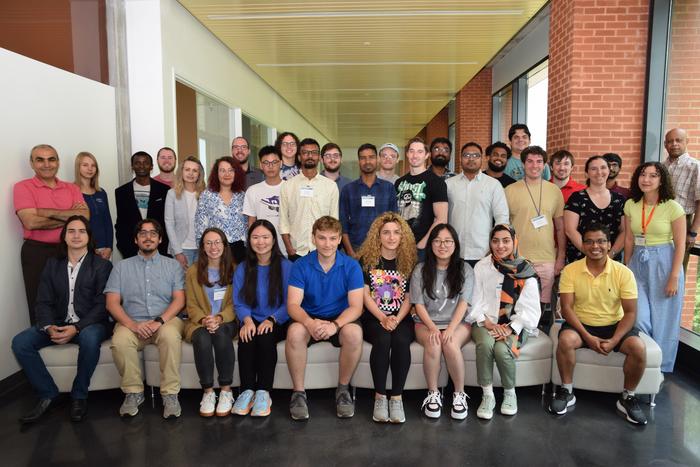 AUBURN, AL – In July, as many enjoyed the hot weather at Alabama's gulf coast beaches, in the Leach Science Center, Auburn University's Department of Physics hosted an engaging scientific event. For the first time since 2016, the southern USA was home to the "Hands-On Workshop on Computational Biophysics" with Auburn University, for the first time, as its esteemed host.
Under the guidance of Prof. Rafael Bernardi from Auburn University's Department of Physics and Prof. Emad Tajkhorshid of the Beckman Institute at the University of Illinois at Urbana-Champaign, the workshop showcased expertise from the renowned developers of NAMD and VMD. Participants were provided an in-depth dive into advanced molecular dynamics simulations, nanotechnology simulations, and biomolecular visualization.
"Our computational biophysics course is a great opportunity for learning how to use molecular dynamics tools from its developers," stated Prof. Bernardi. He further emphasized the innovative tools introduced, mentioning, "The workshop included an overview of Cybershuttle, our new tool for launching simulations in supercomputer centers, developed in collaboration with a team at Indiana University."
At its core, the workshop blends conceptual lectures with hands-on activities, ensuring that participants not only understand the underlying scientific concepts but also gain practical experience. The program includes introductory lectures, followed by interactive computer lab sessions where participants engage directly with experts through guided tutorials.
Highlighting its rich history and consistent record of excellence, this was the 60th edition of a workshop series that has, since its inception in 2003, trained over 2,500 scientists globally. The workshop's esteemed reputation has drawn a diverse array of participants globally, with the latest edition welcoming attendees from the USA, Europe, and Latin America.
Prof. Bernardi proudly reflected on the impact of the workshop over the years, "This was the 60th edition of the workshop that has trained thousands of molecular dynamics users. It's exciting to see its growth, with participants traveling from all corners of the world, making Auburn University a nexus for knowledge exchange in computational biophysics."
More information about future workshops can be found at the NIH Center from Macromolecular Modeling and Visualization website https://www.ks.uiuc.edu/Training/Workshop/.
This workshop marks another achievement for Auburn University in fostering educational excellence and advancing scientific knowledge.
---