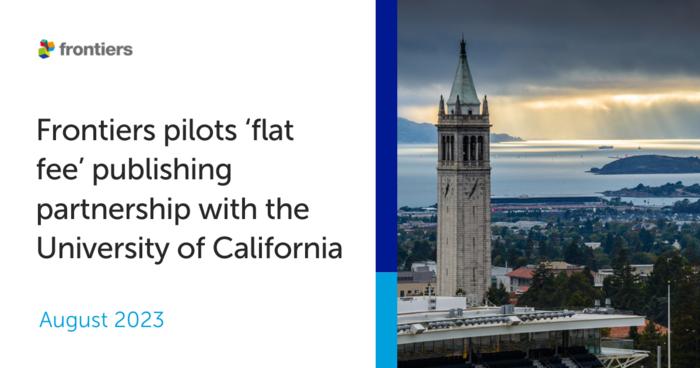 Gold open access publisher Frontiers has announced its first consortium partnership in North America with the University of California (UC). The one-year agreement will also pilot a novel partnership model: UC will receive unlimited publishing in 20 specified Frontiers journals for a pre-agreed annual flat fee.
The eligible journals have been selected by UC from Frontiers' Humanities and Social Sciences and Sustainability titles as being from underrepresented and under-funded disciplines. The deal will allow corresponding UC authors at any of the University of California's 10 campuses, including the Lawrence Berkeley National Laboratory (LBNL), to publish in these journals without limit and without APC.
"As a native open access publisher, Frontiers is a natural ally in our efforts to advance a more open, equitable, and transparent publishing landscape," said Miranda Bennett, director of shared collections at UC's California Digital Library. "This pilot allows us to collaborate with a major publisher of UC-authored research as we explore new models for partnerships between institutions and native open access publishers."
For Frontiers, the agreement with UC is an important opportunity to develop and refine its 'flat fee' partnership models. Kamila Markram, CEO of Frontiers states: "This agreement with the University of California, one of our major institutional partners, underscores the mutual trust in our relationship and represents a milestone in our shared mission to make all science publications openly available, while fostering author choice within the community."
"I applaud UC's new pilot agreement with Frontiers and, in particular, its acknowledgement of the need for increased funding and support for UC authors who publish open access in the humanities and social sciences," said Maria DePrano, professor of art history at UC Merced and chair of the UC faculty Academic Senate's University Committee on Library and Scholarly Communication. "This pilot points to a future in which humanities and social science researchers play a central role in the open access movement and the shift to a more equitable scholarly communication system."
Ronald Buitenhuis, head of institutional partnerships at Frontiers said: "The partnership with UC is a significant step for Frontiers, both as our first consortium agreement in North America and as the first pilot of our new partnership model. We look forward to working with UC as we refine and develop this new model, which will simplify budgeting and reduce the administrative burden at all levels. Ultimately, institutional-level agreements of this type, at a global scale, will accelerate the transition to full open-access."
Frontiers has already established more than 690 partnerships with institutions across the world who are committed to covering some or all publication fees. The new flat-fee model is a natural progression that will ultimately contribute to improved transparency and reduced administrative effort in the publishing market.
---