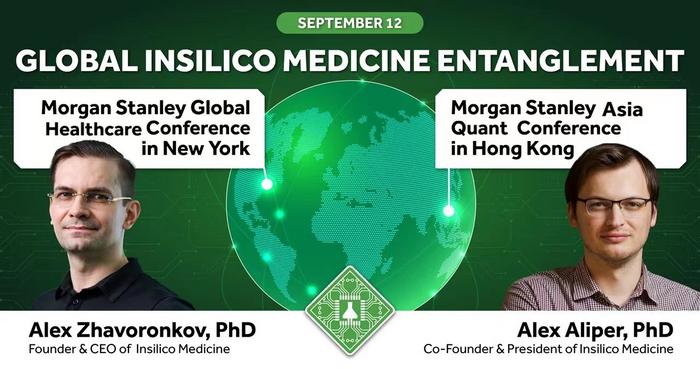 Leading executives from Insilico Medicine ("Insilico"), a generative artificial intelligence (AI)-driven, clinical stage drug discovery company, are presenting at two global Morgan Stanley Healthcare Conferences. Insilico founder and CEO Alex Zhavoronkov, PhD, will present Sept. 12, 8:50 am ET as part of the Morgan Stanley 21st Annual Global Healthcare Conference at Sheraton New York. Insilico co-founder and President Alex Aliper, PhD, will also present on Sept. 12, 3pm at the inaugural MSQA Morgan Stanley Quant Conference in Hong Kong: Seeking Asia Alpha in the Age of Artificial Intelligence.
"As a truly global company, we are looking forward to connecting with leading investors at these two premier Morgan Stanley events," says Alex Zhavoronkov, PhD, founder and CEO of Insilico Medicine. "I am thrilled that Dr. Aliper and I are presenting at parallel conferences, at places 12 hours apart, with the same aspiration of extending healthy productive life for humans by utilizing artificial intelligence."
In June, Insilico announced that its lead molecule, INS018_055, the world's first anti-fibrotic small molecule inhibitor discovered and designed using generative AI, entered multi-regional Phase II clinical trials in the U.S and China. And in August, the Company announced that it had reached its first clinical milestone in its strategic collaboration with Fosun Pharma, commencing Phase I studies of ISM8207, a potentially first-in-class small molecule inhibitor of QPCTL for the treatment of advanced malignant tumors.
The Company also recently announced that its transformer-based clinical trial prediction tool, inClinico, can be used to predict the outcome of Phase II to Phase III clinical trial predictions with a high degree of accuracy, based on the results of trials over the past seven years and published in the journal Clinical Pharmacology and Therapeutics. The tool is designed to give biotech and pharma companies critical insights into which programs to prioritize in order to minimize clinical trial failures, as well as to help guide investment decisions.
Insilico President Alex Aliper will present on "Predicting Clinical Trials with Generative AI: Applications in Biopharma and Finance" at the MSQA Morgan Stanley Quant Conference.
Since 2021, Insilico has nominated and announced 14 preclinical candidates in its comprehensive portfolio of over 30 assets and has advanced 3 of them to the clinical stage. In addition to its global headquarters in New York City and Hong Kong, the Company has centers in Montreal, Abu Dhabi, and Shanghai.
About Insilico Medicine
Insilico Medicine, a clinical stage biotech company powered by generative AI, is connecting biology, chemistry, and clinical trials analysis using next-generation AI systems. The company has developed AI platforms that utilize deep generative models, reinforcement learning, transformers, and other modern machine learning techniques for novel target discovery and the generation of novel molecular structures with desired properties. Insilico Medicine is developing breakthrough solutions to discover and develop innovative drugs for cancer, fibrosis, immunity, central nervous system diseases, infectious diseases, autoimmune diseases, and aging-related diseases. www.insilico.com
---