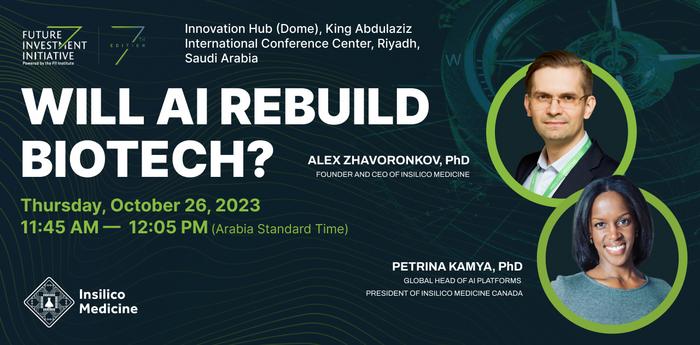 Executives from clinical stage artificial intelligence (AI)-driven drug discovery company Insilico Medicine will present on the impact of AI on biotechnology at the Future Investment Initiative (FII) Conference in Riyadh, Saudi Arabia.
Alex Zhavoronkov, PhD, founder and CEO of Insilico Medicine and Petrina Kamya, PhD, Head of AI Platforms and President of Insilico Medicine Canada will present on the topic "Will AI Rebuild Biotech?" on Oct. 26, 11:45am Arabic Standard Time. The event is available to be livestreamed.
The FII Conference brings together the world's foremost CEOs, policymakers, investors, entrepreneurs, and young leaders shaping the future of international investment and the global economy. The theme for this year's conference is The New Compass — helping investors navigate the direction of their companies and the global economy and develop strategies for the future.
In a difficult year for the biotech industry, Insilico Medicine has continued to advance its AI-designed therapeutics into the clinic. The company now has four drugs in clinical trials, including a lead drug for idiopathic pulmonary fibrosis in Phase II trials that is the first AI-discovered and generative AI-designed molecule to meet this milestone. The company also has a novel QPCTL inhibitor for the treatment of advanced malignant tumors that has progressed to Phase I trials, and a novel USP1 inhibitor for the treatment of BRCA-mutated tumors that was recently licensed to Exelixis for $80m upfront and additional milestone and royalty payments. The Company's novel drug for COVID-19 and related variants is also in Phase I trials.
In all, the company has 31 drugs for 29 targets in its pipeline, many in the cancer space, as well as in fibrosis, central nervous system diseases, immunity and aging-related diseases.
Insilico continues to develop its proprietary end-to-end Pharma.AI platform, which uses generative AI in biology, chemistry and clinical development to identify targets and disease hypotheses, design novel drug candidates, and predict the outcomes of clinical trials. This platform is supported by an AI-powered robotics laboratory that performs target discovery, compound screening, precision medicine generation and translational research. The Company continues to expand its global presence, with headquarters in New York City and Hong Kong, AI R&D teams in Abu Dhabi and Montreal, and labs in Shanghai and Suzhou.
About Insilico Medicine
Insilico Medicine, a global clinical stage biotechnology company powered by generative AI, is connecting biology, chemistry, and clinical trials analysis using next-generation AI systems. The company has developed AI platforms that utilize deep generative models, reinforcement learning, transformers, and other modern machine learning techniques for novel target discovery and the generation of novel molecular structures with desired properties. Insilico Medicine is developing breakthrough solutions to discover and develop innovative drugs for cancer, fibrosis, immunity, central nervous system diseases, infectious diseases, autoimmune diseases, and aging-related diseases. www.insilico.com
---