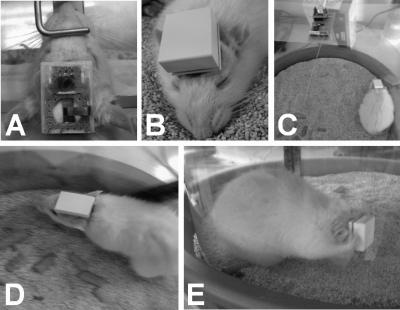 Here is the latest American Chemical Society (ACS) Weekly PressPac from the Office of Public Affairs. It has news from ACS' 34 peer-reviewed journals and Chemical & Engineering News.
Please credit the individual journal or the American Chemical Society as the source for this information.
PressPac Archive: http://portal.acs.org/portal/PublicWebSite/pressroom/presspacs/CTP_006742
ARTICLE #1 FOR IMMEDIATE RELEASE
First broad spectrum anti-microbial paint to kill "superbugs"
ACS Applied Materials & Interfaces
Scientists in South Dakota are reporting development of the first broad-spectrum antimicrobial paint, a material that can simultaneously kill not just disease-causing bacteria but mold, fungi, and viruses. Designed to both decorate and disinfect homes, businesses, and health-care settings, the paint is the most powerful to date, according to their new study. It appears in the current issue of the monthly ACS' Applied Materials & Interfaces. The paint shows special promise for fighting so-called "superbugs," antibiotic-resistant microbes that infect hospital surfaces and cause an estimated 88,000 deaths annually in the United States, the researchers say.
In the study, Yuyu Sun and Zhengbing Cao note in the antimicrobial paints already on are store shelves. These paints, however, are only effective against a narrow range of disease-causing microorganisms, limiting their usefulness.
The scientists already were aware of research on the germ-killing effects of that N-halamines, bleach-like substances already in wide use. They developed a new antimicrobial polymer that includes a type of N-halamine. It has no undesirable effects on the quality of latex paints. Laboratory tests showed that the new polymer kills a wide range of disease-causing microbes including those resistant to multiple antibiotics. The paint retains an anti-microbial punch for extended periods, and it can be easily "recharged" with a simple chlorination process, the researchers note. - MTS
DOWNLOAD FULL TEXT ARTICLE: http://pubs.acs.org/stoken/presspac/presspac/full/10.1021/am800157a
CONTACT:
Yuyu Sun, Ph.D.
Biomedical Engineering Program
University of South Dakota
Sioux Falls, South Dakota
Phone: 605-275-8793
Email: yuyu.sun@usd.edu
---
ARTICLE #2 FOR IMMEDIATE RELEASE
Atmospheric engineering scheme to combat global warming could diminish solar power
Environmental Science & Technology
A widely discussed "atmospheric engineering" scheme intended to combat global warming could have unanticipated consequences in reducing the effectiveness of certain kinds of solar power around the Earth, a new study has concluded. It is appears in the current issue of ACS' Environmental Science & Technology, a semi-monthly journal.
In the study, the National Oceanographic and Atmospheric Administration's Daniel M. Murphy examines a proposal to minimize climate change by enhancing the stratospheric aerosol layer, which reduces sunlight to Earth by scattering it to outer space. But this approach has considerable implications on the ability to concentrate solar power, Murphy says. For example, the increased aerosols resulting from the 1991 eruption of Mt. Pinatubo in the Philippines reduced global sunlight by less than three percent but decreased output from some solar generating plants by about 20 percent.
Murphy's study found that aerosols reduce direct sunlight – the kind that casts shadows – much more than total sunlight. Each one percent reduction in the Earth's sunlight due to aerosols will cause a four to 10 percent loss in output from concentrating solar power applications. He notes, however, that flat solar hot water and photovoltaic panels — which utilize both direct and diffuse (scattered) sunlight — will have smaller performance losses than concentrating solar collectors.
"One consequence of deliberate enhancement of the stratospheric aerosol layer would be a significant reduction in the efficiency of solar power generation systems," Murphy concludes. "Any cooling of the Earth that relies on light scattering, including tropospheric aerosol scattering and increased cloudiness, by particles will also result in reductions in direct sunlight that are several times the reductions in total sunlight." - JS
ARTICLE #2 FOR IMMEDIATE RELEASE
"Effect of Stratospheric Aerosols on Direct Sunlight and Implications for Concentrating Solar Power"
DOWNLOAD FULL TEXT ARTICLE: http://pubs.acs.org/stoken/presspac/presspac/full/10.1021/es802206b
CONTACT:
Daniel M. Murphy, Ph.D.
National Oceanic and Atmospheric Administration
Boulder, Colo. 80305
Phone: (303) 497-5640
Fax: (303) 497-5373
Email: Daniel.m.murphy@noaa.gov
---
ARTICLE #3
India's "holy powder" finally reveals its centuries-old secret
Journal of the American Chemical Society
Scientists in Michigan are reporting discovery of the secret behind the fabled healing power of the main ingredient in turmeric — a spice revered in India as "holy powder." Their study on the ingredient, curcumin, appears in the Journal of the American Chemical Society, a weekly publication.
In the study, Ayyalusamy Ramamoorthy and colleagues point out that turmeric has been used for centuries in folk medicine to treat wounds, infections, and other health problems. Although modern scientific research on the spice has burgeoned in recent years, scientists until now did not know exactly how curcumin works inside the body.
Using a high-tech instrument termed solid-state NMR spectroscopy, the scientists discovered that molecules of curcumin act like a biochemical disciplinarian. They insert themselves into cell membranes and make the membranes more stable and orderly in a way that increases cells' resistance to infection by disease-causing microbes. - AD
ARTICLE #3 FOR IMMEDIATE RELEASE
"Determining the Effects of Lipophillic Drugs on Membrane Structure by Solid-State NMR Spectroscopy –– the Case of the Antioxidant Curcumin"
DOWNLOAD FULL TEXT ARTICLE : pubs.acs.org/stoken/presspac/presspac/full/10.1021/ja809217u
CONTACT:
Ayyalusamy Ramamoorthy, Ph.D
University of Michigan
Ann Arbor, Mich.
Phone: 734-647-6572
Fax: 734-763-2307
Email: ramamoor@umich.edu
---
ARTICLE #4 FOR IMMEDIATE RELEASE
Oh rats! New wireless sensor first for instant monitoring of brain oxygen
Analytical Chemistry
Scientists in Italy and Ireland are reporting development of the first wireless sensor that gives second-by-second readings of oxygen levels in the brain. The new microsensor — smaller than a dime — could become the basis for tiny devices to help test drugs and other treatments for patients with traumatic brain injury, Alzheimer's and Parkinson's diseases, and other conditions. The study appears in ACS' Analytical Chemistry, a semi-monthly journal.
In the new report, Pier Andrea Serra and colleagues note that the most common method for monitoring brain neurochemical levels is microdialysis, a technique that requires insertion of a relatively big probe into the brain. That technique, however, has several disadvantages including low sample rate and the necessity of a complex analytical apparatus.
Serra and colleagues describe development and testing in laboratory rats of a wireless sensor that overcomes some of those drawbacks. The scientists used a variety of techniques — including physiological stimuli and pharmacological treatments — to raise or lower their brain oxygen levels. The simple sensor quickly and reliably recorded real-time changes in these oxygen levels and can help provide a better understanding of the brain in health and disease, the researchers say. The proposed system could be used in conjunction with a wide range of microsensors and biosensors for monitoring small molecules in the brain. - MTS
ARTICLE #4 FOR IMMEDIATE RELEASE
"Real-Time Monitoring of Brain Tissue Oxygen Using a Miniaturized Biotelemetric Device Implanted in Freely Moving Rats"
DOWNLOAD FULL TEXT ARTICLE: http://pubs.acs.org/stoken/presspac/presspac/full/10.1021/ac802390f
CONTACT:
Pier Andrea Serra MD, PhD
Medical School
University of Sassari
V.le S. Pietro 43/b
07100 - Sassari
ITALY
Phone: 0039 079 228558
Fax: 0039 079 228525
Email: paserra@uniss.it
---
ARTICLE #5 EMBARGOED FOR 9 A.M., EASTERN TIME, April 20, 2009
"Neglected" diseases neglected no more
Chemical & Engineering News
A non-profit offshoot of famed Nobel Prize winning Médecins sans Frontières is joining hands with pharmaceutical companies, government agencies and private donors in a new assault on neglected diseases. Those hard-to-treat diseases include leishmaniasis, sleeping sickness, and Chagas disease. These conditions infect millions of people worldwide each year, killing thousands. An article on this development is scheduled for the April 20 issue of Chemical & Engineering News, ACS' weekly newsmagazine.
C&EN senior editor Rick Mullin explains that just a decade ago major pharmaceutical companies devoted little attention to developing treatments for these diseases — thus the term, "neglected" diseases. That situation, however, has changed, with a nonprofit organization called Drugs for Neglected Diseases Initiative (DNDi) leading the way. DNDi hopes to have at least 6 new drugs for neglected diseases by 2014.
DNDi already has raised $150 million from public and private donors and seeks an additional $200 million by 2014. That cash, combined with a new commitment among pharmaceutical companies, brightens hopes for improving health and saving lives in the developing world, the article suggests.
ARTICLE #5 EMBARGOED FOR 9 A.M., EASTERN TIME, April 20, 2009
"Paying attention to neglected diseases"
This story will be available on April 20 at: http://pubs.acs.org/cen/business/87/8716bus1.html
FOR ADVANCE INFORMATION, CONTACT:
Michael Bernstein
ACS News Service
Phone: 202-872-6042
Fax: 202-872-4370
Email: m_bernstein@acs.org
###
Journalists' Resources
Press releases, briefings, and more from ACS' 237th National Meeting
www.eurekalert.org/acsmeet.php.
http://www.ustream.tv/channel/acslive.
Must Reads from C&EN:The bright chemistry behind self-darkening eyeglasses
Lenses that darken when exposed to ultraviolet sunlight but become clear when indoors have improved tremendously since they were first created in the 1960s. Not only do the newer models of these so-called photochromic lenses change shades much more quickly, but they are now fashionable in both glass and plastic, the latter of which have flourished since their commercialization in the 1990s. To learn about the recent advancements in these "two-for-one" eyeglass lenses, check out this must-read article in Chemical & Engineering News.
Resources for Covering Earth Day 2009
The American Chemical Society's (ACS) observance of Earth Day on April 22 – Chemists Celebrate Earth Day 2009 – will include community events focused on the theme, "Air — The Sky's the Limit" based on understanding and protecting the planet's atmosphere. For Earth Day 2009, ACS is sponsoring an illustrated haiku poetry contest about environmental chemistry for children in grades K-12 and a "Reduce Your Carbon Footprint" community program for children across the nation. Other events include presentations on global warming, the benefits of wind power and other educational projects. Check www.acs.org/earthday for details about Earth Day activities.
ACS pressroom blog
The American Chemical Society's Office of Public Affairs (OPA) created a new pressroom blog to highlight prominent research from ACS' 34 journals. The blog includes daily commentary on the latest news from the weekly PressPac, including video and audio segments from researchers on topics covering chemistry and related sciences, including nanotechnology, food science, materials science and the environment. The pressroom blog will also cover updates on ACS' awards, the national meetings and other general news from the world's largest scientific society.
Bytesize Science blog
Educators and kids, put on your thinking caps: The American Chemical Society has a new blog for Bytesize Science, a science podcast for kids of all ages. The Bytesize blog contains entertaining video podcasts and audio episodes of the latest and greatest news from the frontiers of chemistry, including a video detailing a discovery about the bug-eating pitcher plant and an audio episode on a new use for magnolia tree bark.
ACS satellite pressroom: Daily news blasts on Twitter
The American Chemical Society's Office of Public Affairs (OPA) new satellite press room has quickly become one of the most popular science news sites on Twitter with daily updates on the latest research from ACS' 34 peer-reviewed journals and other news, including links to compelling podcast series, information on the upcoming 237th National Meeting, and the latest recipients of ACS' national awards. To receive press room updates, create a free account at https://twitter.com/signup. Then visit http://twitter.com/ACSpressroom and click the 'join' button beneath the press room logo.
ACS Press Releases
General science press releases on a variety of chemistry-related topics.
General Chemistry Glossary http://antoine.frostburg.edu/chem/senese/101/glossary.shtml
From Chemical Abstracts Service (CAS) CAS Science Connections is a series of articles that showcases the value of CAS databases in light of important general-interest science and technology news. Ranging in topics from fruit flies to Nobel Prize winners, the CAS - Science Connections series points to the CAS databases for a more complete understanding of the latest news.
Save the Date: Green Chemistry conference on sustainability begins June 23
Jean-Michel Cousteau, noted explorer, film-producer and environmentalist, and Len Sauers, Ph.D., Vice President of Global Sustainability for The Procter & Gamble Company, are the featured keynote speakers at the upcoming 13th annual Green Chemistry & Engineering Conference in June in College Park, Md. The focus of this year's conference, June 23-25 at the Marriott Inn and Conference Center, is on progress made toward research objectives identified in the National Academy of Sciences' 2006 report, "Sustainability in the Chemical Industry: Grand Challenges and Research Needs." Sauers will address the convention on June 24, Cousteau on June 25. For more information on the conference, please visit www.gcande.org.
Podcasts
Global Challenges/Chemistry Solutions
Don't miss this special series of ACS podcasts on some of the 21st Century's most daunting challenges, and how cutting-edge research in chemistry matters in the quest for solutions. This sweeping panorama of challenges includes topics such as providing a hungry, thirsty world with ample supplies of safe food and clean water; developing alternatives to petroleum to fuel the global economy; preserving the environment and assuring a sustainable future for our children; and improving human health. Launched in 2008, this award-winning series continues in 2009 with updates and fresh content. Subscribe at iTunes or listen and access other resources at the ACS web site www.acs.org/GlobalChallenges.
Bytesize Science, a new podcast for young listeners
Bytesize Science is a science podcast for kids of all ages that aims to entertain as much as it educates, with new video podcasts and some episodes available in Spanish. Subscribe to Bytesize Science using iTunes.No iTunes? No problem. Listen to the latest episodes of BytesizeScience in your web browser.
Science Elements: ACS Science News Podcast
The ACS Office of Public Affairs is podcasting PressPac contents in order to make cutting-edge scientific discoveries from ACS journals available to a broad public audience at no charge. Subscribe to Science Elements using iTunes . Listen to the latest episodes of Science Elements in your web browser.
PressPac information is intended for your personal use in news gathering and reporting and should not be distributed to others. Anyone using advance PressPac information for stocks or securities dealing may be guilty of insider trading under the federal Securities Exchange Act of 1934.
The American Chemical Society is a nonprofit organization chartered by the U.S. Congress. With more than 154,000 members, ACS is the world's largest scientific society and a global leader in providing access to chemistry-related research through its multiple databases, peer-reviewed journals and scientific conferences. Its main offices are in Washington, D.C., and Columbus, Ohio.
---