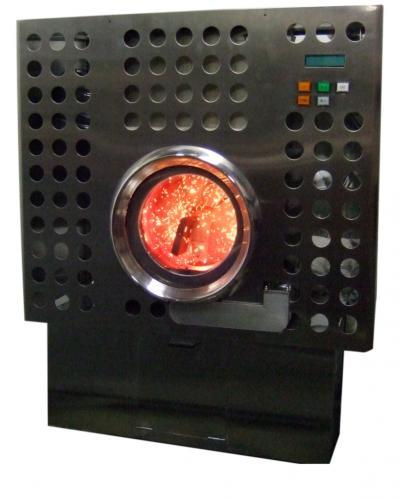 Here is the latest American Chemical Society (ACS) Weekly PressPac from the Office of Public Affairs. It has news from ACS' 34 peer-reviewed journals and Chemical & Engineering News. Please credit the individual journal or the American Chemical Society as the source for this information.
ARTICLE #1 FOR IMMEDIATE RELEASE
New biomass heater: A "new era" of efficiency and sustainability
Industrial & Engineering Chemistry Research
Millions of homes in rural areas of Far Eastern countries are heated by charcoal burned on small, hibachi-style portable grills. Scientists in Japan are now reporting development of an improved "biomass charcoal combustion heater" that they say could open a new era in sustainable and ultra-high efficiency home heating. Their study was published in ACS' Industrial & Engineering Chemistry Research, a bi-weekly journal.
In the study, Amit Suri, Masayuki Horio and colleagues note that about 67 percent of Japan is covered with forests, with that biomass the nation's most abundant renewable energy source. Wider use of biomass could tap that sustainable source of fuel and by their calculations cut annual carbon dioxide emissions by 4.46 million tons.
Using waste biomass charcoal, their heater recorded a thermal efficiency of 60-81 percent compared to an efficiency of 46-54 percent of current biomass stoves in Turkey and the U.S. "The charcoal combustion heater developed in the present work, with its fast startup, high efficiency, and possible automated control, would open a new era of massive but small-scale biomass utilization for a sustainable society," the authors say. - JS
ARTICLE #1 FOR IMMEDIATE RELEASE
"Development of Biomass Charcoal Combustion Heater for Household Utilization"
DOWNLOAD FULL TEXT ARTICLE:
http://pubs.acs.org/stoken/presspac/presspac/full/10.1021/ie8006243
Amit Suri, PhD Student, and Masayuki Horio, Professor.
Tokyo University of Agriculture & Technology
Tokyo, Japan
Phone: +81-42-388-7067
Fax: +81-42-386-3303
Mobile: +81-90-9831-6337
Email: amit@cc.tuat.ac.jp, masa06@cc.tuat.ac.jp
---
ARTICLE #2 FOR IMMEDIATE RELEASE
Antibacterial plaster could put a clean sheen on walls
Crystal Growth & Design
Scientists in China are reporting development and testing of new self-sanitizing plaster with more powerful antibacterial effects than penicillin. The material could be used in wall coatings, paints, art works and other products. The study is in the current issue of ACS' Crystal Growth & Design, a bi-monthly journal.
Liang-jie Yuan and colleagues note that plaster has been used for centuries as building material and surfaces for great works of art, including Michelangelo's famed Sistine Chapel ceiling in Vatican City. The new, first-of-its kind plaster —formed from different ingredients from traditional gypsum plaster — still retains similar mechanical properties while having added antibacterial effects.
Lab tests showed that the so-called "supramolecular" plaster has a "very broad" antibacterial spectrum, killing five types of disease-causing bacteria. When compared with penicillin, the plaster was more effective at controlling growth of four kinds of bacteria, including dangerous Staphylococcus aureus and Escherichia coli. "It can be expected that the supramolecular plaster can be used for building, painting, coating and carving, and the coat, brick, or art ware constructed by the plaster do not need additive antiseptic or sterilization," the authors say. - JS
ARTICLE #2 FOR IMMEDIATE RELEASE
"A Novel Supramolecular Plaster Based on An Organic Acid-Base Compound: Synthesis, Structure, Mechanical Properties, and Sterilizing Performance"
DOWNLOAD FULL TEXT ARTICLE:
http://pubs.acs.org/stoken/presspac/presspac/full/10.1021/cg800552s
CONTACT:
Liang-jie Yuan, Ph.D.
Wuhan University
Wuhan, China
Phone: 86-27-8721-8264
Fax: 86-27-8721-8264
Email: ljyuan@whu.edu.cn
---
ARTICLE #3 FOR IMMEDIATE RELEASE
Information superhighway's trash yields a super highway asphalt
Environmental Science & Technology
Discarded electronic hardware, including bits and pieces that built the information superhighway, can be recycled into an additive that makes super-strong asphalt paving material for real highways, researchers in China are reporting in a new study. It is scheduled for the Feb. 1 issue of ACS' Environmental Science & Technology, a semi-monthly journal. They describe development of a new recycling process that can convert discarded electronic circuit boards into an asphalt "modifier." The material makes high-performance paving material asphalt that is cheaper, longer lasting, and more environmentally friendly than conventional asphalt, the scientists report.
In the new study, Zhenming Xu and colleagues note that millions of tons of electronic waste (e-waste) pile up each year. The printed circuit boards used in personal computers, cell phones, and other electronic gear, contain toxic metals such as lead and mercury and pose a difficult disposal problem. The boards also are difficult to recycle. Xu's group, however, realized that the boards, which provide mechanical support and connections for transistors and other electronic components, contain glass fibers and plastic resins that could strengthen asphalt paving.
The scientists describe a new recycling method that quickly separates toxic metals from circuit boards, yielding a fine, metal-free powder. When mixed into asphalt in laboratory tests, the powder produced a stronger paving material less apt to soften at high temperatures, the researchers say. -MTS
ARTICLE #3 FOR IMMEDIATE RELEASE
"Asphalt Modified with Nonmetals Separated from Pulverized Waste Printed Circuit Boards"
DOWNLOAD FULL TEXT ARTICLE:
http://pubs.acs.org/stoken/presspac/presspac/full/10.1021/es8023012
CONTACT:
Zhenming Xu, Ph.D.
Shanghai Jiao Tong University
Shanghai, People's Republic of China
Phone: 862154747495
Fax: 862154747495
Email: zmxu@sjtu.edu.cn
---
ARTICLE #4 FOR IMMEDIATE RELEASE
"Frozen smoke:" The ultimate sponge for cleaning up oil spills
Industrial & Engineering Chemistry Research
Scientists in Arizona and New Jersey are reporting that aerogels, a super-lightweight solid sometimes called "frozen smoke," may serve as the ultimate sponge for capturing oil from wastewater and effectively soaking up environmental oil spills. Their study is in ACS' Industrial & Engineering Chemistry Research, a bi-weekly journal.
In the new study, Robert Pfeffer and colleagues point out that the environmental challenges of oil contamination go beyond widely publicized maritime oil spills like the Exxon Valdez incident. Experts estimate that each year people dump more than 200 million gallons of used oil into sewers, streams, and backyards, resulting in polluted wastewater that is difficult to treat. Although there are many different sorbent materials for removing used oil, such as activated carbon, they are often costly and inefficient. Hydrophobic silica aerogels are highly porous and absorbent material, and seemed like an excellent oil sponge.
The scientists packed a batch of tiny aerogel beads into a vertical column and exposed them to flowing water containing soybean oil to simulate the filtration process at a wastewater treatment plant. They showed that the aerogel beads absorbed up to 7 times their weight and removed oil from the wastewater at high efficiency, better than many conventional sorbent materials. - MTS
ARTICLE #4 FOR IMMEDIATE RELEASE
"Removal of Oil from Water by Inverse Fluidization of Aerogels"
DOWNLOAD FULL TEXT ARTICLE:
http://pubs.acs.org/stoken/presspac/presspac/full/10.1021/ie800022e
CONTACT:
Robert Pfeffer, Ph.D.
Arizona State University, Tempe, AZ 85287
Phone: 1-480-965-0362
Fax: 1-480-965-0037
Email: Robert.pfeffer@asu.edu
---
ARTICLE #5 EMBARGOED FOR 9 A.M., EASTERN TIME, Feb. 16, 2009
Greener pesticides, better farming practices help reduce U.S. pesticide use
Chemical & Engineering News
Although few consumers realize it, fruits, veggies, and other agricultural products marketed in the United States today are grown on farms that use less pesticide than 30 years ago, according to an article scheduled for the Feb. 16 issue of Chemical & Engineering News, ACS' weekly newsmagazine.
C&EN Senior Editor Stephen K. Ritter points out in the magazine's cover story that pesticide use has dropped in the U.S. due to more efficient pesticides and better agricultural practices. Pesticide use peaked at 1.46 billion pounds in 1979 and fell to 1.23 billion pounds in 2001 — the last year for which comprehensive data are available, according to the Environmental Protection Agency. Since then pesticide use has remained at those lower levels, the article states.
Several innovations are responsible for this decline in pesticide use, including better, more selective pesticides that can be applied at lower rates while having less impact on human health and the environment. Other factors include a farming practice called integrated pest management (IPM), which involves withholding the use of synthetic pesticides only until damage reaches a certain threshold. In addition, farmers also are using more so-called biopesticides. These natural substances, derived from plants, microorganisms, and insects, can combat noxious weeds, insects, and fungi with less harm to crops and the environment.
ARTICLE #5 EMBARGOED FOR 9 A.M., EASTERN TIME, Feb. 16, 2009
"Greening The Farm"
This story will be available on Feb. 16 at
http://pubs.acs.org/cen/coverstory/87/8707cover.html
FOR ADVANCE INFORMATION, CONTACT:
Michael Bernstein
ACS News Service
Phone: 202-872-6042
Fax: 202-872-4370
Email: m_bernstein@acs.org
---
Journalists' Resources
Join the ACS satellite pressroom for daily news blasts on Twitter The American Chemical Society's Office of Public Affairs (OPA) new satellite press room has quickly become one of the most popular science news sites on Twitter with daily updates on the latest research from ACS' 34 peer-reviewed journals and other news, including links to compelling podcast series, information on the upcoming 237th National Meeting, and the latest recipients of ACS' national awards. To receive press room updates, create a free account at https://twitter.com/signup. Then visit http://twitter.com/ACSpressroom and click the 'join' button beneath the press room logo.
Save the Date: ACS 237th National Meeting in 2009
ACS 237th National Meeting in Salt Lake City, March 22-26, 2009. Expect more than 7,000 presentations on the broad spectrum of the sciences that involve chemistry — from astronomy to zoology. For advance complimentary news media registration: https://www.xpressreg.net/register/acsa039/media/start.asp
Press releases, briefings, and more from ACS' 236th National Meeting
www.eurekalert.org/acsmeet.php.
http://www.ustream.tv/channel/acslive.
ACS Press Releases General science press releases on a variety of chemistry-related topics.
General Chemistry Glossary http://antoine.frostburg.edu/chem/senese/101/glossary.shtml
From Chemical Abstracts Service (CAS)
CAS - CAS Science Connections is a series of articles that showcases the value of CAS databases in light of important general-interest science and technology news. Ranging in topics from fruit flies to Nobel Prize winners, the CAS - Science Connections series points to the CAS databases for a more complete understanding of the latest news.
Podcasts
Global Challenges/Chemistry Solutions
Don't miss this special series of ACS podcasts on some of the 21st Century's most daunting challenges, and how cutting-edge research in chemistry matters in the quest for solutions. This sweeping panorama of challenges includes topics such as providing a hungry, thirsty world with ample supplies of safe food and clean water; developing alternatives to petroleum to fuel the global economy; preserving the environment and assuring a sustainable future for our children; and improving human health. An ongoing saga of chemistry for life — chemistry that truly matters — Global Challenges will continue in 2009. Subscribe at iTunes [itpc://feeds.feedburner.com/GlobalChallenges] or listen and access other resources at the ACS web site www.acs.org/GlobalChallenges.
Bytesize Science, a new podcast for young listeners
Bytesize Science is a science podcast for kids of all ages that aims to entertain as much as it educates, with some episodes available in Spanish. Subscribe to Bytesize Science using iTunes. No iTunes? No problem. Listen to the latest episodes of BytesizeScience in your web browser.
Science Elements: ACS Science News Podcast The ACS Office of Public Affairs is podcasting PressPac contents in order to make cutting-edge scientific discoveries from ACS journals available to a broad public audience at no charge. Subscribe to Science Elements using iTunes. Listen to the latest episodes of Science Elements in your web browser.
###
PressPac information is intended for your personal use in news gathering and reporting and should not be distributed to others. Anyone using advance PressPac information for stocks or securities dealing may be guilty of insider trading under the federal Securities Exchange Act of 1934.
The American Chemical Society — the world's largest scientific society — is a nonprofit organization chartered by the U.S. Congress and a global leader in providing access to chemistry-related research through its multiple databases, peer-reviewed journals and scientific conferences. Its main offices are in Washington, D.C., and Columbus, Ohio.
---