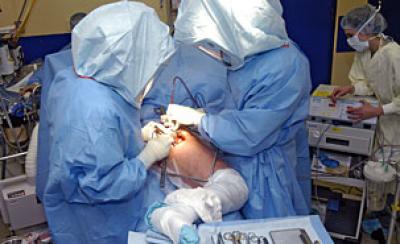 This release is available in French.
Montreal, February 26, 2009 – A team of orthopedic surgeons and kinesiologists from the Université de Montréal and its affiliated Maisonneuve-Rosemont Hospital Research Centre will be honoured with the Hip Society's John Charnley Award – the most prestigious award in the field of hip surgery. The award will be presented on February 28, 2009, in Las Vegas.
As North American pioneers in the development of new knee and hip replacement technologies, Drs. Pascal-André Vendittoli, Martin Lavigne, and Alain Roy, in collaboration with kinesiologists Marc Therrien, Julie Nantel, and François Prince, have carried out an important study assessing the performance of hip resurfacing surgery compared with total hip replacement using large-diameter heads.
"The Hip Society's John Charnley Award is the highest honour our team could have ever expected to receive," said Dr. Vendittoli.
Less invasive than total hip replacement
Drs. Roy, Vendittoli and Lavigne were the first in North America to introduce the use of a hip resurfacing prosthesis back in 2003. The Durom® prosthesis, which the team used, is a small metal cup that's placed on the femoral head. It is used as an alternative to a total hip prosthesis, which is usually implanted in the femur. Hip resurfacing is hugely advantageous because it is bone-conserving and much less invasive than a total hip replacement.
For the first time, these studies provide solid scientific data highlighting the pros and cons of new joint replacement implants for active young subjects.
As part of a new 24-month study, the research team compared hip resurfacing and total hip prostheses with metal on metal surfaces of 28 mm. Their findings revealed that hip resurfacing has functional superiority and little chance of luxation. This study will be published in the American Journal of Bone and Joint Surgery in 2009.
The researchers brought their investigation one step further with a second study, where they conducted a comparative on hip resurfacing and total hip prostheses with metal on metal surfaces of large diameter. This second study – conducted without any of the patients' or examiners' knowledge of which implant was used – is being recognized with the John Charnley Award. Sophisticated methods such as Vicon cameras were used to examine all of the patients. The study showed that both groups received equivalent results after six months, and concluded that the single advantage of hip resurfacing over total hip prostheses of large diameter is femoral conservation.
###
Arthrosis of the hip joint, or coxarthrosis, is the most common joint disorder after arthrosis of the knee and afflicts almost 15 percent of the population.
On the Web:
About the Université de Montréal: http://www.umontreal.ca/english/index.htm
About the Hôpital Maisonneuve-Rosemont: http://www.maisonneuve-rosemont.org/pages/H/index.aspx
---