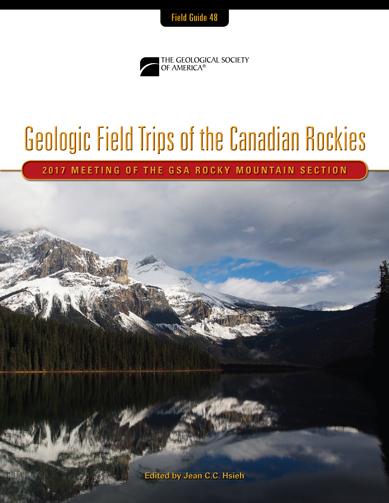 Boulder, Colo., USA: A new field guide in conjunction with GSA's Rocky Mountain Section meeting offers five field trips that explore the structural geology, sedimentology, and paleontology near Calgary, as well as examining the relationship of the geology to the regional petroleum and mining industries. The guides describe the geology of a classic E-W transect through the Canadian Rockies, the stratigraphy of the UNESCO World Heritage Site of Dinosaur Provincial Park, the unique fossils of the Burgess Shale, the Mesoproterozoic Belt Supergroup of the National Parks on both sides of the border, and the sedimentology of an analog for the prolific petroleum-producing Montney Formation.
Volume editor Jean C.C. Hsieh of Repsol Oil and Gas Canada Inc. believes that the world-class fossils found in Dinosaur Provincial Park, which are discussed in depth in one chapter, "represent possibly the best window into the biology of the late Campanian anywhere in the world."
Additionally, Hsieh contends that the chapter on the Sulphur Mountain Formation around the Canmore and Kananaskis areas provides "insight into one of the more complicated recent targets of drilling for the petroleum industry. The Triassic sediments in outcrop provide a good analog for the age-equivalent subsurface Montney Formation, which is considered a jewel in Alberta's unconventional resources crown."
###
Individual copies of the volume may be purchased through The Geological Society of America online store, http://rock.geosociety.org/Store/detail.aspx?id=FLD048, or by contacting GSA Sales and Service, gsaservice@geosociety.org.
Book editors of earth science journals/publications may request a review copy by contacting April Leo, aleo@geosociety.org.
Geologic Field Trips of the Canadian Rockies: 2017 Meeting of the GSA Rocky Mountain Section
edited by Jean C.C. Hsieh
Geological Society of America Field Guide 48
FLD048, 182 p., $52.00, GSA member price $36.00
ISBN 978-0-8137-0048-9
View the table of contents: http://rock.geosociety.org/store/TOC/FLD048.pdf
---