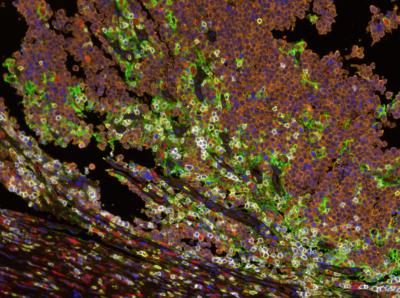 SEATTLE AND NEW ORLEANS - In a phase 2 clinical trial of the immunotherapy drug pembrolizumab as a first-line systemic therapy for advanced Merkel cell carcinoma, or MCC - a rare, aggressive type of skin cancer - the clinical response rate was similar to that typically seen with standard chemotherapy, but the duration of the response appeared to be markedly longer. There are currently no therapies that have been approved by the U.S. Food and Drug Administration for this cancer.
An objective response was observed in 56 percent of patients (14 of 25) who received pembrozilumab, and 12 of the initial 14 responses (86 percent) were ongoing at the latest follow-up in the multicenter study.
"Merkel cell carcinoma often responds to chemotherapy, but the responses are transient. Prior studies have shown that most patient's tumors have progressed by three months from starting chemotherapy, and over 90 percent of patients develop progressive disease within 10 months. In the pembrolizumab trial, 86 percent of patients who responded are still experiencing excellent disease control more than six months after starting therapy," said Dr. Paul Nghiem, affiliate investigator of the Clinical Research Division at Fred Hutchinson Cancer Research Center in Seattle, and professor of medicine, Division of Dermatology at the University of Washington School of Medicine.
This study will be presented on April 19 at the American Association for Cancer Research Annual Meeting 2016 and simultaneously published in The New England Journal of Medicine.
MCC is 35 times less common than melanoma, but on average, it is about three times more likely to be deadly. About 2,000 new cases are diagnosed in the U.S. each year.
A virus that is often present on normal skin -- the Merkel cell polyomavirus -- plays a role in the development of about 80 percent of MCC cases; others result from exposure to ultraviolet sunlight. Pembrolizumab produced a durable response in patients whose MCC had been caused by the virus or by sunlight. It acts by removing the "brakes" present on tumor-specific immune cells called T cells, thereby allowing the T cells to kill the cancer cells.
Nghiem said the researchers believe the immune system is likely "seeing" different targets in the virus-positive and the virus-negative patients. In virus-positive tumors, the immune system may readily detect and target viral proteins. In contrast, virus-negative tumors have large numbers of mutations caused by sunlight that can change normal proteins in cells. With these proteins no longer appearing as "self," the immune system can see and attack the tumors.
###
The study was supported by grants from the National Cancer Institute and involved the NCI's Cancer Therapy Evaluation Program and the Cancer Immunotherapy Trials Network. It was carried out by investigators at the University of Washington; Fred Hutchinson Cancer Research Center; Johns Hopkins University School of Medicine and Kimmel Cancer Center; Winship Cancer Institute of Emory University; Merck Research Laboratories; the University of California, San Francisco; Mt. Sinai Medical Center; Yale University; Stanford University; Cancer Research and Biostatistics; and The Ohio State University.
Nghiem, first and co-corresponding author, is a consultant for EMD Serono Inc. and receives funding from Bristol-Myers Squibb to perform biomarker studies in MCC clinical trials. Dr. Suzanne L. Topalian, professor of surgery and oncology and associate director of the Bloomberg-Kimmel Institute for Cancer Immunotherapy at Johns Hopkins University School of Medicine, is co-corresponding author.
Nghiem is a leading expert on MCC and a pioneer of immunotherapy for the disease. His research has identified genetic mutations that may drive MCC and shed light on the Merkel cell polyomavirus. As a practicing physician, he treats patients with MCC and other skin cancers at Seattle Cancer Care Alliance, the cancer treatment arm of Fred Hutch, UW Medicine and Seattle Children's.
Editor's note: For researcher bios, photos and more, please visit fredhutch.org/media.
At Fred Hutchinson Cancer Research Center, home to three Nobel laureates, interdisciplinary teams of world-renowned scientists seek new and innovative ways to prevent, diagnose and treat cancer, HIV/AIDS and other life-threatening diseases. Fred Hutch's pioneering work in bone marrow transplantation led to the development of immunotherapy, which harnesses the power of the immune system to treat cancer with minimal side effects. An independent, nonprofit research institute based in Seattle, Fred Hutch houses the nation's first and largest cancer prevention research program, as well as the clinical coordinating center of the Women's Health Initiative and the international headquarters of the HIV Vaccine Trials Network. Private contributions are essential for enabling Fred Hutch scientists to explore novel research opportunities that lead to important medical breakthroughs. For more information visit fredhutch.org or follow Fred Hutch on Facebook, Twitter or YouTube.
---