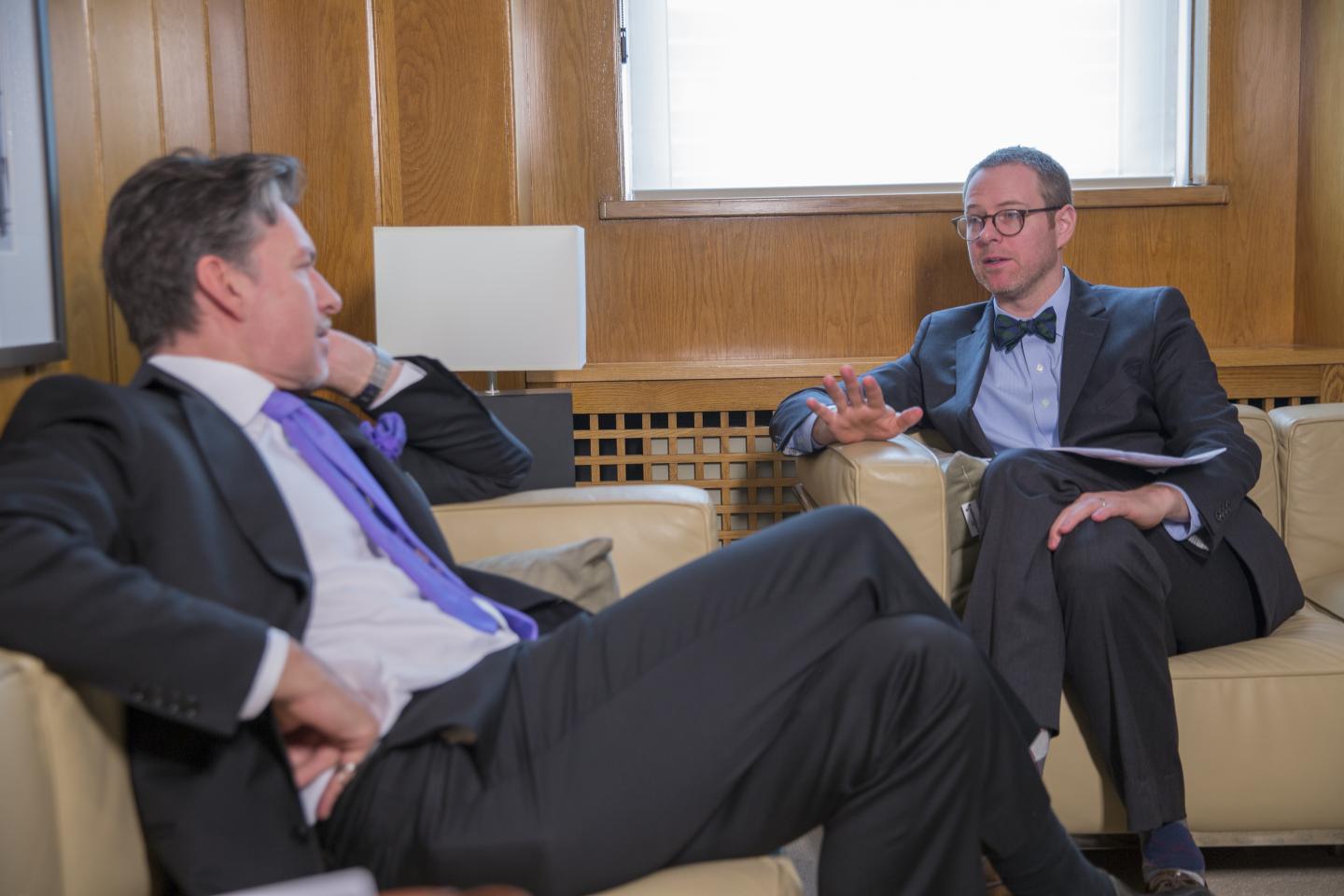 PITTSBURGH, Feb. 22, 2016 - UPMC and University of Pittsburgh School of Medicine doctors played a central role in a worldwide effort to redefine the No. 1 killer of hospital patients: sepsis.
In a series of articles published today in the Journal of the American Medical Association, an international task force updated definitions of sepsis and septic shock, which were last revised in 2001. These new definitions help bring clarity to sepsis, a syndrome that is difficult for doctors to diagnose and deadly for patients. The task force definitions were directly informed by research out of the Clinical Research, Investigation, and Systems Modeling of Acute illness (CRISMA) Center at the Pitt School of Medicine and were funded in part by grants from the National Institutes of Health.
In accompanying articles published today in the journal Critical Care Medicine, Pitt scientists also present a conceptual framework to help patients, clinicians, researchers and hospitals apply the new definitions. The results are being presented at the Society of Critical Care Medicine's annual meeting in Orlando, Fla.
Sepsis is a condition that arises when the body's response to an infection injures its own tissues and organs, sometimes progressing to septic shock. It may occur in up to 2 million U.S. patients every year, and, despite best practice, more than 1 in 10 sepsis patients do not survive.
"Considerable advances have been made in the study and care of sepsis and septic shock in the past 15 years, and there is an urgent need to help the medical community do a better job identifying septic patients quickly and start life-saving treatment," said Derek C. Angus, M.D., M.P.H., the Dr. Mitchell P. Fink Professor and chair of Pitt's Department of Critical Care Medicine. "Put simply, sepsis is a life-threatening organ dysfunction due to a dysregulated response of the patient's immune system to infection. Our intent is that this definition results in greater consistency for epidemiologic studies, clinical trials and - perhaps most important - better recognition and more timely management of patients with, or at risk of developing, sepsis."
Two years ago, the European Society of Intensive Care Medicine and the Society of Critical Care Medicine convened a task force of 19 critical care, infectious disease, surgical and pulmonary specialists. They noted considerable advances in the pathophysiology, management and epidemiology of sepsis, suggesting a need for re-examination of the definition. The team included both Dr. Angus, who also is a distinguished professor at Pitt and director of the CRISMA Center, and Christopher W. Seymour, M.D., M.Sc., assistant professor in Pitt's departments of Critical Care Medicine and Emergency Medicine. Both also are practicing physicians with UPMC.
"Because sepsis is so complex, patients can present in many different ways. This can lead to delays in care and missed opportunities. The updated definition was crafted to help doctors and hospitals sort through the many sepsis symptoms and get to the diagnosis quickly," said Dr. Seymour. "Unlike prior attempts to define sepsis, the task force sought data from real patients to inform their deliberations."
The new criteria include the "quick Sepsis-related Organ Failure Assessment," or qSOFA, to help clinicians diagnose septic patients and get treatment started outside the intensive care unit. It uses only three symptoms: altered mental status, fast respiratory rate and low blood pressure, and does not require blood tests. If patients with infection show two of the three criteria, they should be considered likely to be septic. Such patients account for more than 3 out of 4 infection-related deaths. The qSOFA prompt was developed by analyzing more than 800,000 electronic health record encounters at 177 hospitals worldwide, including academic, community, public, private and federal hospitals.
"This is the one of the largest collaborative studies ever conducted in the field of critical care medicine," said Dr. Seymour. "The study results and Task Force Consensus definitions are endorsed by more than 25 professional medical and academic societies around the globe. And as doctors and hospitals adopt the updated definition, there is the potential to more promptly recognize thousands of patients at risk of becoming, or who already are, septic. "
###
In addition to Drs. Angus and Seymour, who are lead or senior authors on several of the publications, and Jeremy Kahn, M.D., M.S., co-author, Pitt Department of Critical Care Medicine, other authors come from Kaiser Permanente, University of Michigan, Veterans Affairs Center for Clinical Management Research, Australian and New Zealand Intensive Care Research Centre, University College London, Guy's and St. Thomas' NHS Foundation Trust in the UK, University of Versailles, Jena University Hospital in Germany, Monash University in Australia, Vanderbilt University, Descartes University in France, Emory University, Washington University, Brown University, University of Toronto, Academisch Medisch Centrum in the Netherlands, Erasme University Hospital in Belgium, Steven and Alexandra Cohen Children's Medical Center in New York, New York State Health Department, Brigham and Women's Hospital, University of Washington and Seattle Children's Research Institute.
This work was supported by grants from the Society of Critical Care Medicine and the European Society of Intensive Care Medicine, National Institute of General Medical Sciences grants GM104022 and GM107650 and National Heart, Lung, and Blood Institute grant HL123020.
About the University of Pittsburgh School of Medicine
As one of the nation's leading academic centers for biomedical research, the University of Pittsburgh School of Medicine integrates advanced technology with basic science across a broad range of disciplines in a continuous quest to harness the power of new knowledge and improve the human condition. Driven mainly by the School of Medicine and its affiliates, Pitt has ranked among the top 10 recipients of funding from the National Institutes of Health since 1998. In rankings recently released by the National Science Foundation, Pitt ranked fifth among all American universities in total federal science and engineering research and development support.
Likewise, the School of Medicine is equally committed to advancing the quality and strength of its medical and graduate education programs, for which it is recognized as an innovative leader, and to training highly skilled, compassionate clinicians and creative scientists well-equipped to engage in world-class research. The School of Medicine is the academic partner of UPMC, which has collaborated with the University to raise the standard of medical excellence in Pittsburgh and to position health care as a driving force behind the region's economy. For more information about the School of Medicine, see http://www.medschool.pitt.edu.
About UPMC
A world-renowned health care provider and insurer, Pittsburgh-based UPMC is inventing new models of patient-centered, cost-effective, accountable care. It provides more than $888 million a year in benefits to its communities, including more care to the region's most vulnerable citizens than any other health care institution. The largest nongovernmental employer in Pennsylvania, UPMC integrates 60,000 employees, more than 20 hospitals, more than 500 doctors' offices and outpatient sites, a 2.9-million-member health insurance division, and international and commercial operations. Affiliated with the University of Pittsburgh Schools of the Health Sciences, UPMC ranks No. 13 in the prestigious U.S. News & World Report annual Honor Roll of America's Best Hospitals. For more information, go to UPMC.com.
---