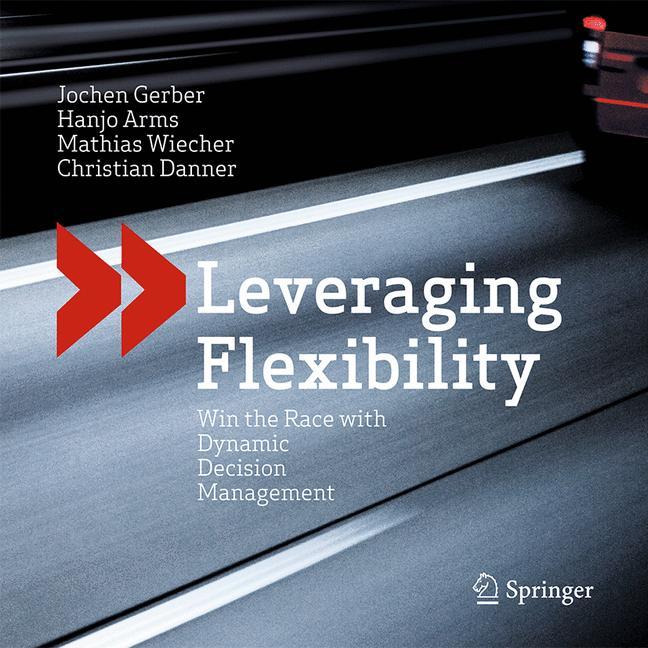 Being able to react to the unexpected by taking a strategic change of course can prove to be the salvation of a company and its leaders. Leveraging Flexibility, a new book written by four business experts, does not attempt to explain the complex economic theory at the heart of well-reasoned calculations of probability and options. Rather it reveals the significance of uncertainty and flexibility in strategic decision-making and demonstrates the extent to which these factors influence the value of a strategy or an asset.
Flexibility, risk, probability and their interrelated value are the key components of Dynamic Decision Management (DDM), a new concept presented in this book. It is a breakthrough approach to validating the decision making-process and ensuring the desired results. This knowledge – compounded with a growing understanding of DDM – will enable managers to make precise strategic decisions, justify these convincingly to all stakeholders and adjust the course in response to unexpected developments.
Author Jochen Gerber explains, "Consider motor sport – Formula 1 teams start a race with a strategy: a set of tires, fuel stops, configuration of the car and much more. They have made decisions based on certain expectations with regards to weather, performance of competitors, etc., and yet they remain flexible. They challenge their own judgment when the parameters change and draw new conclusions, if necessary. In like manner, driving the ongoing growth of a successful business is characterized by uncertainty, opportunities, risk and flexibility. This reality is the canvas against which we present Dynamic Decision Management."
Using the DDM approach, the well-known and widely accepted complex methods involving scenario building become obsolete. Why? Because DDM does the unthinkable: It integrates the influence of uncertainty and entrepreneurial flexibility in the strategic decision-making process – and does so with precision. This approach enables business leaders to make investments that are better tailored to perform well in today's world marked by increasing volatility. Four case studies described in the book make the benefits of this new and improved approach clear.
###
Jochen Gerber founded a business consultancy - G5-Partners, Dynamic Decision Advisory - in 2013 after having spent several years in a lead role at an energy industry company. Hanjo Arms is Vice President and Partner at A.T. Kearney and is responsible for Corporate Finance Practice in Germany, Austria and Switzerland. Mathias Wiecher, based out of the New York office of A.T. Kearney, is a member of the global Energy Practice and focuses on Strategy Development & Assessment, M&A and Transformation. Christian Danner is the head of the Jaguar Land Rover Driving Academy in Germany as well as a leading European Formula 1 TV commentator and an expert and management consultant.
Jochen Gerber, Hanjo Arms, Mathias Wiecher, Christian Danner
Leveraging Flexibility
Win the Race with Dynamic Decision Management
Springer 2014, 159 p., 40 illus.in color
Hardcover € 49,99 | £ 44.99 | $ 59.99
ISBN 978-3-642-54361-6
Also available as an eBook
Watch the YouTube video: http://www.youtube.com/watch?v=Q9_zmUISCMA
Contact
Joan Robinson
Springer
49-6221-487-8130
joan.robinson@springer.com
---