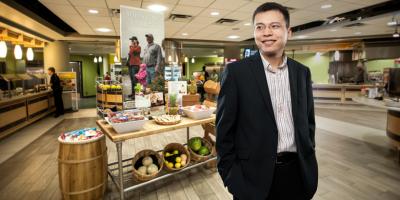 It may seem counter-intuitive to take health advice from a marketing professor, but when it comes to analyzing consumer data and its relationship to managing health issues such as diabetes, one University of Alberta researcher may have the right prescription.
In a paper recently published in the Journal of Marketing, Alberta School of Business professor Yu Ma uncovered information that has implications for health-care professionals, marketers and consumers alike. He says the data on consumer spending contain streams of information showing that decisions consumers make after being diagnosed with a major health issue like diabetes may seem sound on the outside, but actually expose them to greater health risks. And although education related to disease and proper nutrition should be a major driver of changing habits, Ma says it ranks far lower than another critical factor that could affect the waistline and the bottom line.
"The second-largest factor—and only slightly less influential than eating habits—is price. If the price is cheap, they're going to buy that (food item)," he said. "There are lots of things you can do just by changing the price of healthy food."
Changes: Hyperfocusing and the halo effect
Ma's data analysis shows that after a diagnosis of diabetes, patients tend to down the sugary beverages and foods that put them at risk for problems. Yet, while being hyper-vigilant with these choices, they tend to load up on other foods high in sodium or fat—two ingredients that could increase their chances of heart disease or high blood pressure. The key for people with diabetes, he says, is to consult a health-care professional about all foods that pose risks, both now and in the future.
Ma says the other critical factor is that people have a tendency to divide foods into two groups: healthy and unhealthy. In doing so, they tend to over-consume foods in the healthy column.
"What we found is that people paid too much attention to categorization, but they failed to monitor how much of those healthy alternatives they actually take in," said Ma. "It's what we call the health halo effect."
Food for thought: Is healthy eating too expensive?
Ma says it might not be a lack of wanting to eat healthier that drives people to unhealthy foods. Instead, the cost of making the switch may be the biggest hurdle. He says some choices come down to issues of education, such as switching from soft drinks to diet drinks or avoiding fruit juices. But he notes that purchasing and consuming more fruits and veggies or organic foods is not an option for consumers in all income brackets. Ma says that lack of access to better nutritional choices—which can also be reinforced by what is available from local stores—is difficult to overcome. He says people may think middle-class consumers can easily afford to switch, but the price difference from the healthy option to the "next best thing" can be significant once the whole food bill is totalled up.
"If you compare the price of healthy, whole-grain bread versus regular white bread, there's a cost increase between them," he said. "Sometimes, if you have a family to feed, it's hard to justify the price difference."
People first, profit second?
The goal of businesses is to maximize their profit by marketing and selling their product to target groups. However, Ma says, it comes down to an issue of needs and wants, especially when the need to change eating habits is necessary to stay alive. Health should not be at a premium, he says, and if marketers looked at a bigger, socially responsible picture, they may see the many benefits that would come from lowering their prices and making their products available to broader markets. He says companies may make less profit per customer, but making more money overall would go hand in hand with enhanced brand identity and recognition.
"They might have to sacrifice some short-term profit, but once they build up their brand name, and the goodwill in the consumer's mind, then it's a win-win for the customers and the company in the long run."
###
---
Journal
Journal of Marketing