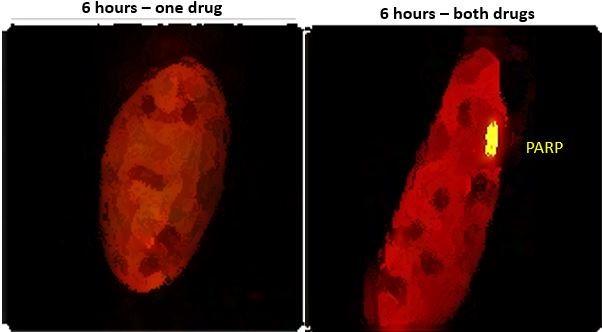 Drugs called PARP inhibitors, which sabotage cancer cells' ability to repair damage to their DNA, have shown some promise in treating human breast cancers that contain BRCA1 and BRCA2 gene mutations. Now, a new study in lab-grown cancer cells and mice suggests that their effectiveness could be strengthened and expanded to other forms of breast cancer and leukemia not linked to BRCA mutations by adding a so-called epigenetic drug.
A team of researchers at the Johns Hopkins Kimmel Cancer Center and the University of Maryland Greenebaum Comprehensive Cancer Center report that a combination of an experimental and not-yet-approved PARP inhibitor called talazoparib and an epigenetic drug called 5-azacytidine, approved for a pre-leukemic disorder called myelodysplasia, resulted in a strong antitumor response against breast cancer cells without BRCA mutations and in halting the growth of acute myeloid leukemia cells.
Between 25 and 28 days after the start of the combination treatment, human breast tumors grown in mice measured about half the volume of tumors treated with either drug alone, the team says.
In another set of experiments in which human leukemia cells were transplanted into mice, at 16 and 30 days after the start of the combination treatment, leukemia volumes in the mice were at least half as small as tumors treated with either drug alone.
The findings, described Oct. 10 in Cancer Cell, are the result of a collaboration between a team led by Stephen B. Baylin, M.D., co-director of the Cancer Biology Program at the Kimmel Cancer Center, and his wife, Feyruz V. Rassool, Ph.D., of the University of Maryland School of Medicine.
It was "somewhat of a surprise that leukemia cells were this sensitive to the combination treatment," says Baylin, "and if further research confirms our findings, it looks like it also could be useful for breast cancer and ovarian cancers for which PARP inhibitors have not been useful as yet."
PARP inhibitors work by blocking the poly (ADP-ribose) polymerase enzyme or PARP, which helps repair naturally occurring breaks in strands of DNA. Some cancers rely more frequently on PARP than others, Baylin says, and for tumors sensitive in that way, the inhibitors are one clinical weapon in sabotaging the cancer cells' ability to repair their own DNA.
Baylin adds that PARP inhibitors also "work according to how intensely and durably the PARP enzyme is trapped at certain DNA damage sites." Thus, he says, "If you can ramp up the duration and intensity of this trapping, you could potentially increase the efficacy of the drug."
The research team found that the combination of 5-azacytidine and talazoparib increased the time that PARP was trapped at sites of DNA damage in cancer cells, extending the time from 30 minutes to three to six hours after treatment.
Although talazoparib, which is being developed by Medivation Inc., is not yet approved by the Food and Drug Administration, another PARP inhibitor called olaparib is approved for patients with advanced ovarian cancer and BRCA mutations. Scientists are searching for ways to expand and improve the use and effectiveness of PARP inhibitors, Baylin says.
Epigenetic drugs work by changing the property of DNA -- how it's coiled and processed. Specifically, 5-azacytidine blocks proteins that attach gene-regulating methyl groups to DNA and traps those proteins on DNA. The proteins blocked by 5-azacytidine also interact with PARP enzymes at DNA damage sites, explains Baylin. "We figured that if we pair 5-azacytidine and a PARP inhibitor like talazoparib, we may be able to increase PARP trapping at DNA damage sites," says Baylin.
Baylin says plans to test the combination therapy in a clinical trial for patients with advanced acute myeloid leukemia are pending at the University of Maryland. "Advanced leukemia is a tough disease to treat, and we urgently want to give patients more options," Baylin says. "Hopefully, success in this trial will also spur subsequent clinical trials for other tumor types like breast cancer and ovarian cancer without BRCA mutations."
###
Baylin and Rassool are members of a Stand Up To Cancer team -- which Baylin co-leads with Peter Jones, Ph.D., at the Van Andel Research Institute -- which aims to develop epigenetic therapy for patients with cancer.
Other scientists who contributed to the research include Kimmel Cancer Center researchers Limin Xia and Yi Cai; Nidal E. Muvarak, Khadiza Chowdhury, Carine Robert, Pratik Nagaria, Søren M. Bentzen, Eun Yong Choi, Vu H. Duong, Maria R. Baer, Rena G. Lapidus, Ying Zou and Zeba N. Singh of the University of Maryland School of Medicine; Marina Bellani and Michael M. Seidman of the National Institute on Aging; and Tyler Rutherford of Stevenson University.
Robert, Rassool and Baylin share co-inventorship on U.S. Provisional Patent Application No. 61/929,680 for the concept of the combinatorial therapy.
Baylin and Rassool say they began this research after they were awarded a prize in 2012 from the Entertainment Industry Foundation and Stand Up To Cancer (SU2C), named for the late film producer Laura Ziskin, who died of breast cancer. Other funding was provided by the Van Andel-Research Institute-SU2C Epigenetics Dream Team, the Adelson Medical Research Foundation, Maryland Cigarette Restitution funds, the Leukemia Lymphoma Society and the National Institute on Aging (Z01 AG000746-08).
---