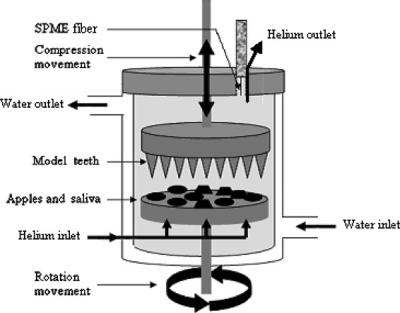 ARTICLE #1 FOR IMMEDIATE RELEASE
Fighting global warming — at the dinner table
Environmental Science & Technology
Substituting chicken, fish, or vegetables for red meat just once a week can help combat climate change — even more dramatically than buying locally sourced food, according to scientists in Pennsylvania who studied the environmental impacts of food production and distribution in the United States. The study is scheduled for the May 15 issue of ACS's bi-weekly journal Environmental Science & Technology.
In the study, Christopher L. Weber and H. Scott Matthews explain that environmental advocates and retailers have urged customers to purchase goods from local sources to minimize environmental impacts. Despite this emphasis on "buying local," the researchers point out that few studies in the U. S. have compared greenhouse gas emissions from food production to those of transportation.
Weber and Matthews found that the production phase dominates the average U.S. household's greenhouse-gas burden — contributing 83 percent of them — whereas transportation accounts for only 11 percent. Red meat, according to the report, is almost 150 percent more greenhouse-gas-intensive than chicken or fish.
"Thus, we suggest that dietary shift can be a more effective means of lowering an average household's food-related climate footprint than 'buying local,'" the paper says. "Shifting less than one day per week's worth of calories from red meat and dairy products to chicken, fish, eggs, or a vegetable-based diet achieves more greenhouse-gas reduction than buying all locally sourced food." — JS
ARTICLE #1 FOR IMMEDIATE RELEASE
"Food-Miles and the Relative Climate Impacts of Food Choices in the United States"
DOWNLOAD FULL TEXT ARTICLE
http://dx.doi.org/10.1021/es702969f
CONTACT:
Christopher L. Weber
Carnegie Mellon University
Pittsburgh, Pa. 15213
Phone: (412) 268-5550
Email: clweber@andrew.cmu.edu
---
ARTICLE #2 FOR IMMEDIATE RELEASE
New insights on link between early consumption of cows' milk and Type-1 diabetes
Journal of Proteome Research
Researchers in Maine report a new explanation for the mysterious link between consumption of cows' milk protein in infant formula early in life and an increased risk of later developing Type-1 diabetes. A protein in cow's milk that triggers an unusual immune response appears to be the main culprit, they say. The study is scheduled for the June 6 issue of ACS' monthly Journal of Proteome Research.
In the new study, Marcia F. Goldfarb points out that several studies have reported a possible link between the early introduction of cow's milk protein into an infant's diet and subsequent development of the disease. In Type-1 diabetes, the immune system erroneously appears to attack and destroy insulin-producing cells in the pancreas. It usually begins in childhood, requires insulin injections, and afflicts about 800,000 people in the U.S. alone. Scientists do not understand the link between cow's milk and diabetes. They know, however, that beta-lactoglobulin, a protein present in cow's milk but not found in human breast-milk, is structurally similar to the human protein glycodelin, which controls the production of T-cells. T-cells help guard the body against infection.
Goldfarb describes research on patients with Type-1 diabetes, which suggests that an infant's immature immune system may inadvertently destroy glycodelin in an effort to destroy the similar cow's milk protein, which the system recognizes as foreign. This could result in the overproduction of T-cells, which can attack the insulin-producing cells of the pancreas and trigger diabetes, she says. — MTS
ARTICLE #2 FOR IMMEDIATE RELEASE
"Relation of Time of Introduction of Cow Milk Protein to an Infant and Risk of Type-1 Diabetes Mellitus"
DOWNLOAD FULL TEXT ARTICLE
http://dx.doi.org/10.1021/pr800041d
CONTACT:
Marcia F. Goldfarb
Anatek-EP
Portland, Maine 04104
Phone: 207-883-0770
Fax: 207-772-5644
Email: anatekep@maine.rr.com
---
ARTICLE #3 FOR IMMEDIATE RELEASE
Boosting "mussel" power: New technique for making key marine mussel protein
Biotechnology Progress
Researchers in Korea report development of a way to double production of a sticky protein from marine mussels destined for use as an antibacterial coating to prevent life-threatening infections in medical implants. The coating, produced by genetically-engineered bacteria, could cut medical costs and improve implant safety, the researchers say. Their study is scheduled for the June 6 issue of ACS' Biotechnology Progress, a bi-monthly publication.
Bacterial infection of medical implants, such as cardiac stents and dialysis tubing, threatens thousands of people each year and is a major medical challenge due to the emergence of antibiotic-resistant bacteria. Several research groups are working on long-lasting, germ-fighting coatings from mussel proteins, but production of these coatings is inefficient and expensive.
Hyung Joon Cha and colleagues previously developed a way to use genetically engineered E. coli bacteria to produce mussel adhesive proteins. Now they report adding a new gene for producing Vitreoscilla hemoglobin (VHb), a substance that boosts production of proteins under low-oxygen conditions. Adding the VHb gene to the engineered E. coli doubled the amount of mussel proteins produced, which could lead to more cost-effective coatings, the researchers say. — MTS
ARTICLE #3 FOR IMMEDIATE RELEASE
"Enhancement of Mussel Adhesive Protein Production in Escherichia coli by Co-expression of Bacterial Hemoglobin"
DOWNLOAD FULL TEXT ARTICLE
http://dx.doi.org/10.1021/bp0703477
CONTACT:
Hyung Joon Cha, Ph.D.
Pohang University of Science and Technology
Pohang, Korea
Phone: 82-54-279-2280
Fax: 82-54-279-2699
Email: hjcha@postech.ac.kr
---
ARTICLE #4 FOR IMMEDIATE RELEASE
Munch-o-matic: Scientists develop the artificial mouth
Journal of Agricultural and Food Chemistry
For years scientists have tried to build an electronic tongue, a robotic tasting device that could have profound applications in improving food quality and safety. But before machines learn to taste their food, they first need to learn how to chew it. In a study scheduled for the May 14 issue of ACS' bi-weekly Journal of Agricultural and Food Chemistry, scientists report the design of an artificial mouth that mimics the first vital steps of human digestion — chewing, saliva release and the initial breakdown of food.
In the study, Gaëlle Arvisenet and colleagues point out that a number of factors are involved in the release of aromatic and flavor compounds in the mouth. Chewing, the release of saliva, the rate of food breakdown and the temperature all affect the flavor and smell of food before it's swallowed. To accurately reproduce the effects of chewing, Arvisenet's team needed to build a machine that could imitate several — if not all — of these subtle processes. "Our aim was not to reproduce the human mouth conditions exactly, but to reproduce the result of mastication," says Arvisenet.
The researchers compared apples chewed by their machine and by human mouths. The resulting apple pulp was scrutinized for texture, color and aromatic compound release. "Experimental conditions were determined that produced fruit in a state closest to that obtained after mastication in a human mouth," reports Arvisenet. — AD
ARTICLE #4 FOR IMMEDIATE RELEASE
"Effect of Apple Particle State on the Release of Volatile Compounds in a New Artificial Mouth Device"
DOWNLOAD FULL TEXT ARTICLE
http://dx.doi.org/10.1021/jf073145z
CONTACT:
Gaëlle Arvisenet, Ph.D.
ENITIAA, UMR CNRS GEPEA
Nantes, France
Phone: 33-251-78-5512
Fax: 33-251-78-5520
Email: arvisenet@enitiaa-nantes.fr
---
ARTICLE #5 EMBARGOED FOR 9 A.M., EASTERN TIME, May 5, 2008
No more needles: Toward an artificial pancreas for fighting diabetes
Chemical & Engineering News
A specially coated metal tube, no larger than a cigarette, could be the key to developing an artificial pancreas to help millions of people with diabetes avoid insulin injections, according to an article [http://pubs.acs.org/cen/science/86/8618sci4.html] scheduled for the May 5 issue of Chemical & Engineering News, ACS' weekly newsmagazine. The so-called "bioartificial pancreas" also could help keep blood sugar closer to normal levels, and perhaps reduce the risk of diabetic complications, which include blindness, kidney failure, and premature death, the article suggests.
Written by Associate Editor Bethany Halford, the C&EN article points out that researchers have been trying to develop an artificial pancreas for years. Most approaches involve encapsulating healthy islet cells — the pancreatic cells that detect glucose and release insulin — and transplanting them into diabetic patients. But enclosing a large collection of cells has been difficult because the materials designed to hold them are not biocompatible, or optimal for use in the body, Halford notes.
The new device, developed by Joseph P. Kennedy and colleagues at the University of Akron in Ohio, is coated with a permeable polymer membrane that is key to its success. In addition to improving the exchange of insulin and glucose between the islet cells and the blood, the polymer membrane helps increase the supply of oxygen to the cells for improved function and lifespan. The device itself has already shown promise in preliminary animal studies and researchers are looking ahead to clinical trials in humans, the article notes.
ARTICLE #5 EMBARGOED FOR 9 A.M., EASTERN TIME, May 5, 2008
"Perfecting an artificial pancreas"
This story will be available on May 5 at http://pubs.acs.org/cen/science/86/8618sci4.html
FOR ADVANCE INFORMATION, CONTACT:
Michael Bernstein
ACS News Service
Phone: 202-872-6042
Fax: 202-872-4370
Email: m_bernstein@acs.org
---
Journalists' Resources
Press releases, chat room sessions, and more from ACS' 235th National Meeting
It's never too late to explore a treasure trove of news sources, background material and story ideas available from the ACS' latest National Meeting, which was held in New Orleans from April 6-10, 2008. Reporters can view press releases, search an archive with abstracts of more than 9,000 scientific presentations and hundreds of non-technical summaries of those presentations, and access other resources at: www.eurekalert.org/acsmeet.php or www.acs.org
The ACS Office of Communications also offers recorded video versions of its national meeting "chat room" briefings and accompanying chat transcripts by going to http://www.ustream.tv/channel/acs-live-from-new-orleans. To use this site, you must first register with Ustream.tv by going to http://ustream.tv/sign-up-step-1. It's free and only takes a minute or two to sign up. To view the archived chat room sessions, proceed by clicking the "Login" button at the top right of the Ustream window and then selecting "Past Clips." Please note that Ustream requires the latest version of Adobe Flash, which can be downloaded without charge here [http://www.adobe.com/products/flashplayer/].
ChemMatters Matters for Journalists
This quarterly ACS magazine for high school chemistry students, teachers, and others explains the chemistry that underpins everyday life in a lively, understandable fashion. ChemMatters is available at www.acs.org/chemmatters. You can also receive the most recent issues by contacting the editor, Pat Pages, at: 202-872-6164 or chemmatters@acs.org.
ACS Press Releases
General science press releases on a variety of chemistry-related topics. http://portal.acs.org/portal/acs/corg/content?_nfpb=true&_pageLabel=PP_ARTICLEMAIN&node_id=222&content_id=CTP_006740&use_sec=true&sec_url_var=region1
General Chemistry Glossary http://antoine.frostburg.edu/chem/senese/101/glossary.shtml
For Wired Readers
Bytesize Science, a new podcast for young listeners
Bytesize Science is a science podcast for kids of all ages that aims to entertain as much as it educates.
Subscribe to Bytesize Science using iTunes [http://ax.phobos.apple.com.edgesuite.net/WebObjects/MZStore.woa/wa/browserRedirect?url=itms%253A%252F%252Fax.phobos.apple.com.edgesuite.net%252FWebObjects%252FMZStore.woa%252Fwa%252FviewPodcast%253Fid%253D266670954]
No iTunes" No problem. Listen to the latest episodes of Bytesize Science [http://feeds.feedburner.com/BytesizeScience] in your web browser.
Science Elements: ACS Science News Podcast
http://portal.acs.org/portal/acs/corg/content?_nfpb=true&_pageLabel=PP_SUPERARTICLE&node_id=1355&use_sec=false&sec_url_var=region1
The ACS Office of Communications is podcasting PressPac contents in order to make cutting-edge scientific discoveries from ACS journals available to a broad public audience at no charge.
###
PressPac information is intended for your personal use in news gathering and reporting and should not be distributed to others. Anyone using advance PressPac information for stocks or securities dealing may be guilty of insider trading under the federal Securities Exchange Act of 1934.
The American Chemical Society — the world's largest scientific society — is a nonprofit organization chartered by the U.S. Congress and a global leader in providing access to chemistry-related research through its multiple databases, peer-reviewed journals and scientific conferences. Its main offices are in Washington, D.C., and Columbus, Ohio.
Summary: The American Chemical Society News Service Weekly Press Package with reports from 36 major peer-reviewed journals on chemistry, health, medicine, energy, environment, food, nanotechnology and other hot topics.
Keywords: Agriculture/Food; Business/Economics; Biology; Chemistry/Physics Materials Sciences; Earth Science; Medicine/Health; Technology/Engineering/Computer Science; Energy/Fuel.
---