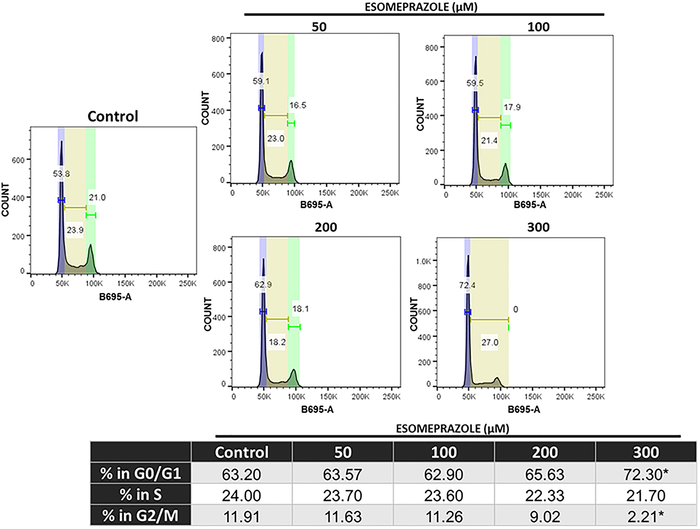 Oncotarget published "Esomeprazole enhances the effect of ionizing radiation to improve tumor control" which reported that for the in vitro studies, the authors used cancer cell colony formation assay to compare cancer cell growth in the absence or presence of esomeprazole.
For the in vivo study, they engrafted HNSCC in a mouse model and compared tumor growth in animals treated with radiation, esomeprazole, and combination of radiation with esomeprazole.
They found that esomeprazole inhibits tumor growth and dose-dependently enhances the cell killing effect of ionizing radiation in wildtype and p53-mutant radioresistant cancer cells.
Mechanistic studies demonstrate that esomeprazole arrests cancer cells in the G1 phase of the cell cycle through upregulation of p21 protein and inhibition of cyclin-dependent kinases type 1 and type 2.
This Oncotarget Research Output indicates that esomeprazole sensitizes cancer cells to ionizing radiation, and is associated with upregulation of p21 to arrest cells in the G1 phase of the cell cycle.
Dr. Yohannes T. Ghebre from The Baylor College of Medicine said, "Radiation therapy is a standard of care approach in the treatment of cancer patients who are medically inoperable or have surgically unresectable tumors."
Luciani et al, for example, assessed the sensitivity of several treatment-resistant human cancer cell lines upon treatment with the PPIs esomeprazole and omeprazole, and their data shows that pretreatment of the cancer cells with the PPIs resulted in order of magnitude reduction in the half maximal inhibitory concentration values for the chemotherapeutic agents cisplatin, vinblastine and 5-fluorouracil compared to no PPI control.
Additionally, their in vivo study demonstrated that pretreatment of engrafted tumors with PPIs increased sensitivity of the tumor cells to cisplatin resulting in significant reduction in tumor weight.
Several other studies in mice, cats and dogs have demonstrated significant improvements in the sensitivity of tumor cells derived from kidney cancer, gastric cancer, esophageal cancer, adenocarcinoma, osteosarcoma and lymphomas to several anticancer drugs upon pretreatment with PPIs.
Some of the proposed mechanisms for the chemosensitizing effect of PPIs include the effect of the drug on cancer cell invasion, migration and adhesion; buffering the acidic tumor microenvironment; as well as increased chemotherapeutic drug uptake by the tumor cells.
In line with the increased chemosensitizing effect of PPIs in solid tumor-derived cancer cells in preclinical models, clinical studies also reported that PPIs are associated with beneficial outcomes in cancer patients including those with refractory disease.
The Ghebre Research Team concluded in their Oncotarget Research Output, "esomeprazole, a common FDA-approved drug for the treatment of acid reflux, has anticancer activity that dose-dependently limits the growth of primary human cancer cells derived from various tissue sources. Intriguingly, combination of esomeprazole with ionizing radiation significantly enhances tumor control in vitro and in vivo. Mechanistically, the anticancer effect of esomeprazole appears to in part be due to its antiproliferative activity that involves induction of p21; a key cell cycle protein and a potent cyclin-dependent kinase inhibitor (CKI). Induction of p21 with esomeprazole resulted in the inhibition of cyclin-dependent kinases (Cdks) to arrest proliferating cancer cells from proceeding with critical cell cycle events including DNA replication and mitosis (Supplementary Figures 9 and 10). Consequently, the ability of the cancer cells to clonally expand in vitro and in vivo is significantly inhibited (Figures 1–3). These targeted molecular activities and the buffering effect on tumor microenvironment [40, 41] may enable PPIs to exert pleiotropic anticancer activity. Paradoxically, PPIs are selective in sensitizing cancer cells to chemoradiation therapy (e.g. Figures 2–3 and [20]) but are protective of normal tissue [42]. This unique property should be leveraged for the evaluation and rapid development of esomeprazole and its analogs in clinical studies. However, the potency of esomeprazole analogs or other PPIs should be empirically tested in vitro, and the most promising candidates should be evaluated in animal models and early phase clinical trials. In this regard, previous studies have documented differences in the anticancer activity of PPIs [43]. Emerging studies indicate that PPIs including esomeprazole are associated with favorable outcomes in the prevention of cancer or treatment of cancer patients [14, 44–46]. Papagerakis et al [14] studied a cohort of 596 patients with head and neck squamous cell carcinomas (HNSCC) and reported that patients administered with PPIs in addition to conventional care had significantly longer survival compared to patients on conventional treatment of surgery with or without chemoradiotherapy. In addition, Wang et al [44] reported increased progression-free survival and overall survival in colorectal cancer patients who received standard of care supplemented with PPIs compared to standard of care alone. Currently, there are completed or ongoing clinical trials evaluating PPIs as adjuvants in cancer patients (e.g. NCT01069081). For example, a recent study presented at the 2020 American Society of Clinical Oncology (ASCO) reported that administration of PPIs with chemotherapy to triple-negative breast cancer (TNBC) patients was associated with significant pathologic complete response (pCR) rate without adding toxicity (clinical trial # NCT02595372) [47]. Although the doses of PPI required to achieve plasma concentration of about 100 μM for radiosensitizing activity is higher than the standard antacid dose, it is safely achievable in cancer patients. In this regard, a recent phase I study in patients with advanced solid tumors demonstrated that up to 360 mg of PPI can be safely administered to ahieve plasma concentration of about 100 μM [17]. Therefore, PPIs have tremendous potential to be repurposed as anticancer agents, chemosensitizers, and/or radiosensitizers to improve tumor control. The anticancer and chemosensitizing activity of PPIs and their potential to be repurposed for clinical use has recently been discussed [2, 3, 48]. Future studies are expected to similarly test and develop the radiosensitizing effect of PPIs."
###
DOI - https://doi.org/10.18632/oncotarget.28008
Full text - https://www.oncotarget.com/article/28008/text/
Correspondence to - Yohannes T. Ghebre - yohannes.ghebre@bcm.edu
Keywords - esomeprazole, proton pump inhibitors, ionizing radiation,radiosensitization, tumor control
About Oncotarget
Oncotarget is a bi-weekly, peer-reviewed, open access biomedical journal covering research on all aspects of oncology.
To learn more about Oncotarget, please visit https://www.oncotarget.com or connect with:
SoundCloud - https://soundcloud.com/oncotarget
Facebook - https://www.facebook.com/Oncotarget/
Twitter - https://twitter.com/oncotarget
LinkedIn - https://www.linkedin.com/company/oncotarget
Pinterest - https://www.pinterest.com/oncotarget/
Reddit - https://www.reddit.com/user/Oncotarget/
Oncotarget is published by Impact Journals, LLC please visit https://www.ImpactJournals.com or connect with @ImpactJrnls
Media Contact
MEDIA@IMPACTJOURNALS.COM
18009220957x105
Copyright © 2021 Impact Journals, LLC
Impact Journals is a registered trademark of Impact Journals, LLC
---
Article Title
Esomeprazole enhances the effect of ionizing radiation to improve tumor control
Article Publication Date
6-Jul-2021