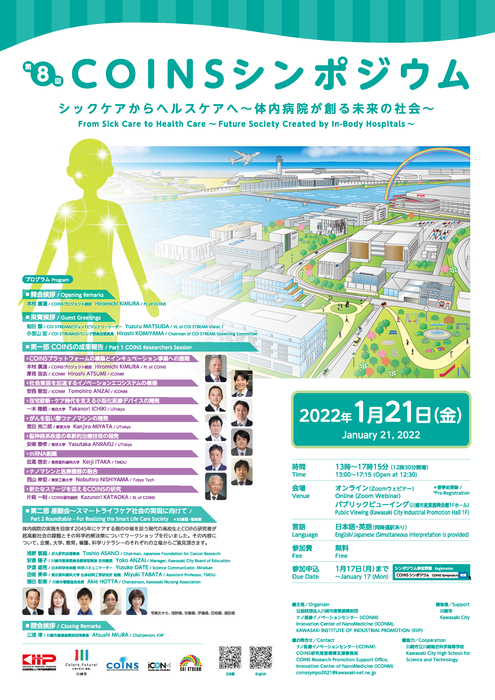 December 1st, 2021 (Kawasaki, JAPAN): As the core research center in Kawasaki of the "Center of Innovation (COI) Program" of the Ministry of Education, Culture, Sports, Science and Technology, Japan Science and Technology Agency, Innovation Center of NanoMedicine, Kawasaki Institute of Industrial Promotion (Director General: Kazunori Kataoka, Location: Tonomachi, Kawasaki-ku, Kawasaki City, JAPAN, Abbreviated name: iCONM) that aims to realize "In-Body Hospitals" by 2045 is organizing the 8th COINS Symposium on January 21, 2021. With the end of COI Stream in March next year, this will be the last COINS symposium.
In PART 1, as the COINS Researchers Session, Hiromichi Kimura, Project Leader and Kazunori Kataoka, Research Leader will summarize the outcomes in nine years from the R&D's points of the view, its social implementation and construction of the innovation platform. In addition, we will introduce how COINS's activities have led to social implementation for each of the following six COINS themes.
Theme 1: Nanomachines which can target and eliminate intractable cancer
Theme 2: An innovative technology for the treatment of cranial nerve diseases
Theme 3: Nanomachines that deliver messenger RNA (mRNA) for tissue reconstruction and nano-sized vaccine
Theme 4: The system for in-home cancer diagnosis, which requires no blood sampling
Theme 5: Theranostic system, which combines nanomachines and medical equipment ultra-minimally invasive treatment
Theme 6: Social system for implementation of the results into society
In PART 2, the round-table talk entitled " For Realizing the Smart Life Care Society", today's high school students and COINS scientists are focusing on the content of prior discussions on issues in the super-aging society and their scientific solutions from the perspectives of industry, education, nursing, research, and citizen literacy.
The workshop with today's high school students who will reach their mid-40s in 2050 when 38% of the Japanese population will be 65 years old or over and the COINS scientists will be held on December 13 at Kawasaki City High School for Science and Technology (For second-year students). They will discuss about the issues on the super-aged society as their own affairs such as what are the scientific solutions. (Note 1)
It is decade by decade for the research to bear fruit and be implemented in society. This will be an event with the intention of raising awareness of the super-aged society to today's high school students.
We will facilitate audience participation with deploying an online zoom voting function and intend to reflect the audience's priorities and focus as invaluable inputs for our future research from citizens perspectives. Here are the participants for the round-table talk (order of the Japanese syllabary).
Toshio Asano, Chairman, Japanese Foundation for Cancer Research・・・From the standpoint of a business player
Yoko Anzai, Manager, Kawasaki City Board of Education・・・From the standpoint of an education
Yusuke Date, Science Communicator, Miraikan - The National Museum of Emerging Science and Innovation・・・From the standpoint of citizen literacy
Miyuki Tabata, Assistant Professor, Tokyo Medical and Dental University・・・From the standpoint of a scientist
Akie Hotta, Chairperson, Kawasaki Nursing Association・・・From a nursing standpoint
We look forward to seeing as many of you as possible.
Please apply from the application URL below.
【Application URL】https://coins.kawasaki-net.ne.jp/en/event/sympo2021.html
Note 1: We welcome interviews at the high school student workshop on December 13. Please contact the press release office in advance.


Symposium operating guideline
Date & Time: Friday, January 21, 2022 at 13:00 – 17:15 (JST)
Venue: ONLINE (ZOOM Webinar), Public Viewing (Kawasaki City Industrial Promotion Hall 1F)
Organizer: Innovation Center of NanoMedicine (iCONM), KAWASAKI INSTITUTE OF INDUSTRIAL PROMOTION
Supporter: Kawasaki City
Language: Japanese・English ※ Simultaneous interpretation available
Registration: Free ※Communication charges (internet) required for participation will be an individual responsibility.
Application: Advance application system. The specified URL is required to attend as the symposium will be held on the Web using the remote conference system "ZOOM" Please pre-register from the application URL below before 17:00 on Monday, January 17th, 2022
Application URL: https://coins.kawasaki-net.ne.jp/en/event/sympo2021.html
※ Please see the above URL for program details.
###

Public Interest Incorporated Foundation KAWASAKI INSTITUTE OF INDUSTRIAL PROMOTION
KAWASAKI INSTITUTE OF INDUSTRIAL PROMOTION was established in 1988 funded 100% from Kawasaki City for the purpose of coping with the hollowing out of industry and changes in the demand structure.
In order to realize a higher level of market development, transforming R&D type companies, training technological capabilities to support it, human resources development, understanding market needs, etc., by utilizing the functions of the Kawasaki, KAWASAKI INSTITUTE OF INDUSTRIAL PROMOTION has been contributing to revitalize the local economy by promoting exchanges of local industry information, advancing technology and corporate exchanges with establishment of a R&D institutions, developing creative human resources through workshops and promoting businesses such as expanding sales channels through exhibition business.
https://www.kawasaki-net.ne.jp/
Innovation Center of NanoMedicine (iCONM)
Innovation Center of NanoMedicine (iCONM) started its operation in April 2015 as a core research center in life science field at King SkyFront on the request of Kawasaki city that KAWASAKI INSTITUTE OF INDUSTRIAL PROMOTION utilized national policies as a business operator and proposer.
It is a unique research center that the world has ever seen which is designed for the purpose of promoting open innovation through industry-academia-government/medical-engineering collaboration, prepared with state-of-the-art facilities and experimental equipment, that enables comprehensive research and development from organic synthesis / microfabrication to preclinical testing.
https://iconm.kawasaki-net.ne.jp/en/index.html
Center of Innovation Program (COI)
The COI program is a research and development program under the Ministry of Education, Culture, Sports, Science and Technology and the Japan Science and Technology Agency. The program employs the backcasting approach and set interdisciplinary and collaborative R&D themes that should be challenged at the present from the issues that are underlying in the future society. Eighteen centers have been established nationwide to realize radical innovation through industry-academia collaboration which cannot be accomplished by industry and academia alone.
The Kawasaki center is the only COI center managed by local governments, not universities, and the research projects carried out there are called COINS (Center of Open Innovation Network for Smart Health).
COI: https://www.jst.go.jp/tt/EN/platform/coi.html
COINS: https://coins.kawasaki-net.ne.jp/en/index.html

December 1, 2021
---