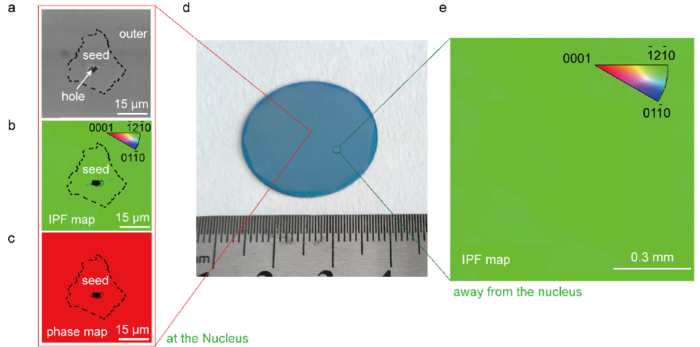 Recently, Journal of Semiconductors released the selections of top 10 achievements of China's semiconductors in 2021. Three projects from PKU's School of Physics and School of Integrated Circuits were entitled from 46 qualified candidates after a strict review by 77 experts in the field of semiconductors. Besides, several PKU's projects were given nomination award. The details of three awarded projects are displayed as follows.
Controllable Fabrication of Single-crystal Wafers based on 2D Semiconductor
Prof. Ye Yu from PKU's Institute of Condensed Matter and Material Physics, State Key Laboratory of Artificial Microstructure and Mesoscopic Physics and Frontiers Science Center for Nano-optoelectronics proposed a novel method of artificial breeding to prepare the molybdenum telluride (MoTe2) thin films, by which the wafer-sized single-crystal semiconductor can be processed using phase transition and recrystallization. The technique provides a material basis for the interlayer connection of two-dimensional semiconductor materials. Relevant results were published in Science (Science, 2021, 372(6538): 195-200); Xu Xiaolong, PKU's postdoctoral fellow and Prof. Ye Yu are the first and corresponding authors respectively.
New Spectroscopic Approach to Probe Lattice Dynamics at Semiconductor Interfaces
Prof. Gao Peng from PKU's International Center for Quantum Materials (ICQM) and Electron Microscope Laboratory (EML) developed a four-dimensional electron energy loss spectroscopy technique (EELS) based on scanning transmission electron microscopy, brook through the limitations of traditional methods to characterize lattice dynamics at nanoscale and achieved the first-time measurement of localized phonon modes at the interface of semiconductor heterojunction. It can directly measure the spatial distribution and dispersion relationship of localized phonon modes, thereby understanding the interfacial properties of thermal conductivity and carrier mobility. Relevant results were published in Nature (Nature, 2021, 599: 399-403); Qi Ruishi, a research assistant in both ICQM and EML and Shi Ruochen, a 2018 doctoral student in PKU's School of Physics, are the co-first authors, and Prof. Gao Peng is the corresponding author.
Integrated high-efficiency capacitive sensors on silicon substrate
Capacitive sensors are the data sensing infrastructure in the era of Industrial Internet and the Internet of Everything. Prof. Huang Ru and associate professor Ye Le from PKU's School of Integrated Circuits realized an on-chip integrated high-efficiency capacitive sensors based on domestic silicon-based CMOS techniques. It significantly improves the energy efficiency of data perception, solves the degradation of performance and reliability caused by complex environments, demonstrates the application of humidity perception, and breaks the world record of energy-efficiency on similar chips and the blockade of foreign countries. Relevant results were published on Journal of Solid-State Circuits (JSSC), and was selected as a highlight at the 2021 International Solid-State Circuits Conference (ISSCC), which is referred as the Olympics of Integrated Circuit. Li Heyi, a doctoral student at Peking University, is the first author. Associate professor Ye Le and Academician Huang Ru are the co-corresponding authors. The work was supported by the National Key R&D Program and the National Natural Science Foundation of China.
Learn More
Journal of Semiconductors (for short, JOS) is an academic journal sponsored by the Chinese Institute of Electronics with the Institute of Semiconductors of the Chinese Academy of Sciences (CAS). Founded in 1980, the first editor-in-chief of the journal was Academician Wang Shouwu and Mr. Huang Kun contributed the first paper of the journal. JOS has been published completely in English from 2009, and is currently indexed by EI, ESCI, Scopus, CA, SA, AJ, etc.
In 2020, to celebrate its 40th anniversary, JOS launched the recommendation and selection of "Top 10 Achievements of China's Semiconductors". In 2021, JOS held the events again. Requiring that the publication should be conducted by China's institutes, universities and enterprises as the first signatory unit, it has received extensive attention in the filed of semiconductor.
---