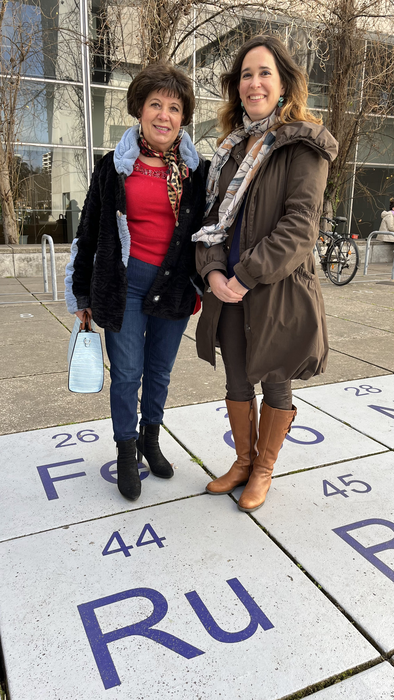 R-nuucell is one of the 50 companies distinguished by the Women_TechEU pilot program, an unprecedented initiative by the European Union. The funding obtained will allow the continuation of the CanceRusolution project, through which this spin-off has been studying a drug to treat triple negative breast cancer - the type of cancer with the worst prognosis among metastatic breast cancers, for not yet no effective and specific treatment has been found. In these cases, patients are treated with drugs used to fight other cancers, with poor results.
"Breast cancer is the second leading cause of death for women worldwide and in 2020, among the 2.3 million new cases diagnosed, about half are metastatic. The preliminary results that we obtained through this project demonstrate the anti-metastatic potential of this drug, which we are developing precisely for triple negative breast cancer and which could be used for other metastatic breast cancers", says Maria Helena Garcia, researcher at the Center for Structural Chemistry in Ciências ULisboa (CQE@Ciências), and founding partner of R-nuucell along with Andreia Valente, also researcher at CQE@Ciências.
Metastatic cancers are those that easily shed cancer cells that, transported by the blood, lodge in the various visceral organs, bones, and brain, starting to grow as metastases. The target of this new drug is the skeleton of the cells – that is, the cytoskeleton. Thanks to this funding, this spring the project enters a new phase, starting to carry out in vivo studies (animals).
"These financings give confidence to investors who understand that a drug with international recognition is being developed and represent an 'oxygen balloon'", says Maria Helena Garcia, adding that "if we had another two or three million euros now, we would be able to conclude in one year the in vivo studies phase, which usually takes two to three years. The problem is money. The COVID-19 vaccine developed quickly because of the injection of money."
The R-nuucell spin-off was established in February 2021, in the midst of the COVID-19 pandemic, and is headquartered at Tec Labs –Innovation Center of Ciências ULisboa. The national and international recognition of the work they have been developing gives Maria Helena Garcia and Andreia Valente encouragement. "We really believe in our product, but it's good to know that others also believe in its potential and that they give us these financial incentives to be able to move forward on this 'tortuous road' that is the development of new drugs", says Andreia Valente, recognizing that despite that the road is very long, it is succeeding. "We managed to acquire a lot of knowledge for our group and for the community, in scientific terms, but also, for example, in other areas, namely, how to approach investors. We now have a different vision that will help us leverage other projects with great interest", declares Andreia Valente.
In this first edition of Women TechEU, 391 applications were submitted from 37 member-states and countries associated with the Horizon Programme. According to the European Commission, the first group of 50 companies led by women from 15 different countries will receive, in addition to subsidies worth €75,000 each awarded under the European Horizon Europe Innovation Ecosystems work programme, also support in the form of mentoring and follow-up, framed by the Women's Leadership Program of the European Innovation Council (IEC).
The 50 distinguished companies develop cutting-edge and disruptive innovations in various sectors, ranging from early diagnosis and treatment of cancer to reducing the negative impact of methane emissions. They work towards the achievement of the Sustainable Development Goals (SDGs), combating climate change, reducing food waste, expanding access to education and promoting the empowerment of women. The list includes another Portuguese company: Metatissue – Biosolutions, which has developed a precursor derived from bioactive platelet-rich plasma, which can be cured by exposure to light to form soft materials with adjustable mechanical properties.
The next edition of Women_TechEU has a budget of 10 million euros, which should allow funding for around 130 companies. The call for proposals is expected to be launched this year.
---